Sorry for the delay in the updates, I have been having some emotional ups and downs on the road over the period this covers. It took me a while to get into the head space to write again, and then to actually have the time to write. Be glad the rain has finally caught up with me! 😛
Tuesday 18/02/2020 — Day 34
The slow start in the morning was totally worth it! I manged to sort out a few odd ends, and visit the bike shop Vivette recommended, and it was amazing! The guy there, Erwin, worked out why my chain has been making so much noise within two minutes of looking at the bike… turns out I had routed the chain slightly wrong through the derailleur 🙁 One of those things that would have taken me forever to figure out as it was such a subtle mistake.
He also started teasing me about the state my bike (was pretty filthy from the mud) and sent me off to his other workshop where they have a pressure washer… so I had to clean my bike. I have to admit it is nice to have him looking clean and lovely. I wasn't happy with how muddy he had become.
Had a yummy lunch of street pizza before getting on my way. It was a lovely day and I was planning to wild camp, so just wanted to see how far I got.
At about this point my friend Cherie got in touch. She couldn't make her planned trip to Nice and the hotel wouldn't let her cancel, so she offered it to me! 😀 This did mean a slight change of plans in order to make the dates, no stop in Arles for Roman ruins and some long days, but it seemed too good to miss! Thank you Cherie and Lazar!
Riding was good today. A bit of a head wind all day, but a lovely route along the Rhône Canal for most of it. I liked the mix of marshland and waterways. Passed some interesting sites like ancient lighthouses and salt factories with huge piles of salt.
As it got towards the end of the day I started to hunt around for a wild camping spot. I had seen loads during the day, but my first serious attempt was a dud. Steep banks and no way to tuck myself out of sight. My second spot was much better, I went along a canal and found some old huts that were damaged and patches of cleared land in the reeds. I was a little nervous at the signs of vandals, but was out of time so went with it.
And… you guessed it! Lentils for dinner. It was a clear sky so lovely to look at the stars, but cold and the frogs were really loud!
Wednesday 19/02/2020 — Day 35
Wasn't a great night's sleep, I was cold and restless. Also had to get up in the night and pee, sooo my least favourite thing to do! I found ice on my tent as I was packing it away, so it was no wonder that I was a bit nippy.
Start was slower then I would have liked as I faffed a bit trying to dry stuff. Later that day I got stuff out at lunch and it was all dry in 30 minutes! Lesson learned — concentrate on moving, dry later. Just as I got on the road I saw a kingfisher 😀 not just a flash of colour but it actually sat on a branch so I could see it reasonably well (they are small!)
It's a lovely day again with clear skies. In the distance there were some hills that added texture to the view, close enough to change as I cycled far enough away that I didn't have hills to climb 😛 I am also moving through wine Country again so lots of vines around and fruit trees.
I had lunch next to the Rhône (the actual river, not canal) right next to a awesome old building that has at various times been a castle, palace and prison! Was nice and sunny so enjoyed it and being out of the wind.
The wind made it difficult at some points and easier at others, but overall I made good time. I then had the fun worry of not being able to find anyone at the campsite and that maybe it wasn't open after all, but was all good in the end. The look on people's faces when I ask to camp is clearly "are you a crazy/weirdo/idiot" which is always fun to brush off.
And I finally managed to finish the lentils!! I had the last of them with pasta in a kind of bolognese which was yummy. Now onto pasta for many nights. I do wish I could get the cooking, tent set-up, and everything else done faster, as it seems to take me ages to get to bed and sleep…
Thursday 20/02/2020 — Day 36
Cold night for Ruthie, only my feet kinda bugging me. Not too bad with the tent only having a little condensation. Really didn't want to get up so kinda laid in and then dragged my feet getting ready. It was a chilly morning — I had long fingered gloves and overshoes for riding… starting at 10am! (tsk!)
Day was beautiful, very sunny with little wind, and although uphill it was easy riding. So it was really confusing for me as to why I was not feeling it — felt really out of sync with cycling and travelling. Maybe it was because I had accidentally compared it to a job in my head (working more days and longer hours then before 😛 ) rather than as a holiday? Or it could have been because of the fixed agenda to get to Nice in time for the generously donated hotel reservations?
To try and counter some of these feelings I took a long chilled lunch at a old church, made tea, and boiled most of my eggs. I would have loved to stay there, a nearly perfect wild camping spot. It helped and I felt better that afternoon, but I wasn't going to make the planned distance. I stopped in a little town and decided to try asking for help and a spot I could stay…
First person was trying to be so helpful but was not a local, suggested I tried at the bar. Or the park. I then asked at the bar and they suggested the football field, so I thought why not?
I tucked myself in at the back corner near the changing rooms (sadly all locked). I sat in the open and made tea and dinner without putting up the tent, waiting for dark. A young woman came by walking her dog and although not really being able to talk we both ended up playing with the dog for a while. Some lads also walked by but no-one seemed to mind. When it got darker I put the tent up but tucked it into a L-shaped nook in the changing rooms, which made it nearly invisible from the field and only visible from the house nearby which had closed their shutters.
I went to bed pretty early as wanted to be getting up and moving early. The changing rooms had been absorbing the heat from the sun all day so it was actually quite warm tucked away.
Friday 21/02/2020 — Day 37
Not a soul disturbed me in the night and only a tiny a bit cold overall. Started breaking camp early (for me) and didn't see anyone. Got on the road feeling much more into riding today.
I had planned a break/lunch stop at the Sillans-la-Cascade Waterfall. Was a bit of a walk (steps) and I had to leave the bike which was a bit nerve-racking, but all good. The colour of the water was beautiful and it was nice to sit and enjoy the atmosphere and the sound of the water.
A long day riding but mostly down hill and lovely French countryside to be moving through. I am staying at a hostel tonight, I had planned to camp here on site because it would have been cheaper, but the awesome guy running it said I could stay in the dorm for the cost of a pitch! So no tent faff, I'm tucked up safely indoors, and get breakfast! 🙂
A relaxed evening for me, there were some cats in the female dorm and one was really friendly (win) but they had popped (boo) so the toilet and hall smelt rather bad (which was sorted but sadly they were moved on somewhere else). I had a bit of a wait to cook as there was a family staying at the hostel who had lost their home to flooding, and they kinda took over the kitchen. Hungry Ruth… but got there in the end.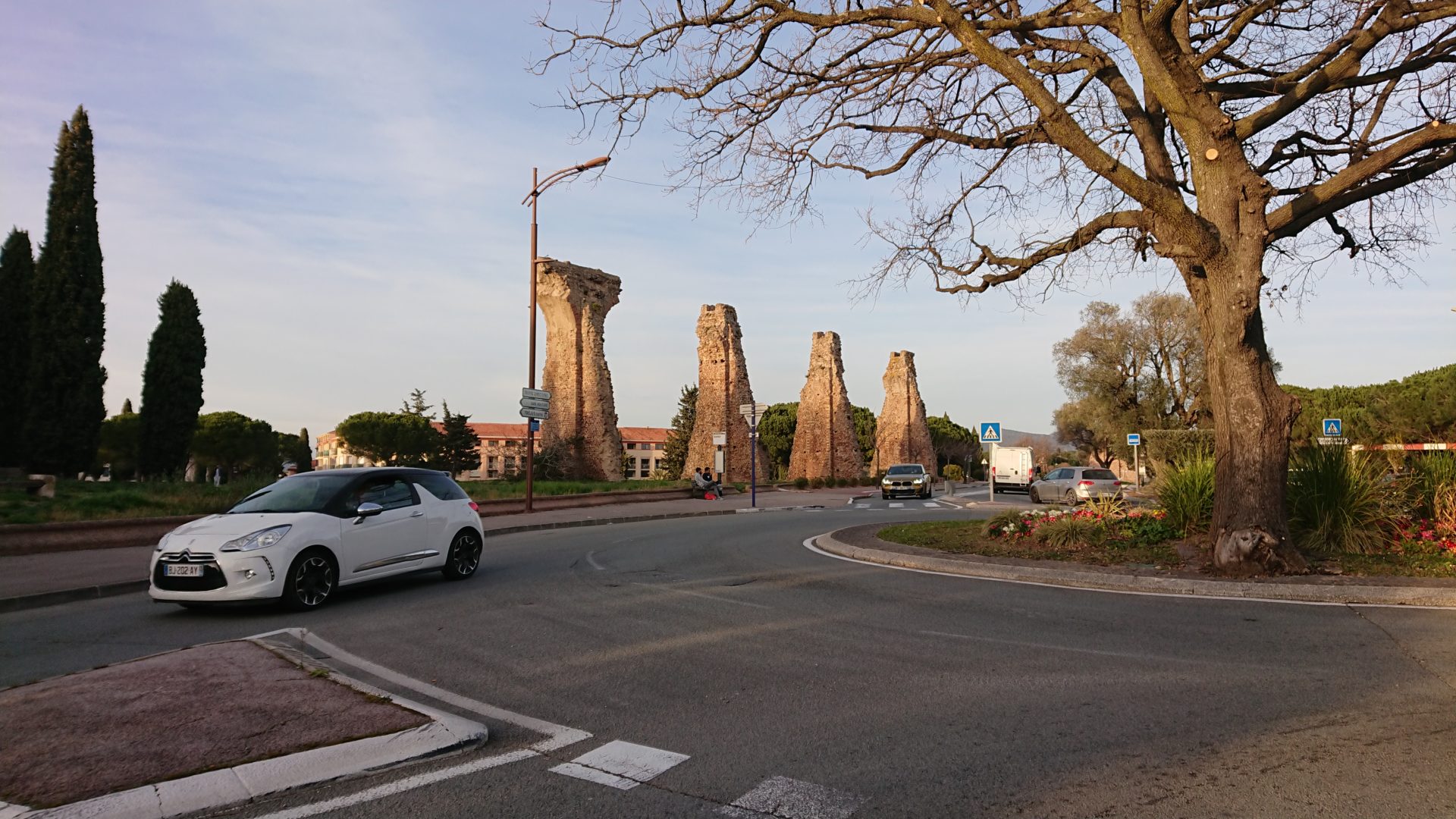 I have a shorter ride tomorrow but 400m of climb right at the start… EEK!
Saturday 22/02/2020 — Day 38
Allowed myself a slower start this morning and enjoyed the breakfast, all trying to make sure the funk didn't set in. I then got on the road, and the first thing I hit was a track I wasn't allowed up! But managed to route around it, and oh wow! The climb was amazing, a few bits of 'ugh' hard climbing but mostly just spinning away climbing up making the most of my super low gears. The view was amazing and a lovely mix of shade and sun to ride through.
I had a bit of a rest at the top and a snack before heading down. The first bit was a tricky dirt track, had to concentrate and hold my nerve, but then onto tarmac. Such zooms on the tarmac! With twists and turns, sun and shade fantastic, also went passed a number of other cyclist going both ways which is nice to see.
Finally I ran out of down, but at that point hit the coast with sun, sea and traffic. It was beautiful to ride. I reached Cannes and decided to stop for lunch. When I went hunting for some noms I found a market which was starting to pack up. There was one stall that had a pick your own salad, I might have gone a little overboard (I miss salad & it's hard to do on the road). I grabbed some goats cheese and had three bowl full of goats cheese and tomato salad sat on the beach. Bliss!
I continued on my way with more views to enjoy, but sadly more traffic as well… ah well it wasn't too bad. Eventually I got to Nice and all sorted in the hotel. Turns out it was also Carnival weekend! I got myself a ticket for Sunday's parade and found a yummy restaurant for dinner with veal, wine and dessert! Before heading back for sleeps and chats with Ian, in my very comfortable hotel room… thanks again guys!
Anyway, that's you all caught up as far as my rest day in Nice, which I'm about to start writing up and will hopefully be with you soon! (The next one isn't quite so doom and gloom, and I'm ok really, I promise!)