So in the last update I was having a break as my body was starting to feel the constant cycling. Since then I have done my two longest days and crossed the first country in this adventure! 🙂
Thursday 30/01/2020 — Day 15
Today I started the Via Verde Ojos Negros and boy was it good riding! Zooming along a converted railway track, mostly down hill with some easy climbs. The weather was lovely and sunny, and having dressed for cooler weather I was almost too hot. A nice change!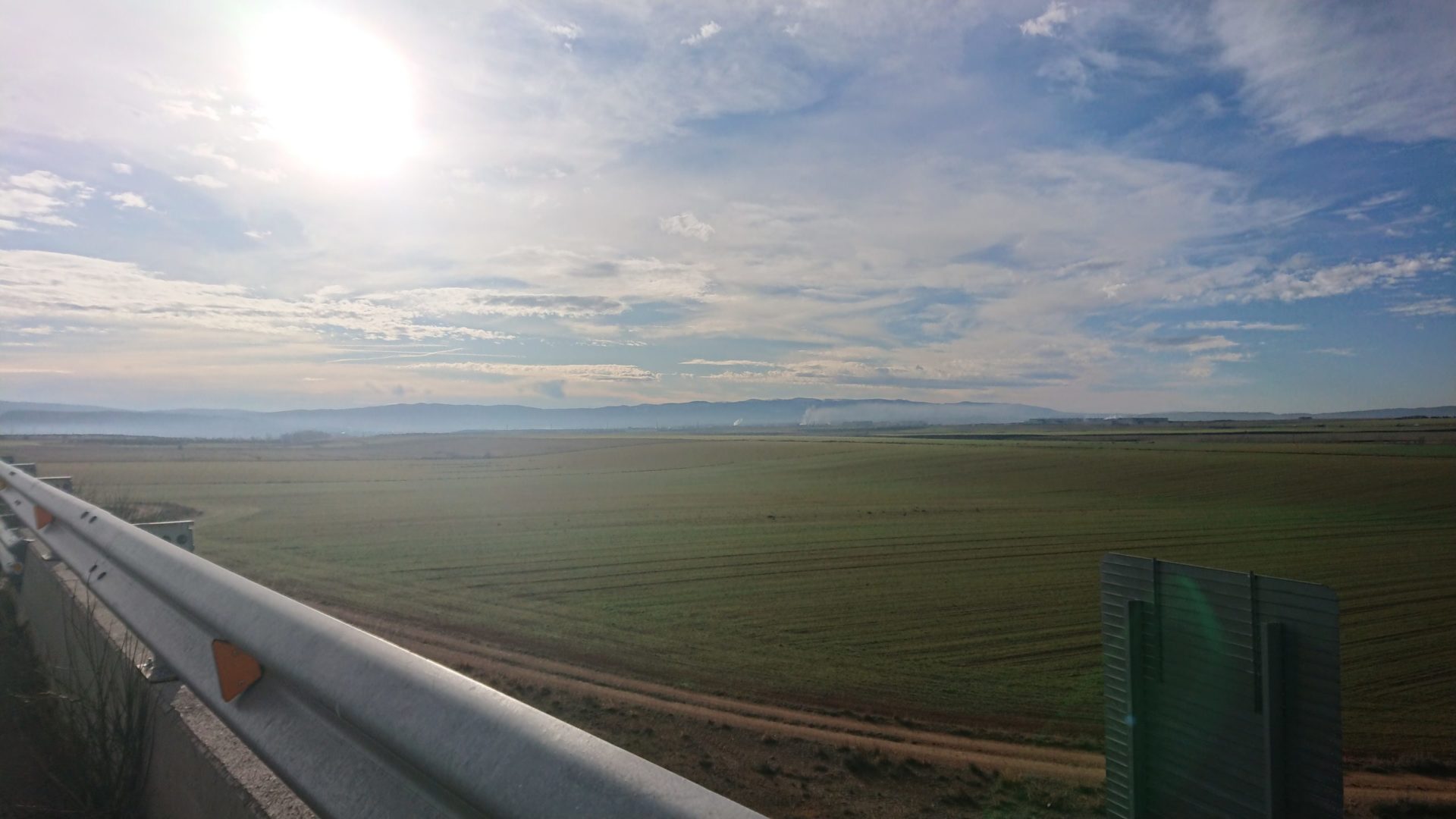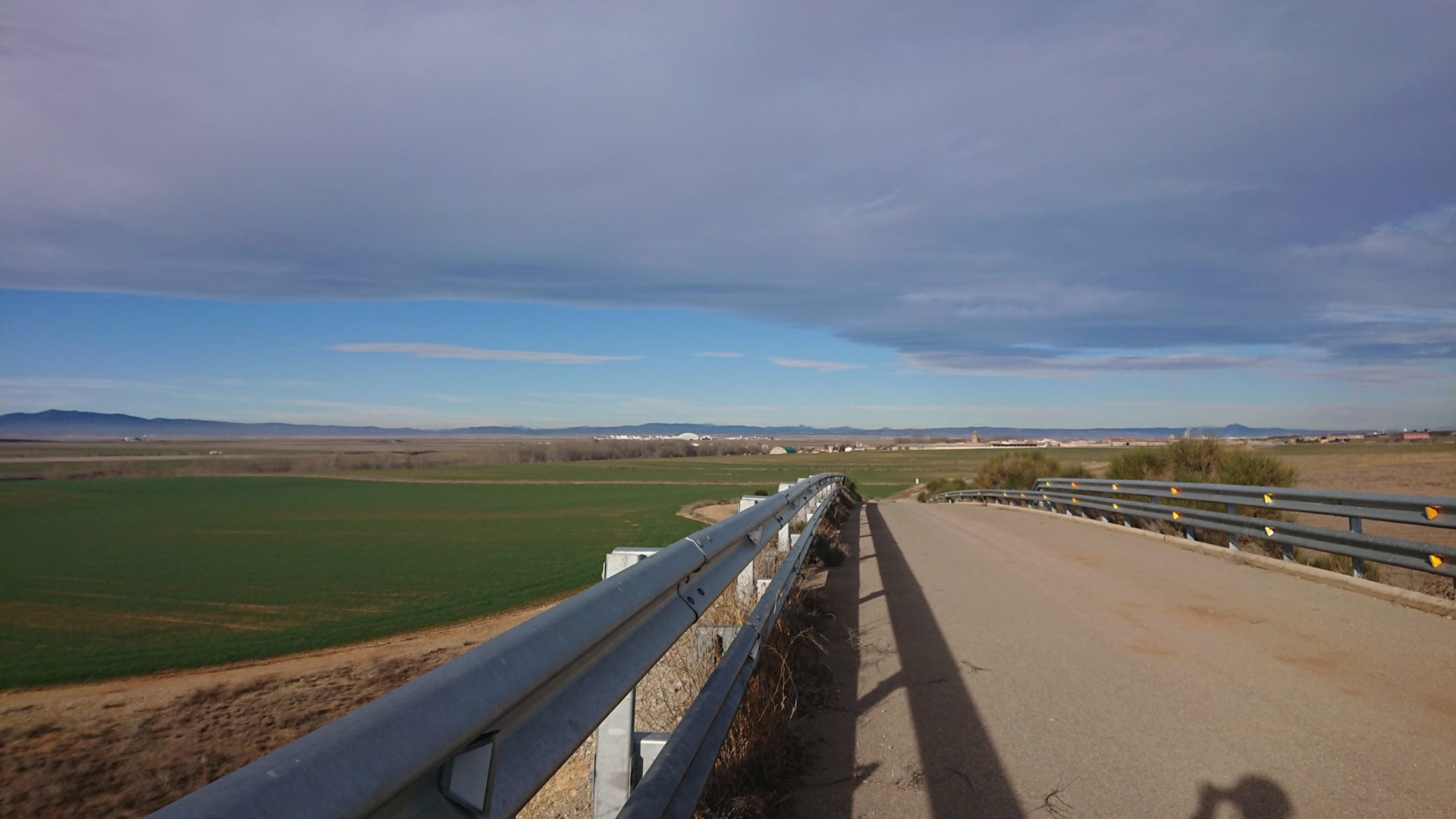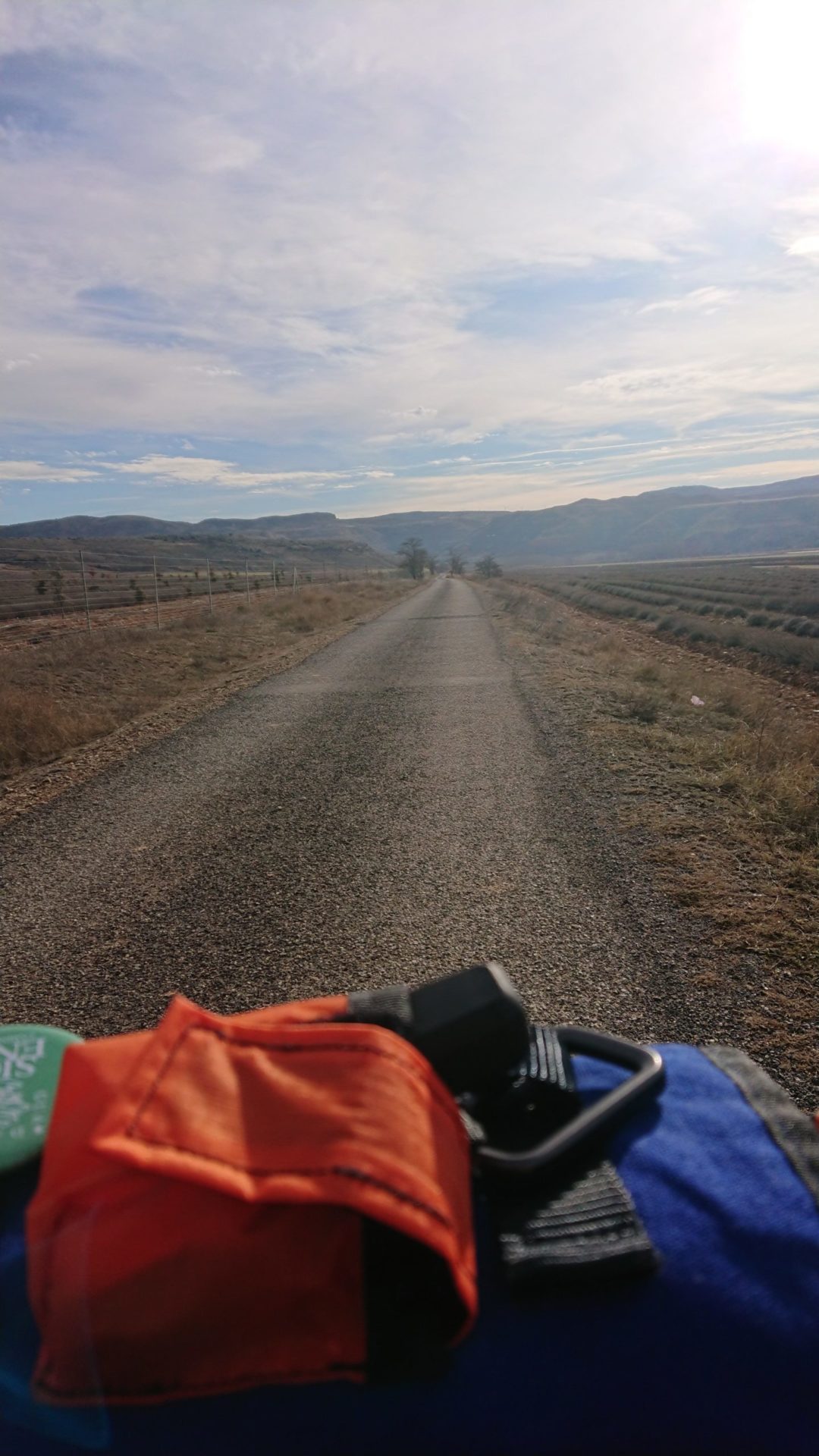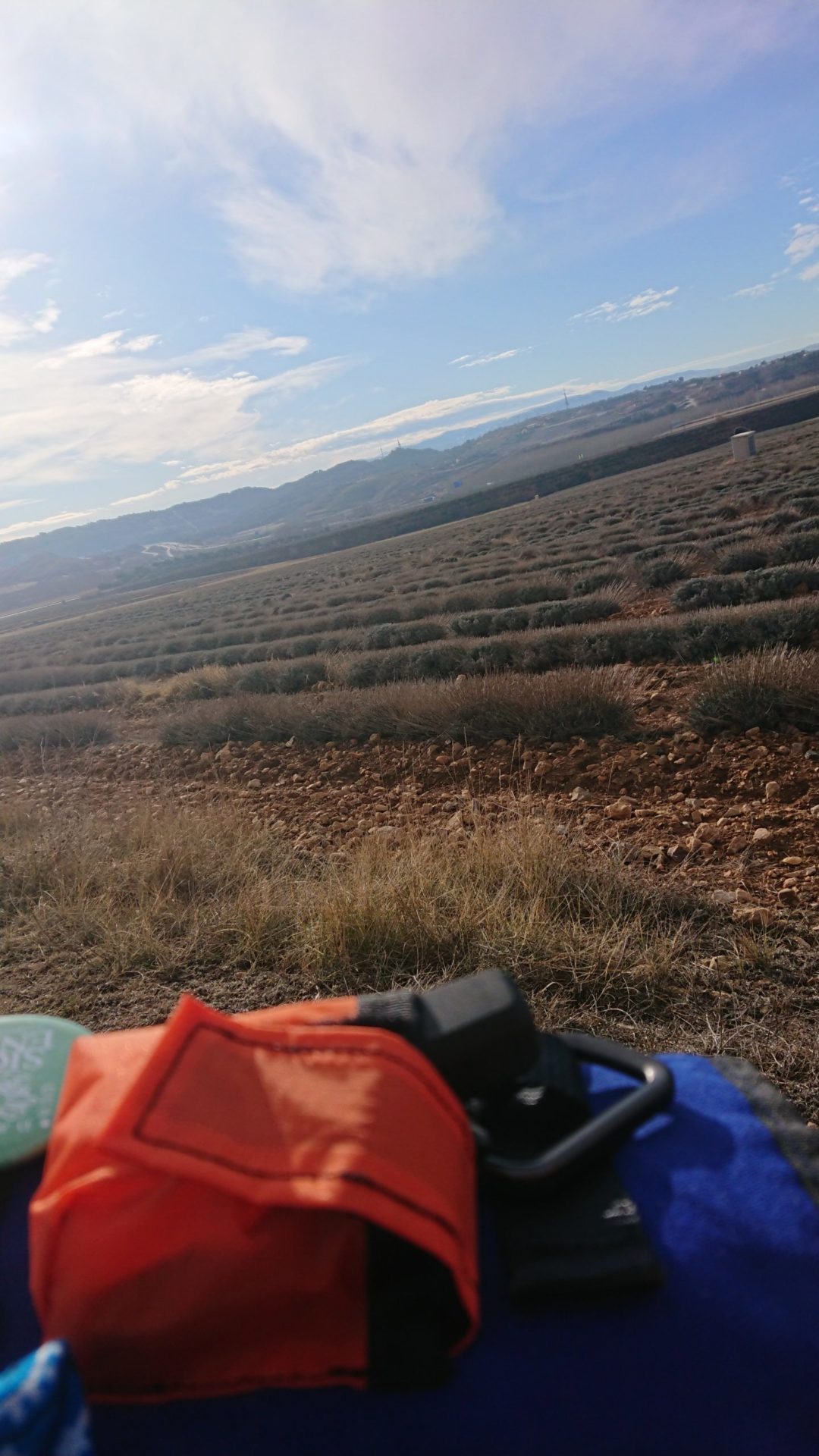 The Spanish Via Verde are for the most part converted railway tracks which makes them ideal for cycling. Trains like to conserve energy and not work too hard, and so do heavily loaded touring cyclists :P. This means there is a lot of interesting rail infrastructure still around such as viaducts, tunnels and abandoned stations. These made it really interesting and selections of the route had been cut into the mountains. Many thanks to James for the suggestion to ride this route, it was well worth it and the whole length is amazing.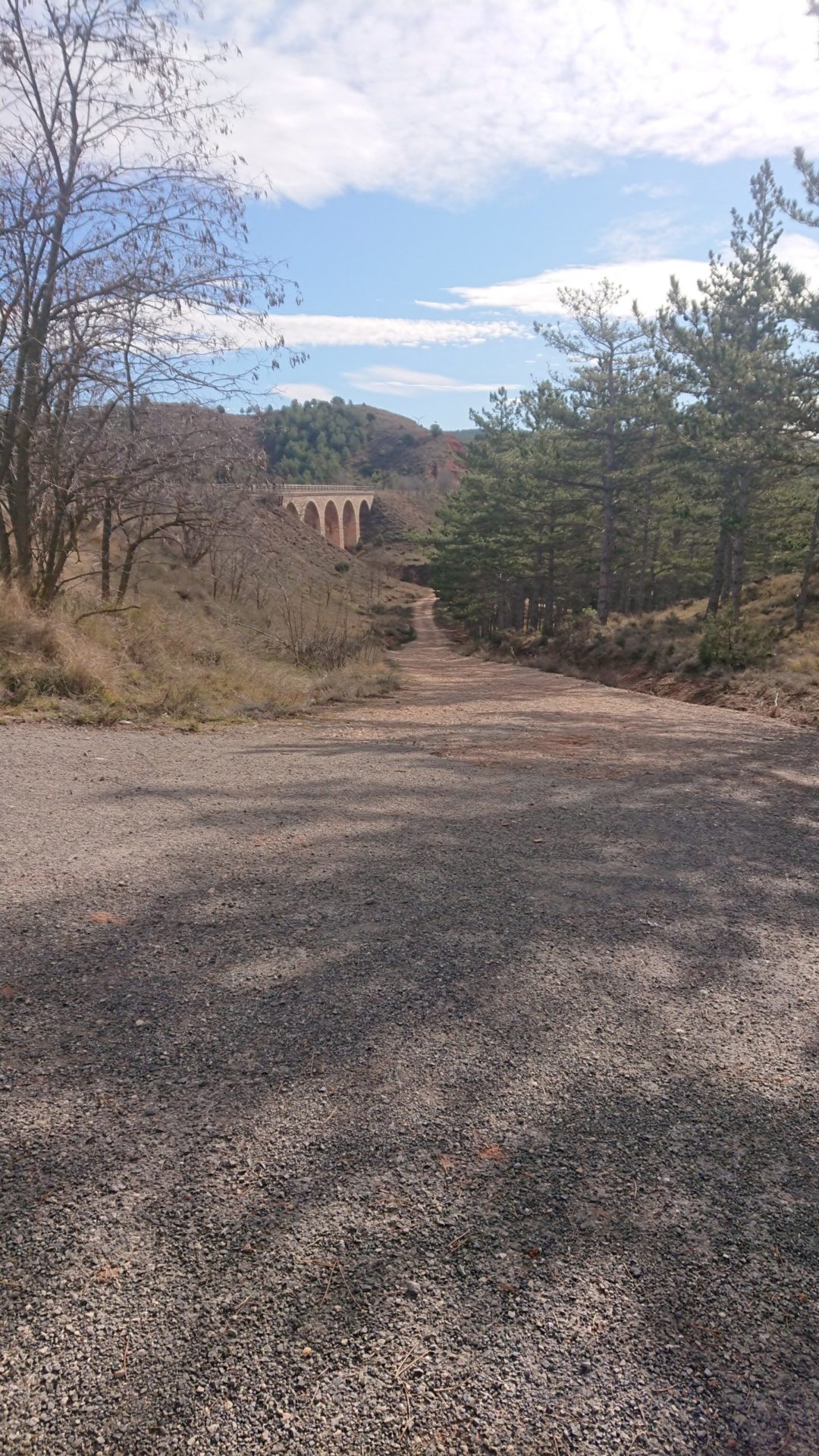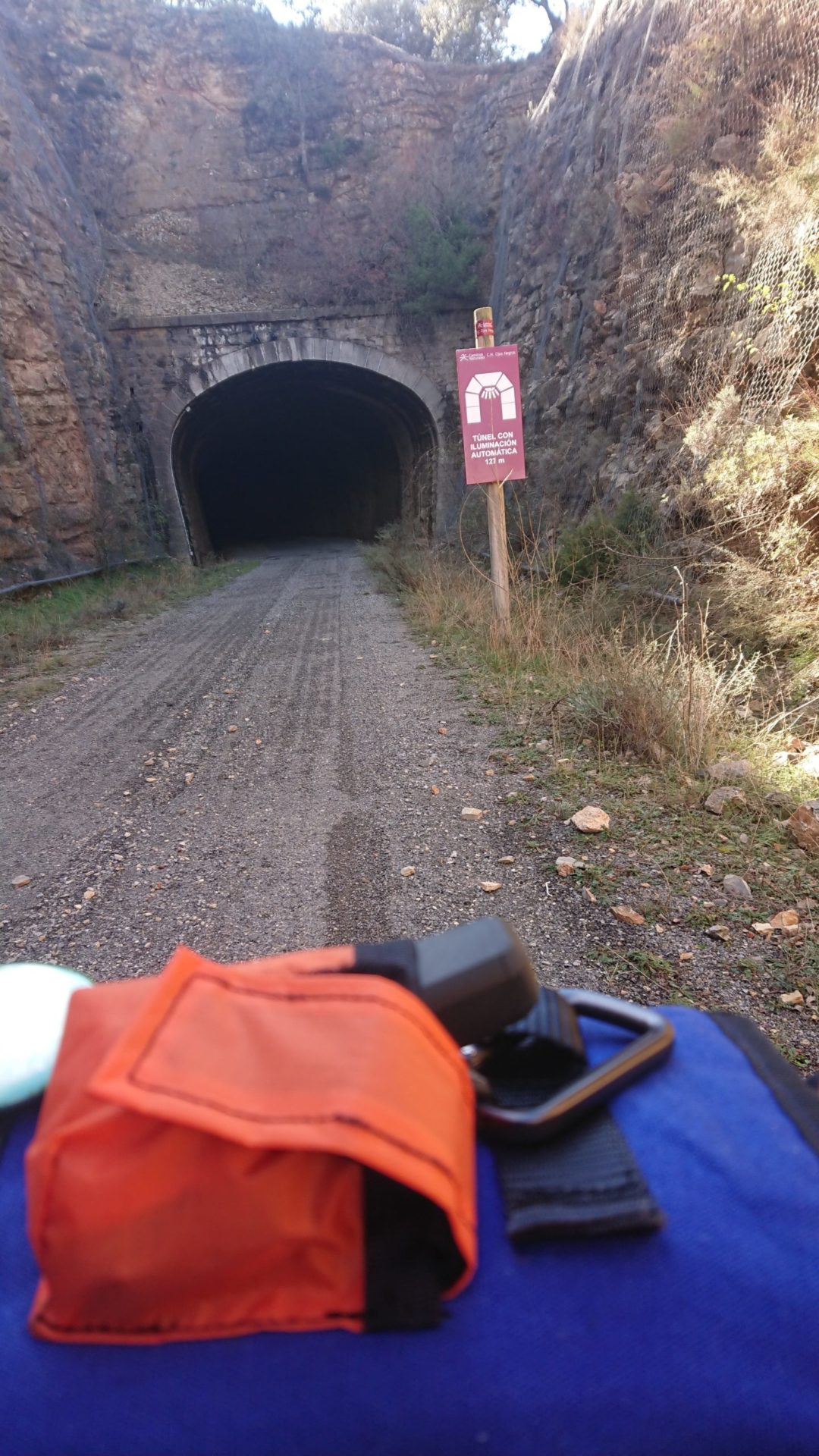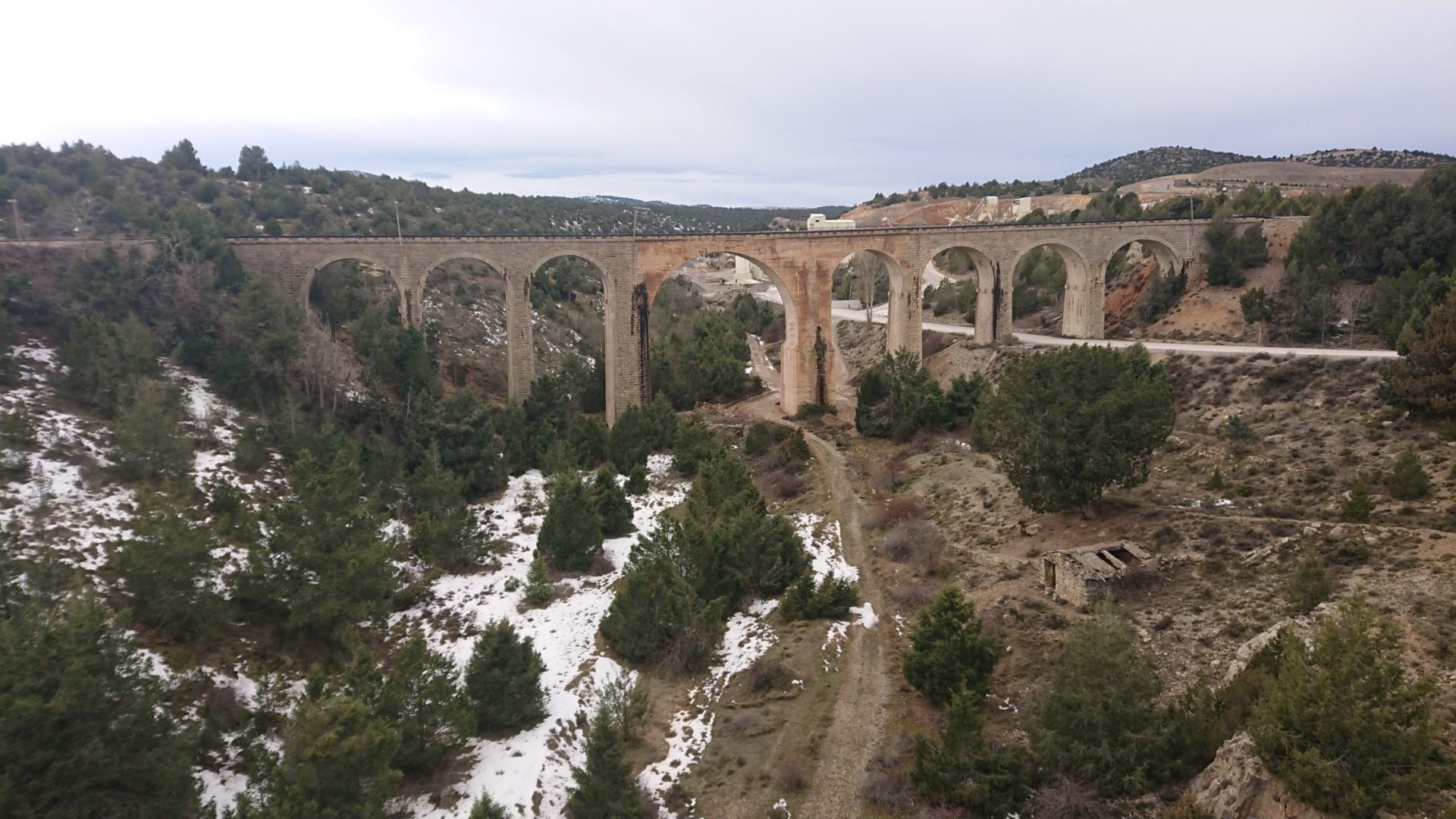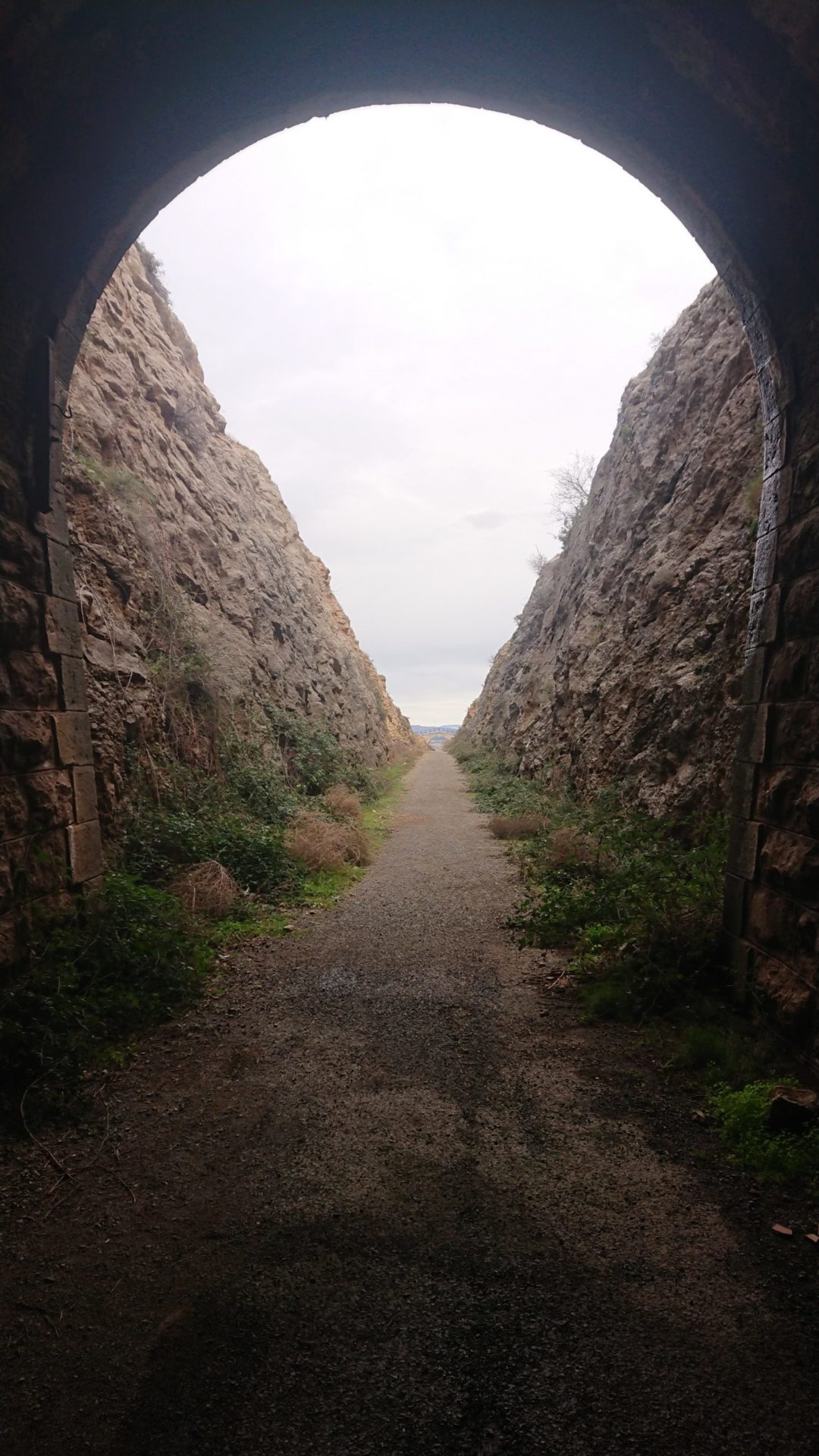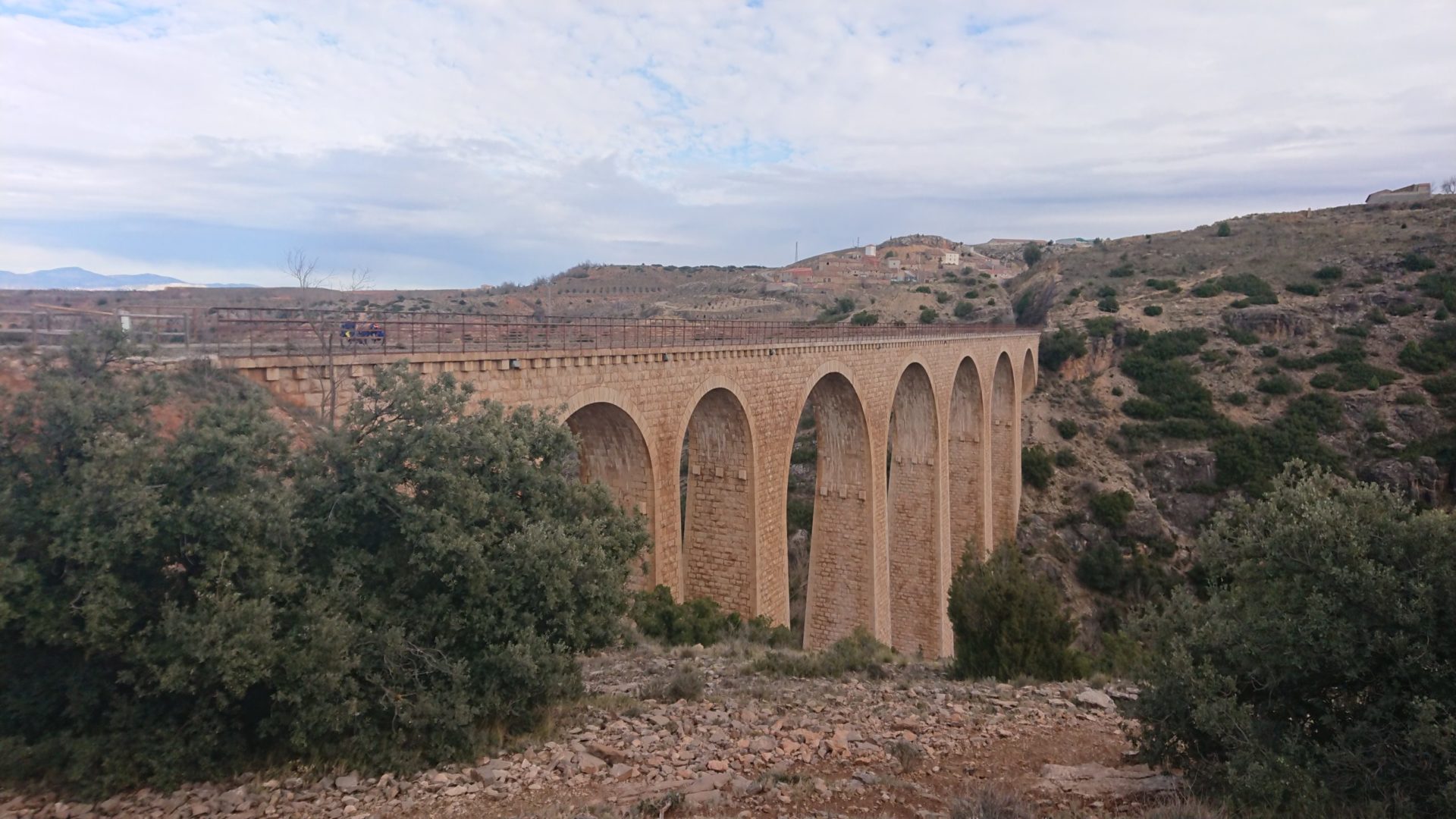 One of the big concerns for today was finding supplies of food and fuel. The old railway was built for mining and generally not terribly close the towns that I was going past, and there still there weren't that many shops in general. But it did mean I popped off-route into a few towns to look for shops (and get caught out by the annoying Spanish opening hours). The buildings have changed slightly and I think there is more of a Moorish influence in the churches and tiles.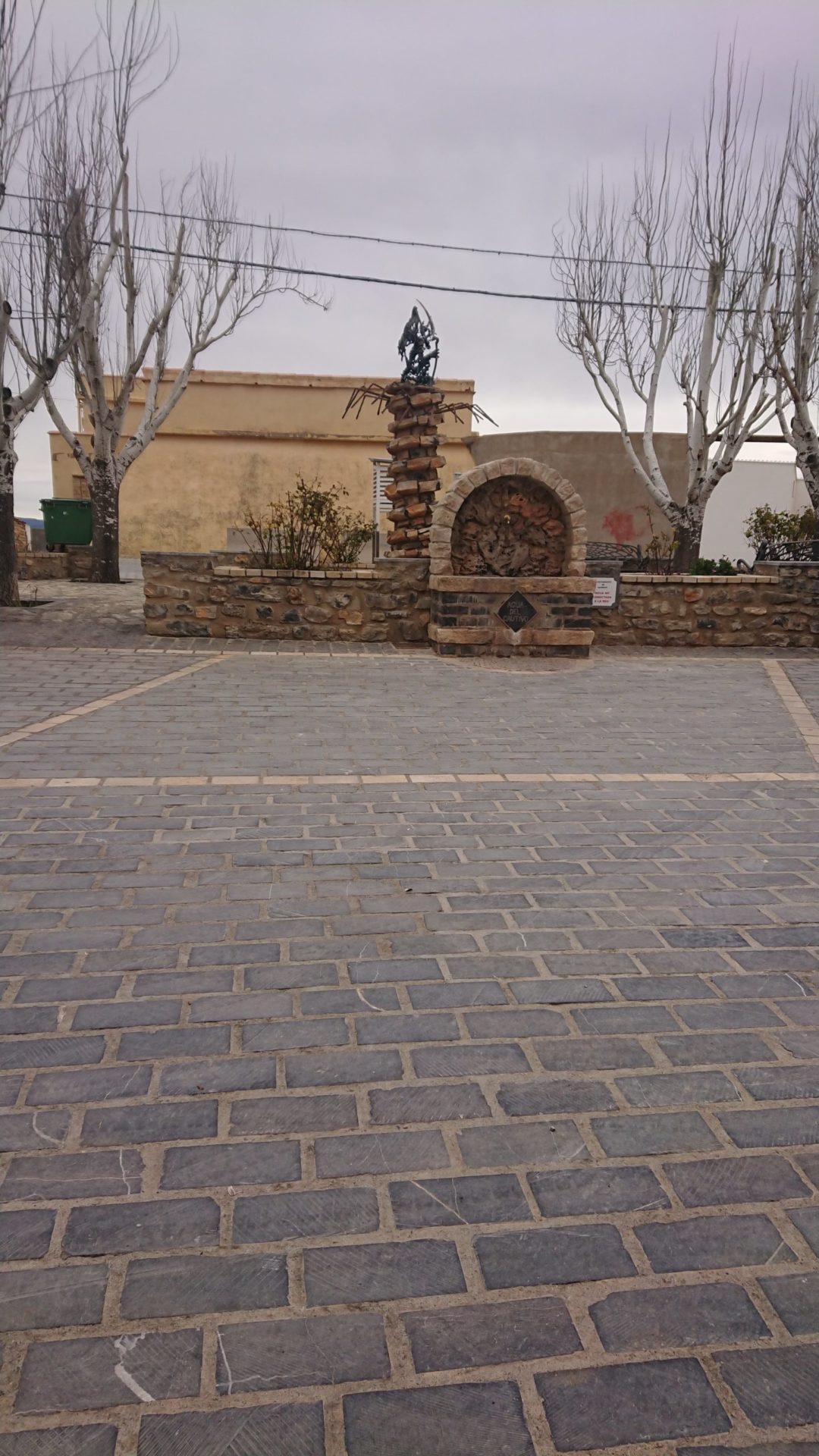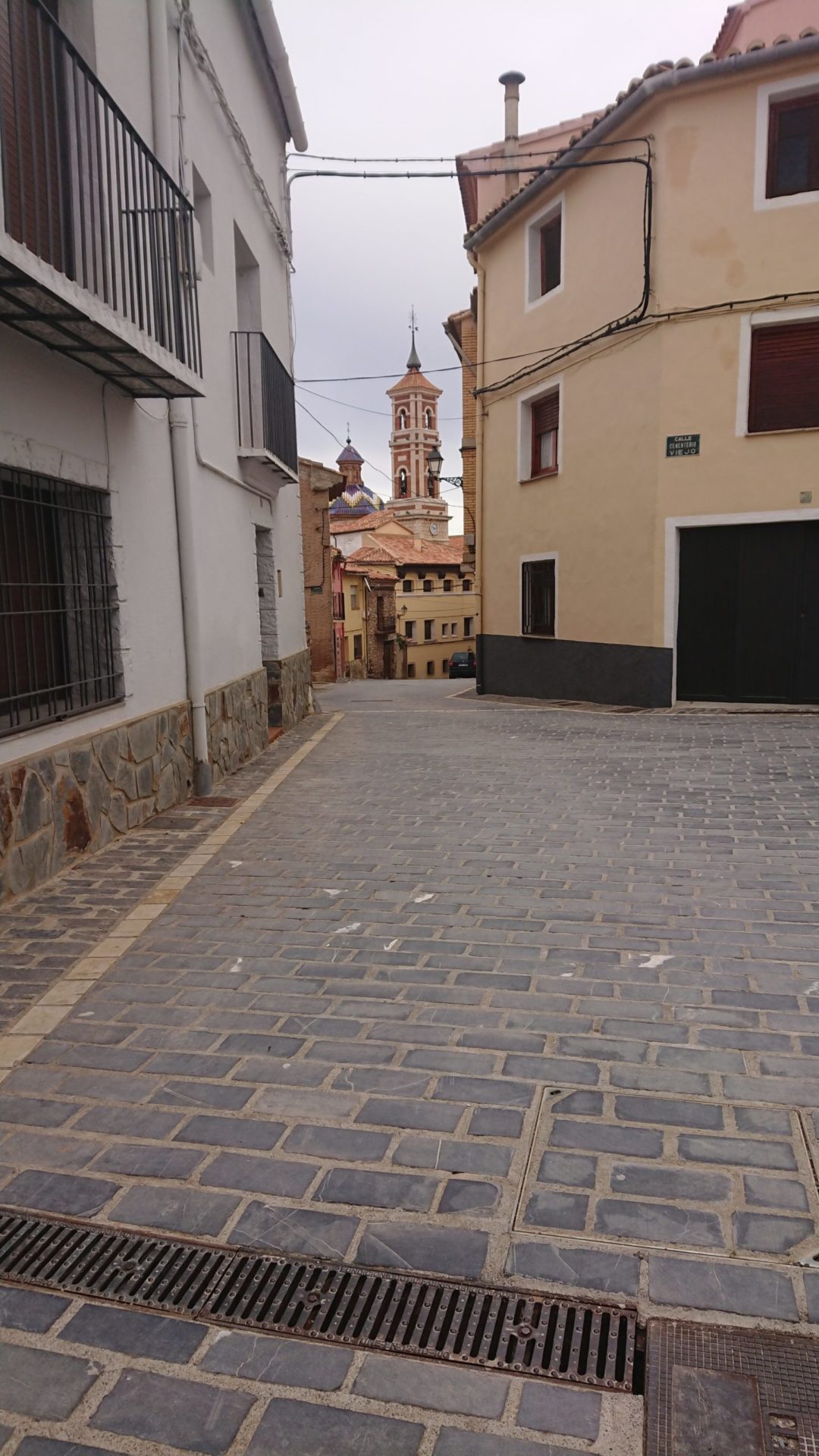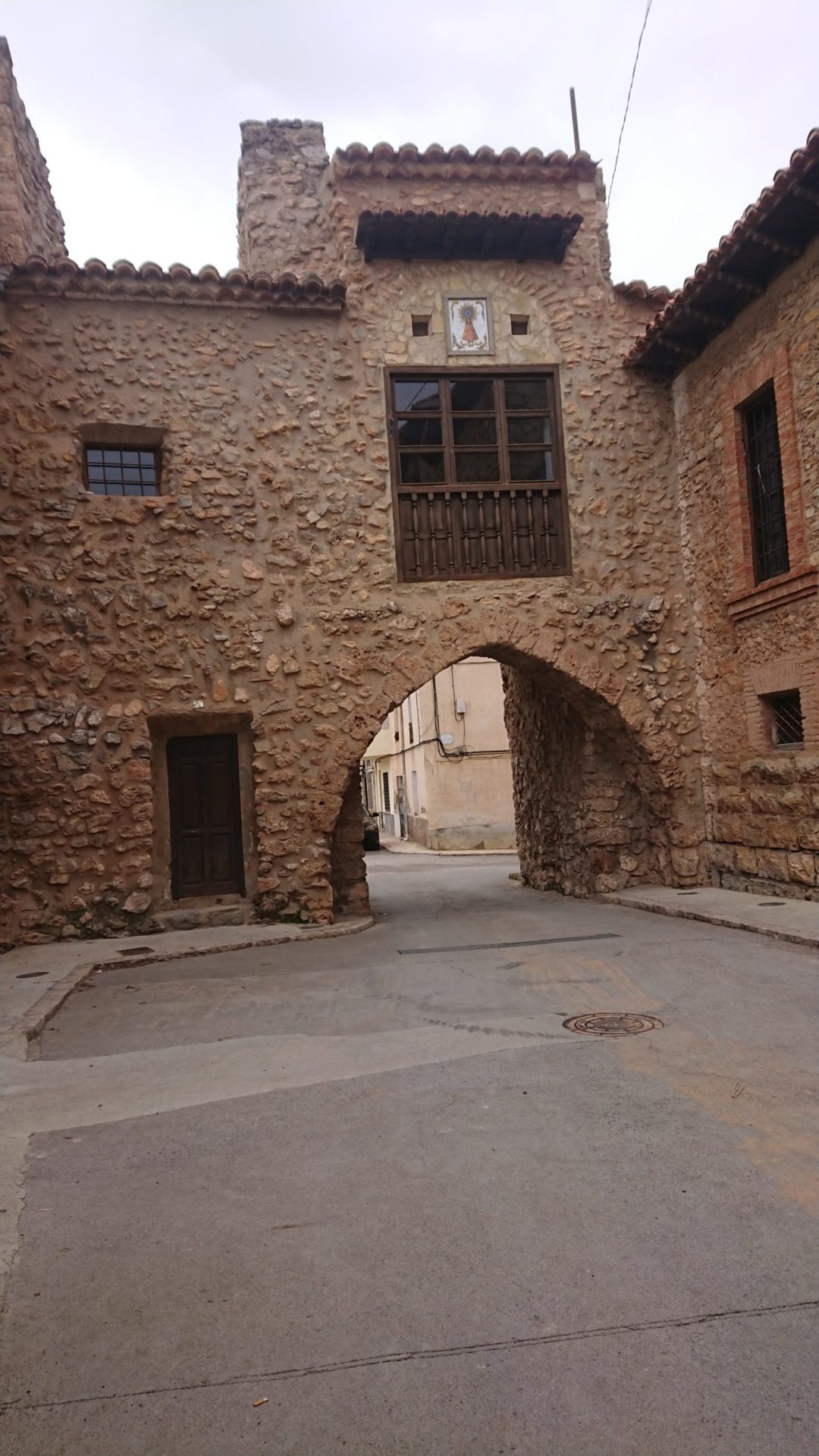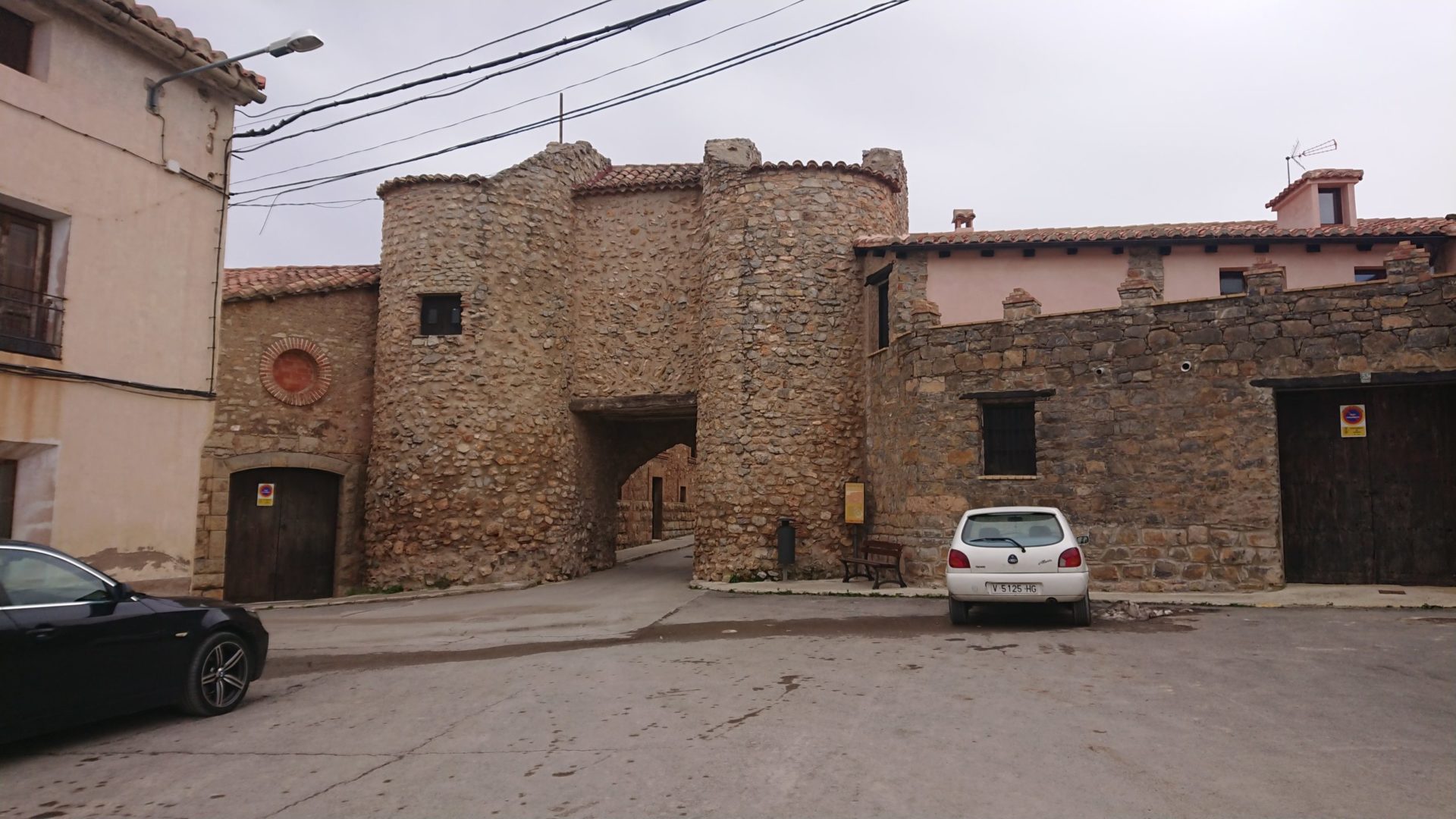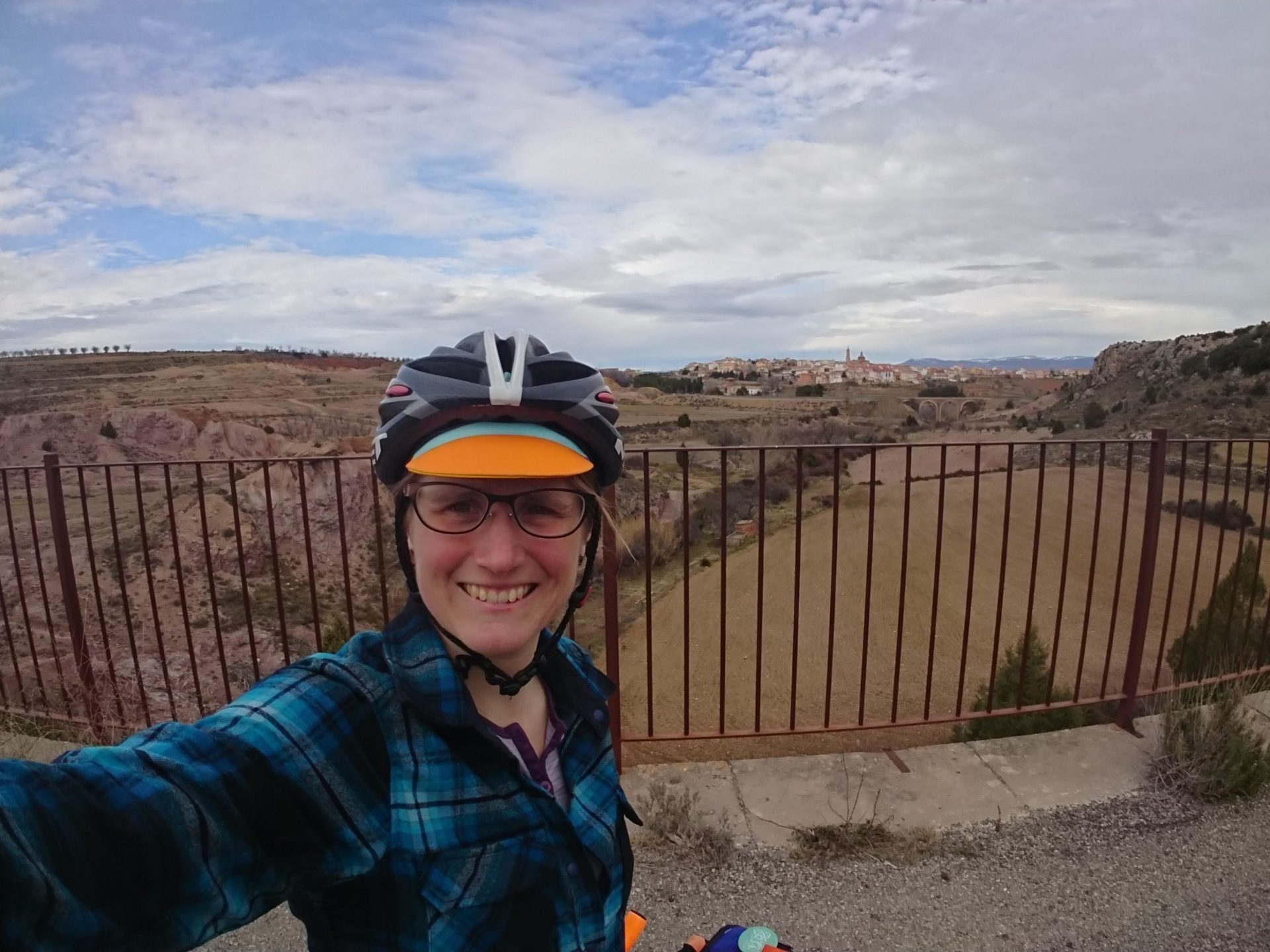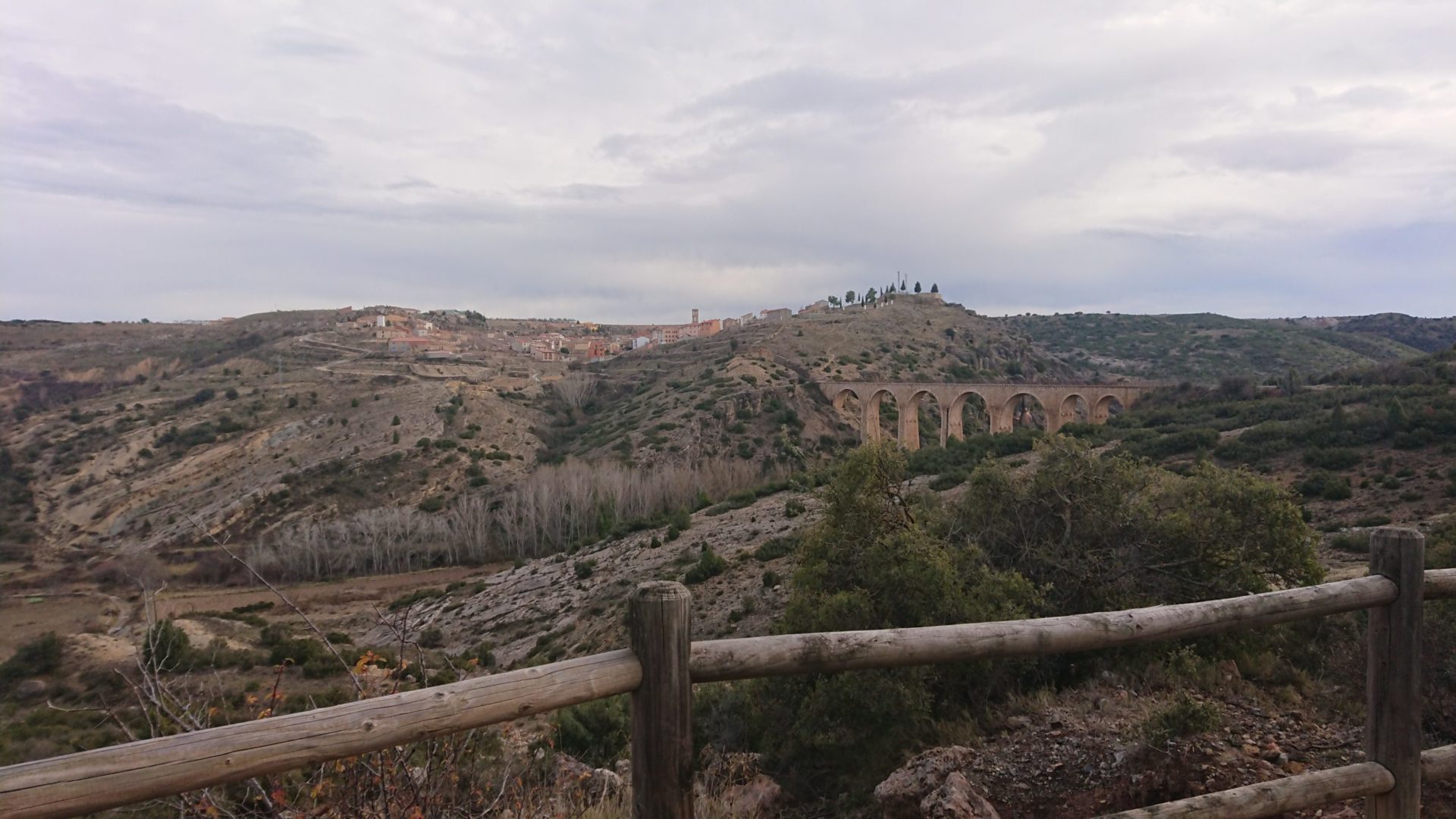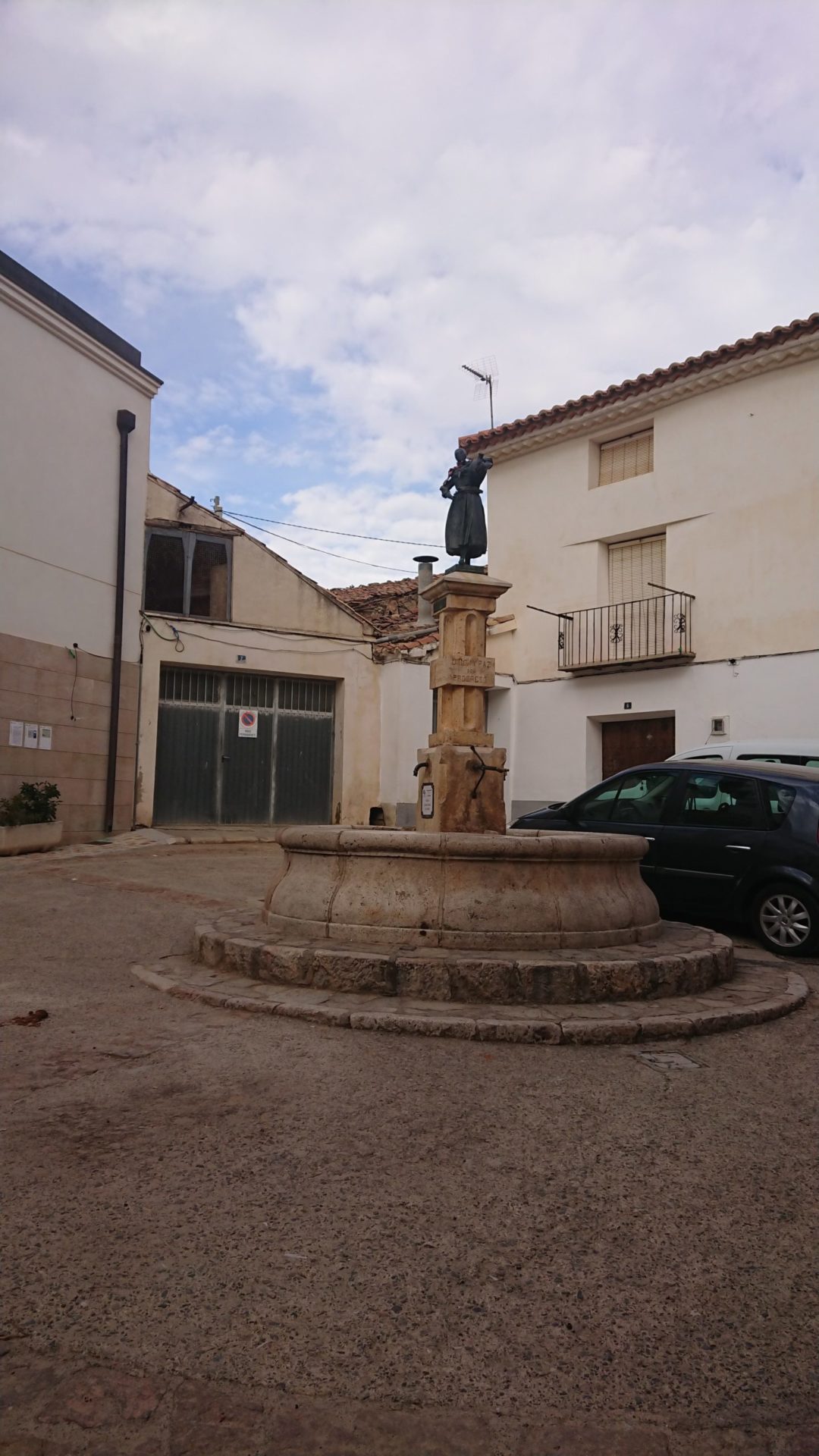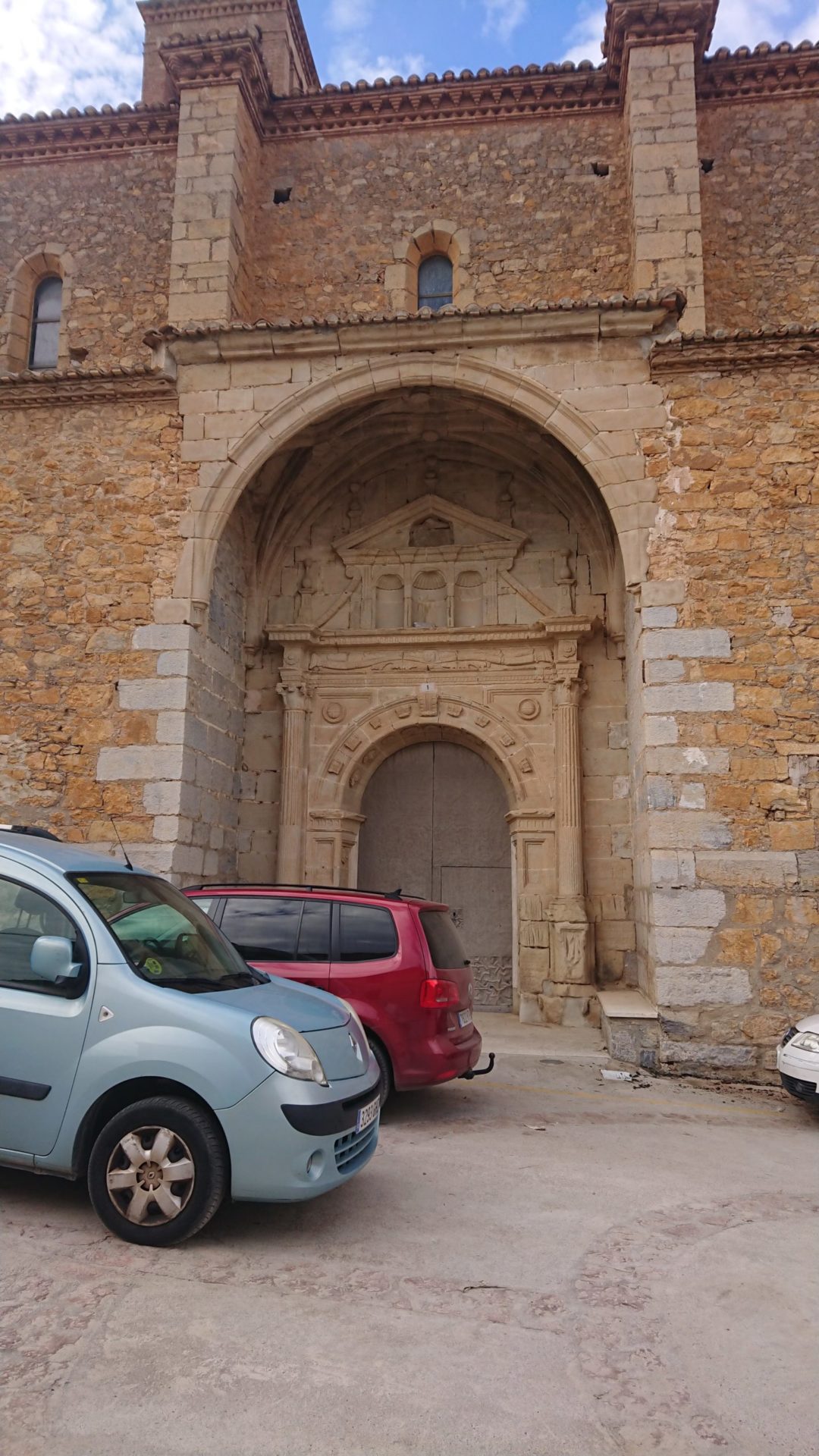 I had no joy in any of the places I tried for fuel, but did manage to get some supplies in a small supermarket connected to a hotel so I had something to eat. But with low fuel I was thinking couscous for dinner as it is simple and just requires boiling some water. All this hunting had eaten into my time and I was starting to get a bit anxious about getting to the spot I wanted to camp at, but I think part of it was tiredness as well as it was an over 80km day.
I was camping at one of the old stations which has been turned into a Refugio and a campsite. Of course being January there was no one around and nothing open. Although I suspect a cleared "field" next to the children's play area was the intended area for camping, I chose to camp in the middle of the buildings for a bit of shelter and discreteness. It was a nice set up and I sat at the benches to cook dinner and sort out journey and stuff. Before I climbed into bed for some sleep. I could hear the traffic from the motorway but it wasn't too bad.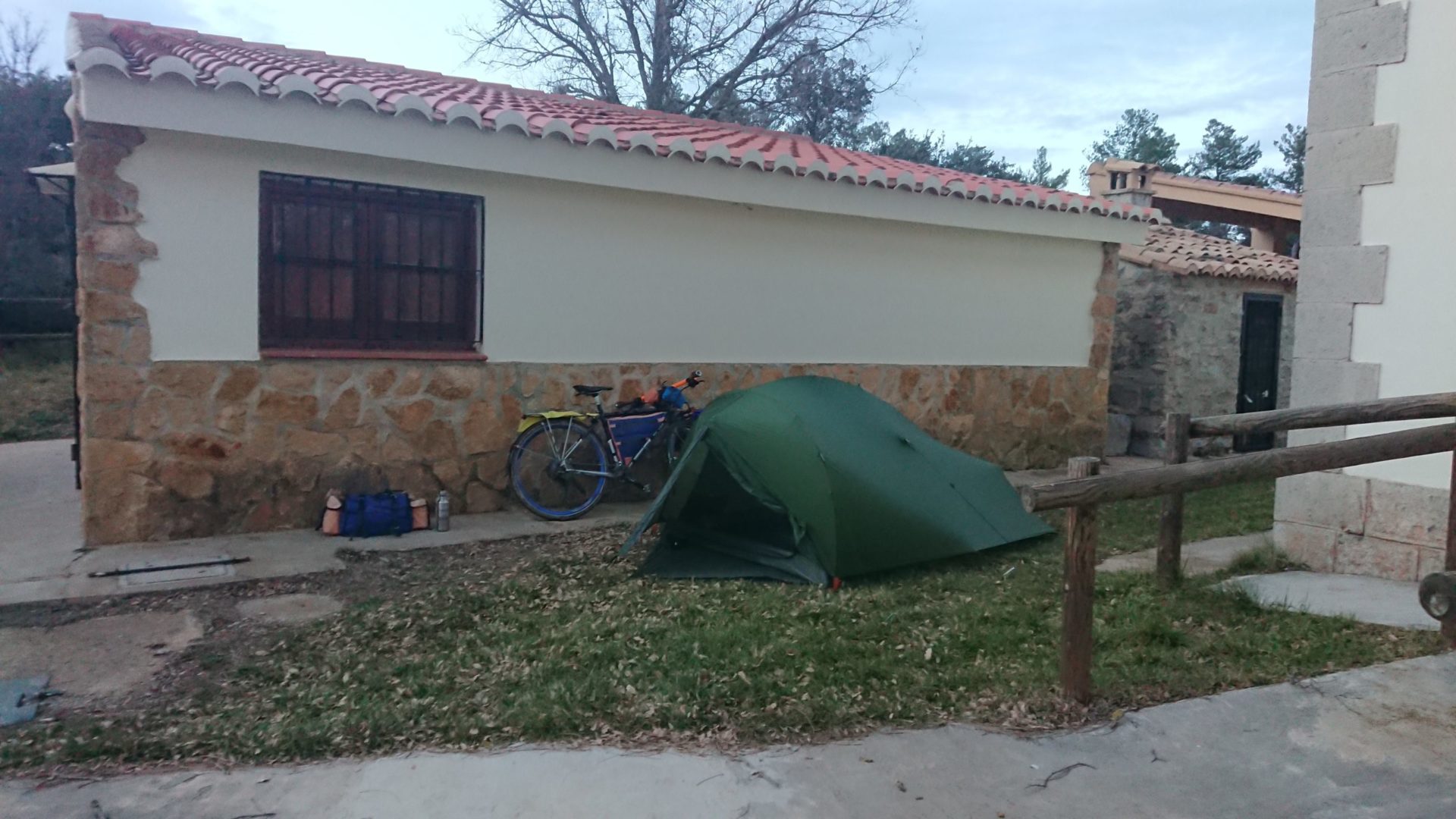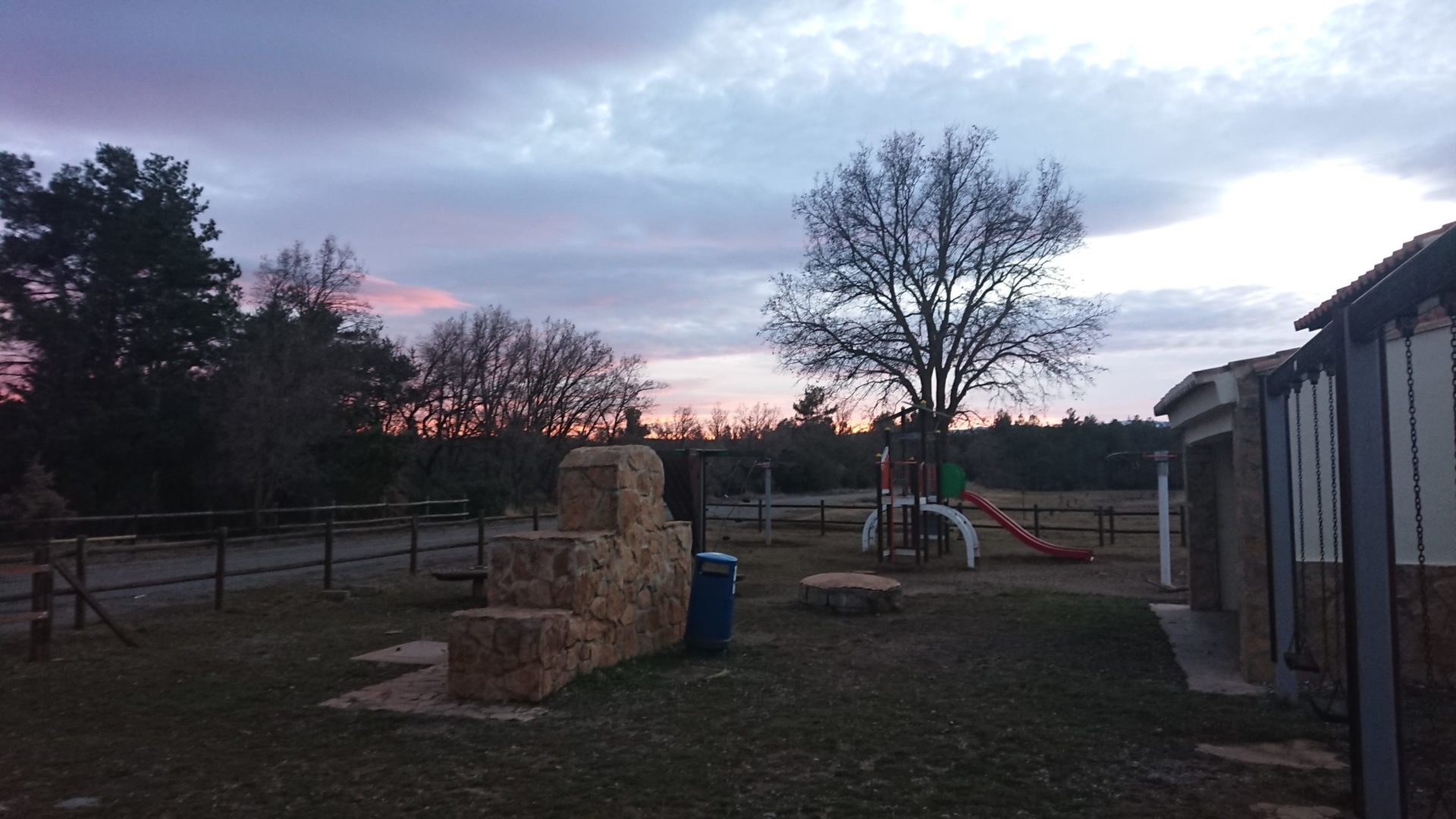 Friday 31/01/2020 — Day 16
Sleep was a little disturbed and I think it was colder then I thought it would be, or more windy and I hadn't put the sleeping bag in the bivvy bag. But felt rested and was on the road at a good time (for me :P). It had rained a little in the early hours of the morning so the tent was wet but it wasn't soaking.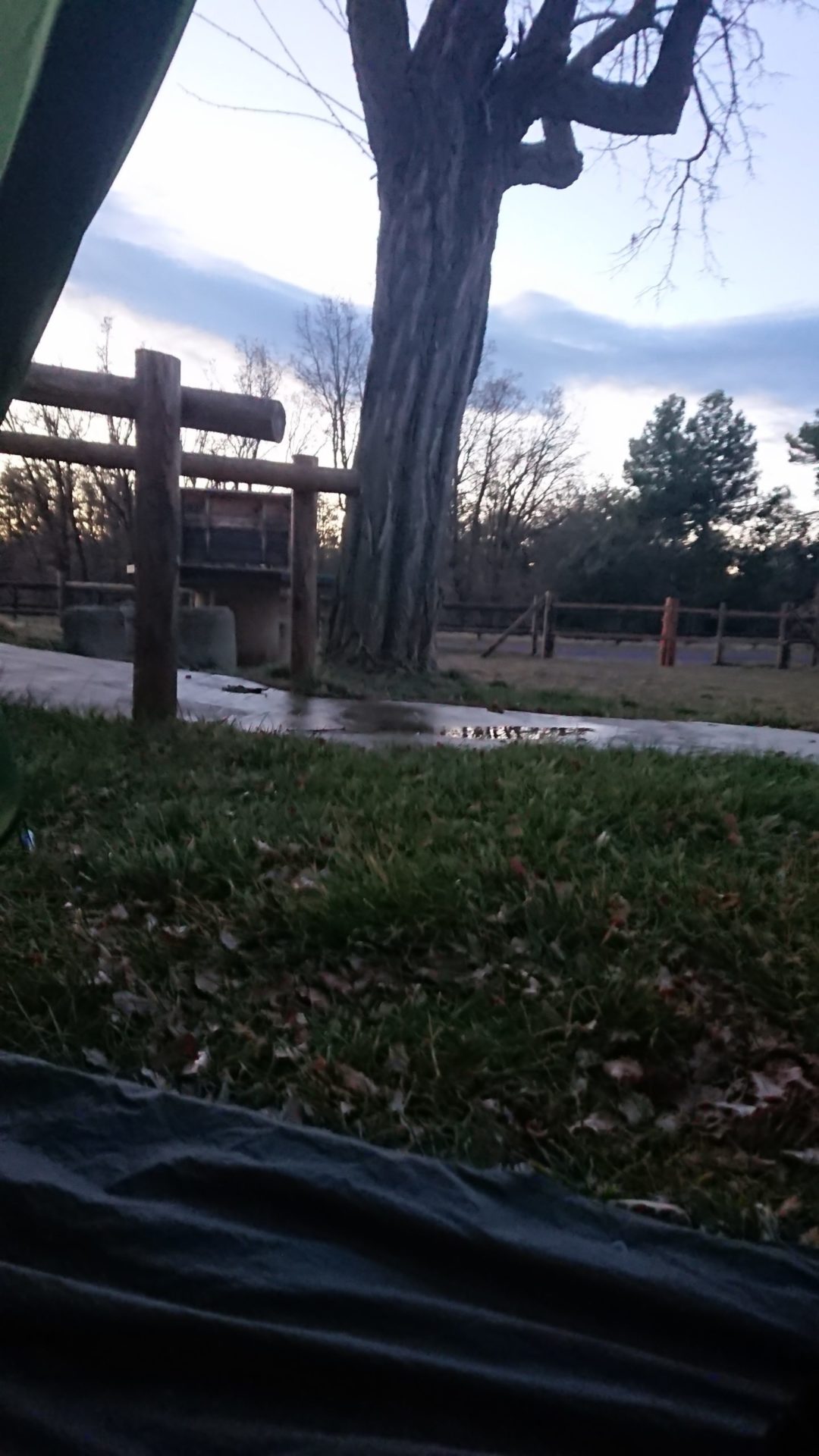 Again the via verde didn't fail to deliver fantastic riding! Started with going through a wind turbine area. They do make some amazing noises, which I had never been as close to them to hear before. I liked the shadows of the blades chasing over me as well.
There was a little climb to get over the top of the last range of hills, and then it was amazing looping zooms down the side. And I saw the sea from all the way up high! I didn't believe it at first but a little later I could make out a ship on it! There were also lots more tunnels and viaducts as well.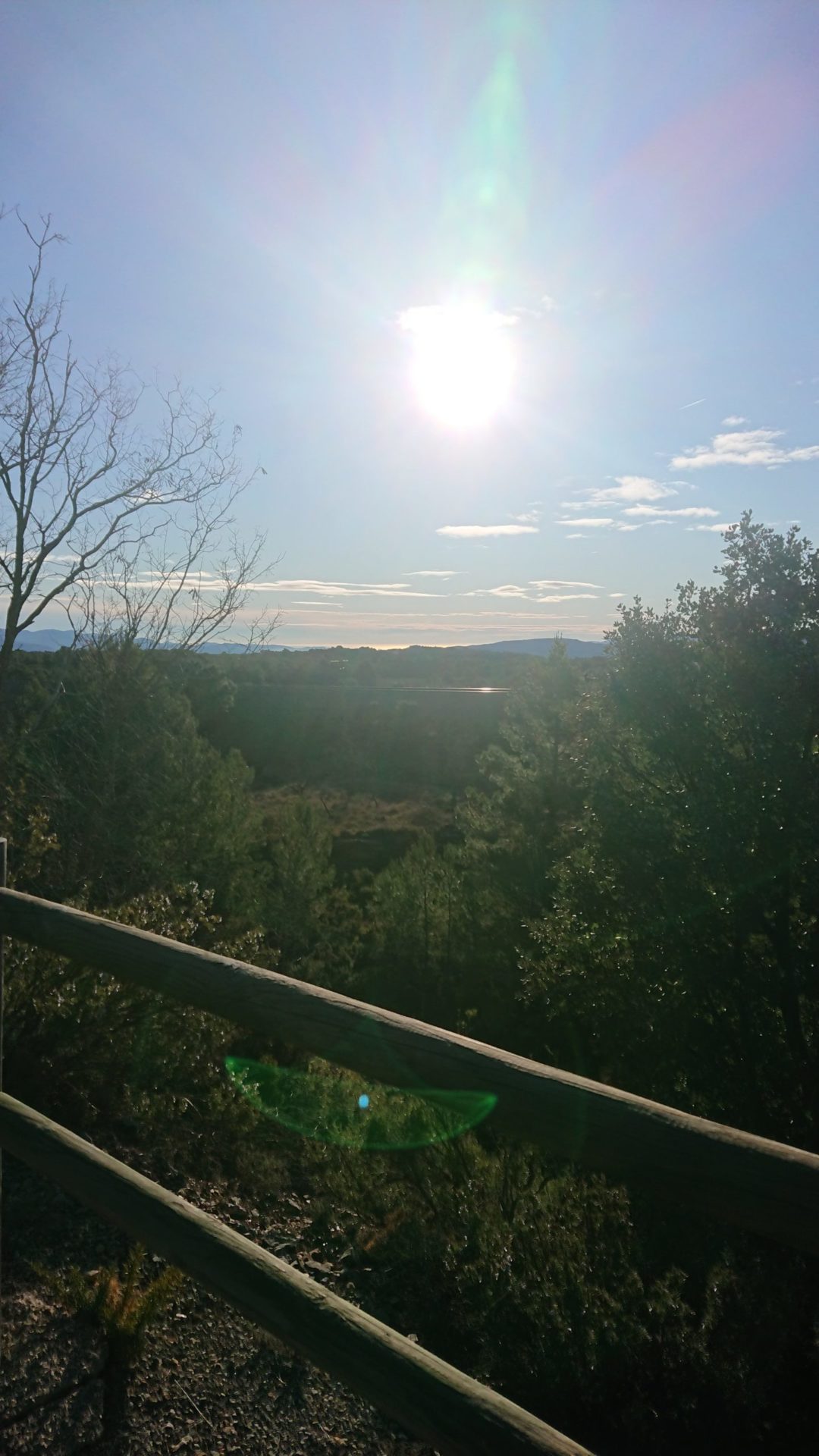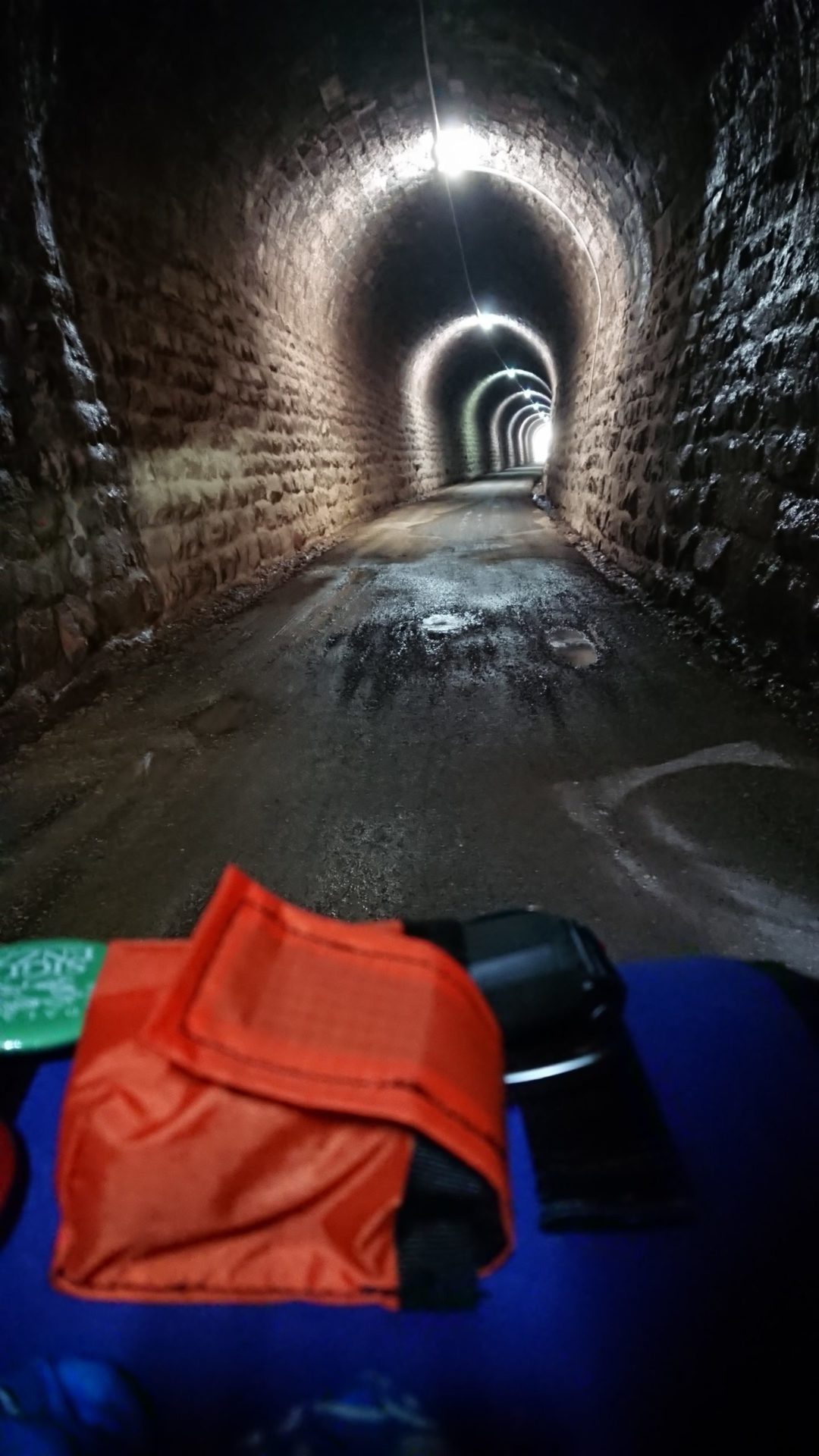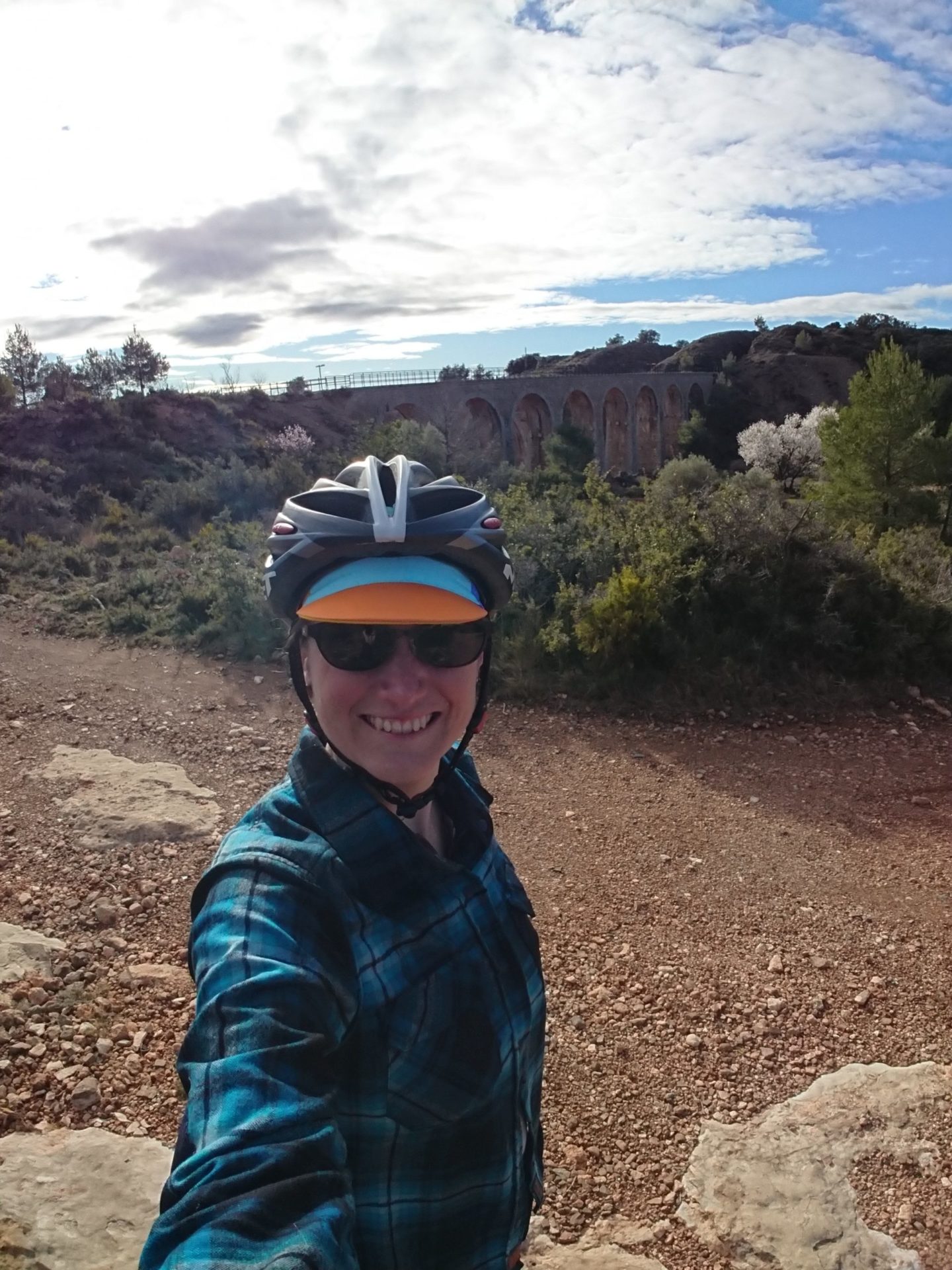 Through all these switch backs (spaced at a trains turning radius) I was actually dropping altitude quite quickly and the change in the climate and environment was amazing. I went from scrubby moorland to flowering fruit trees (and even further down orange groves EVERYWHERE!!) The change was fun to ride through and feel it was also fun to look back and keep seeing the wind turbines on the top of the hill getting smaller and smaller (not sure if you will be able to make them out in the photos but it really gave a feel to the distance.)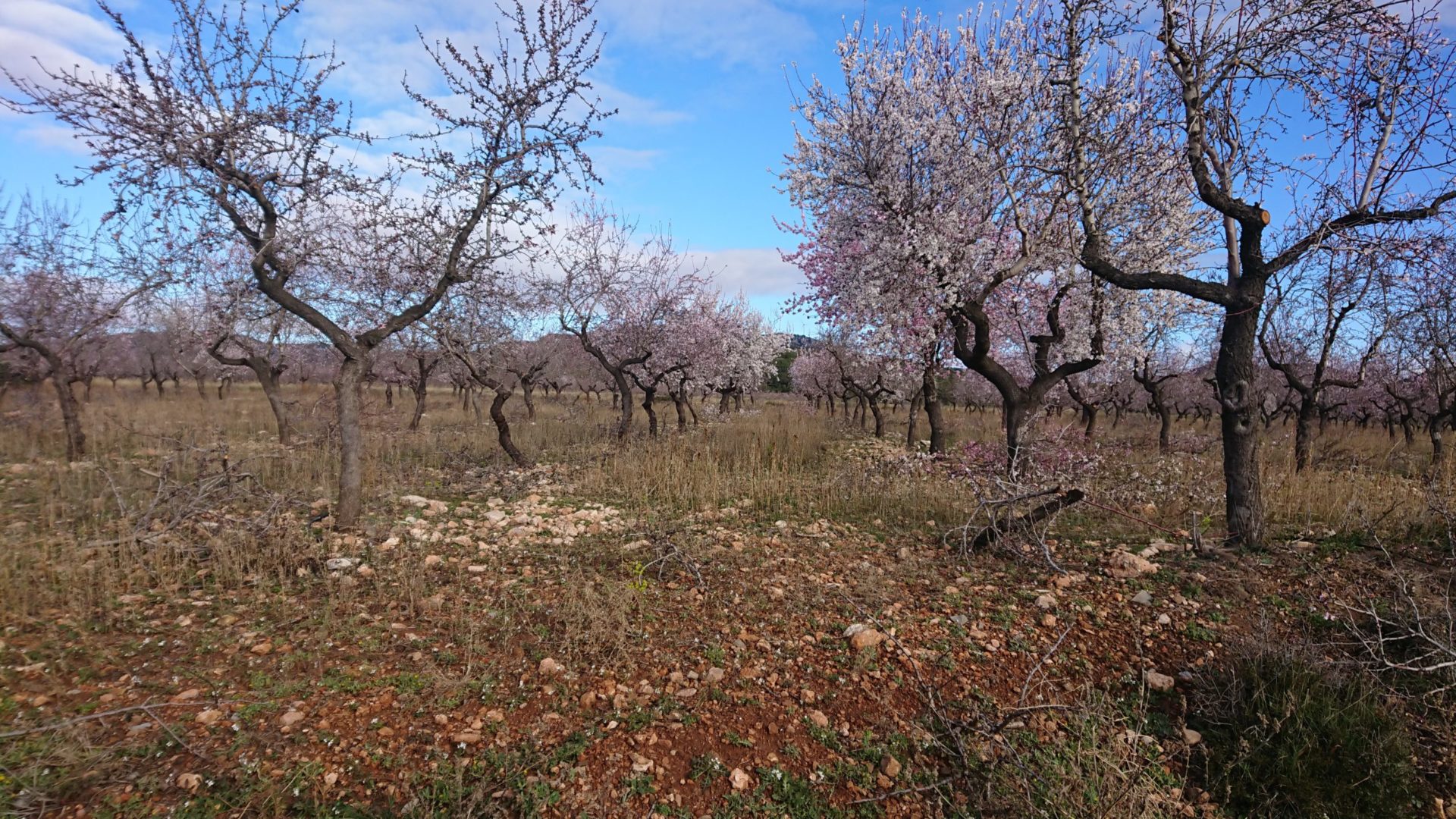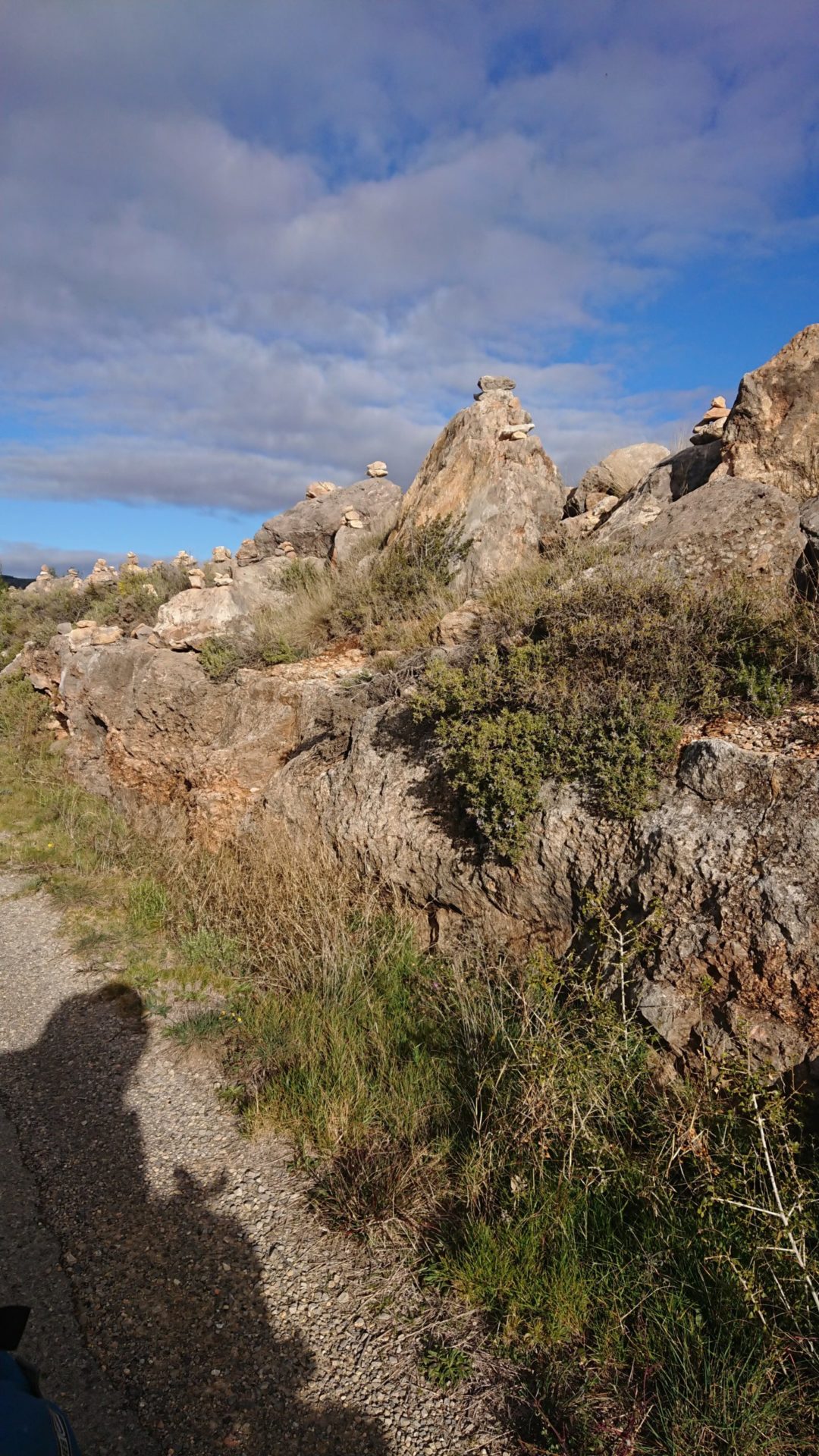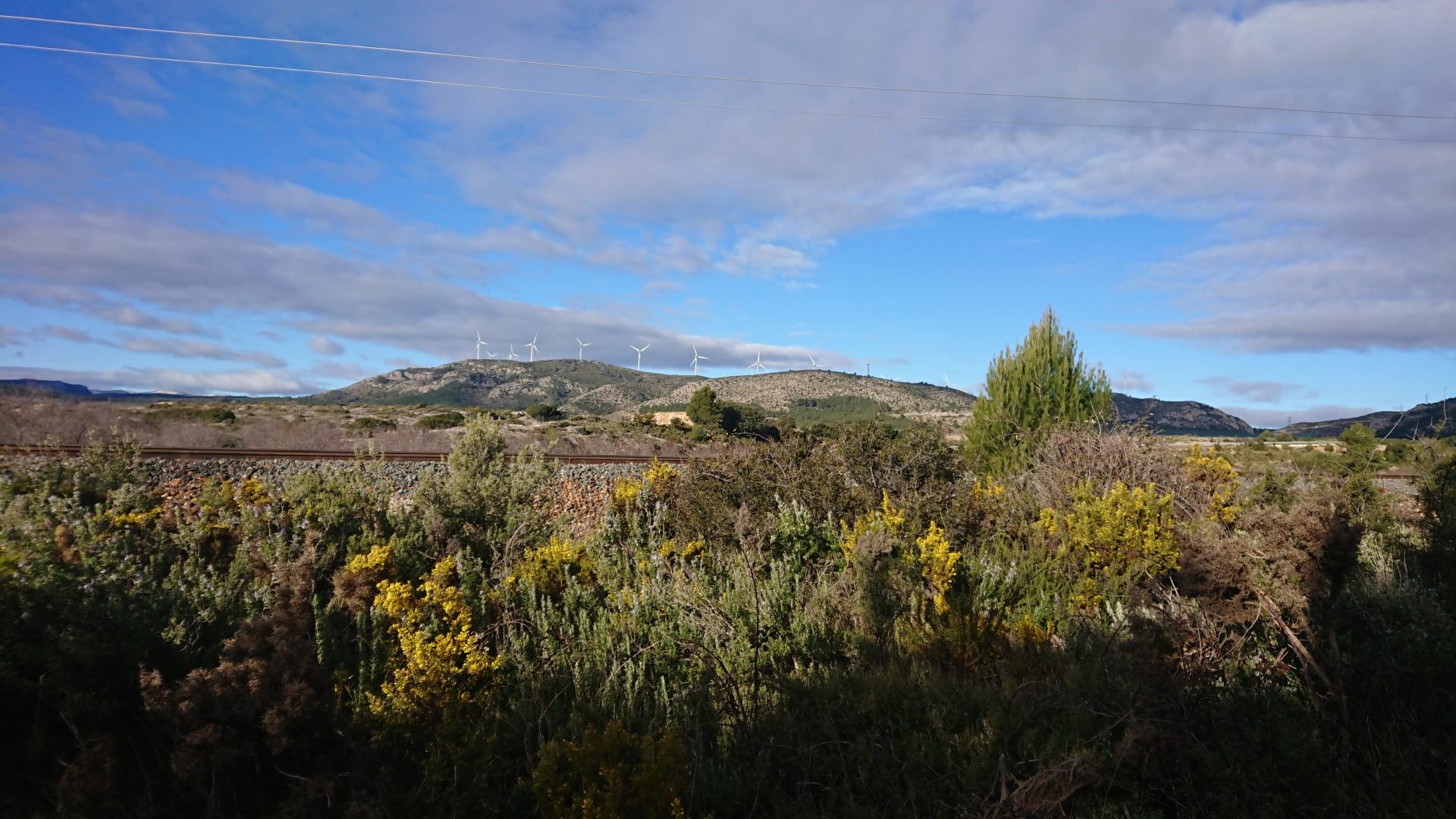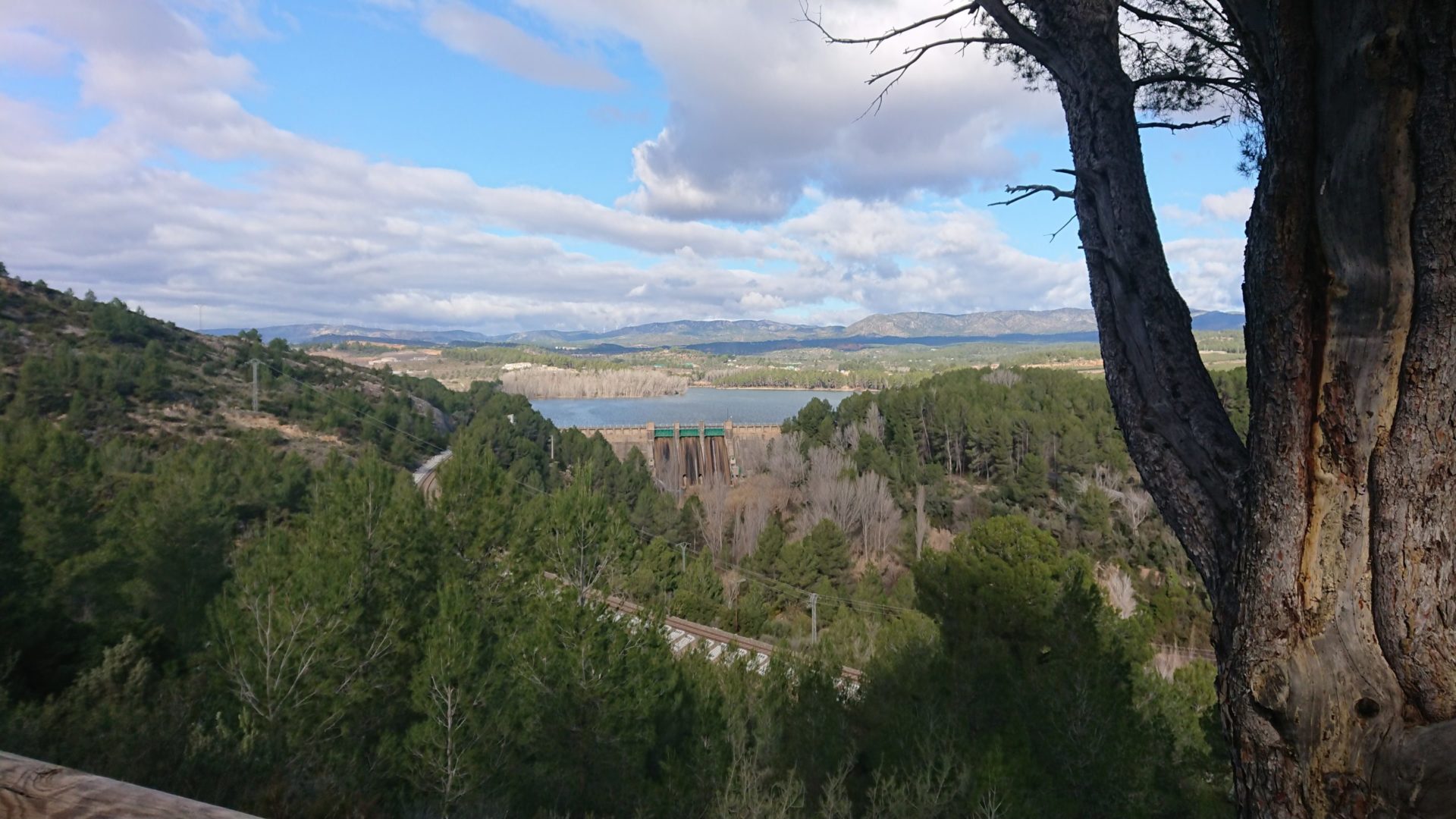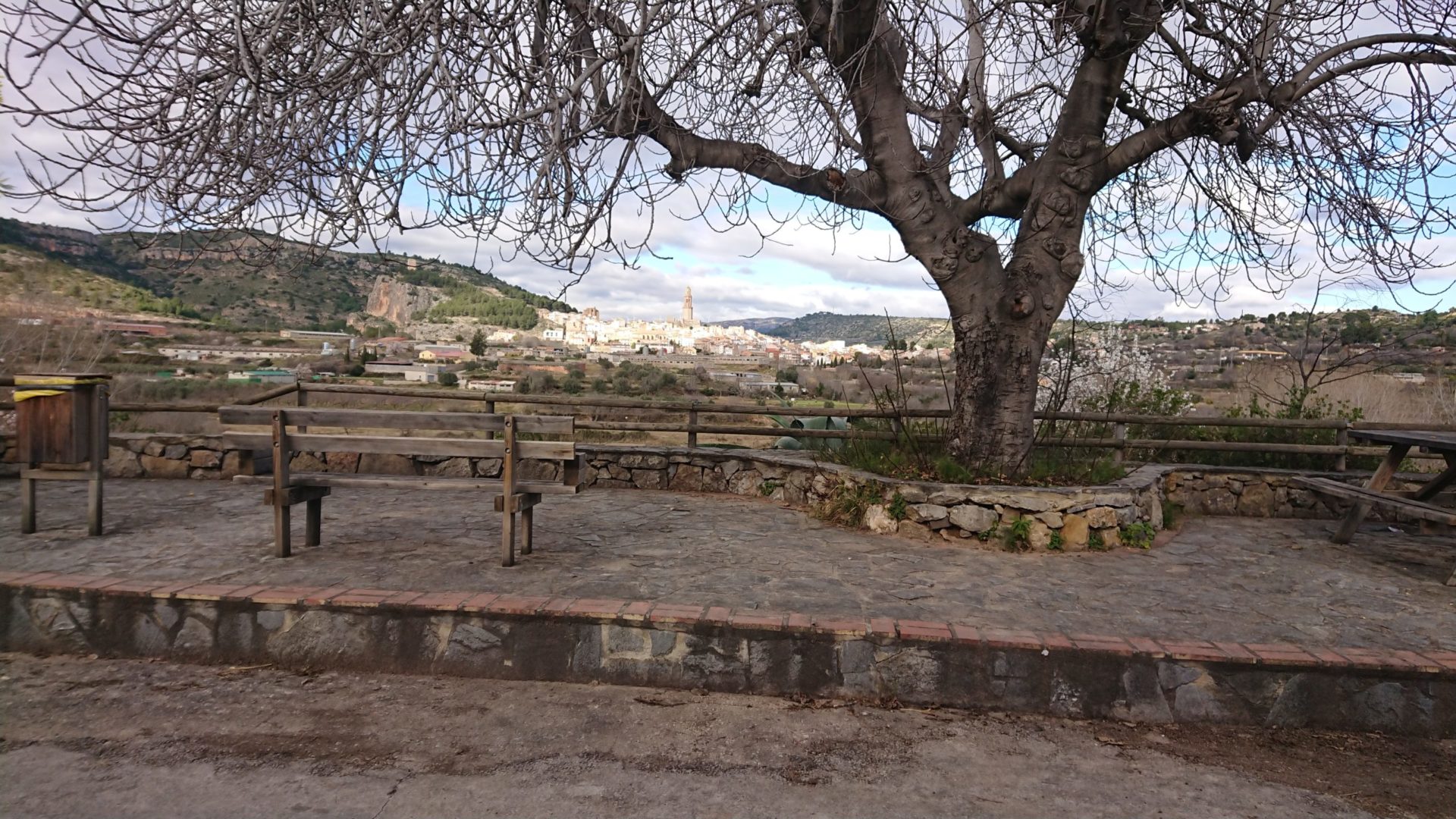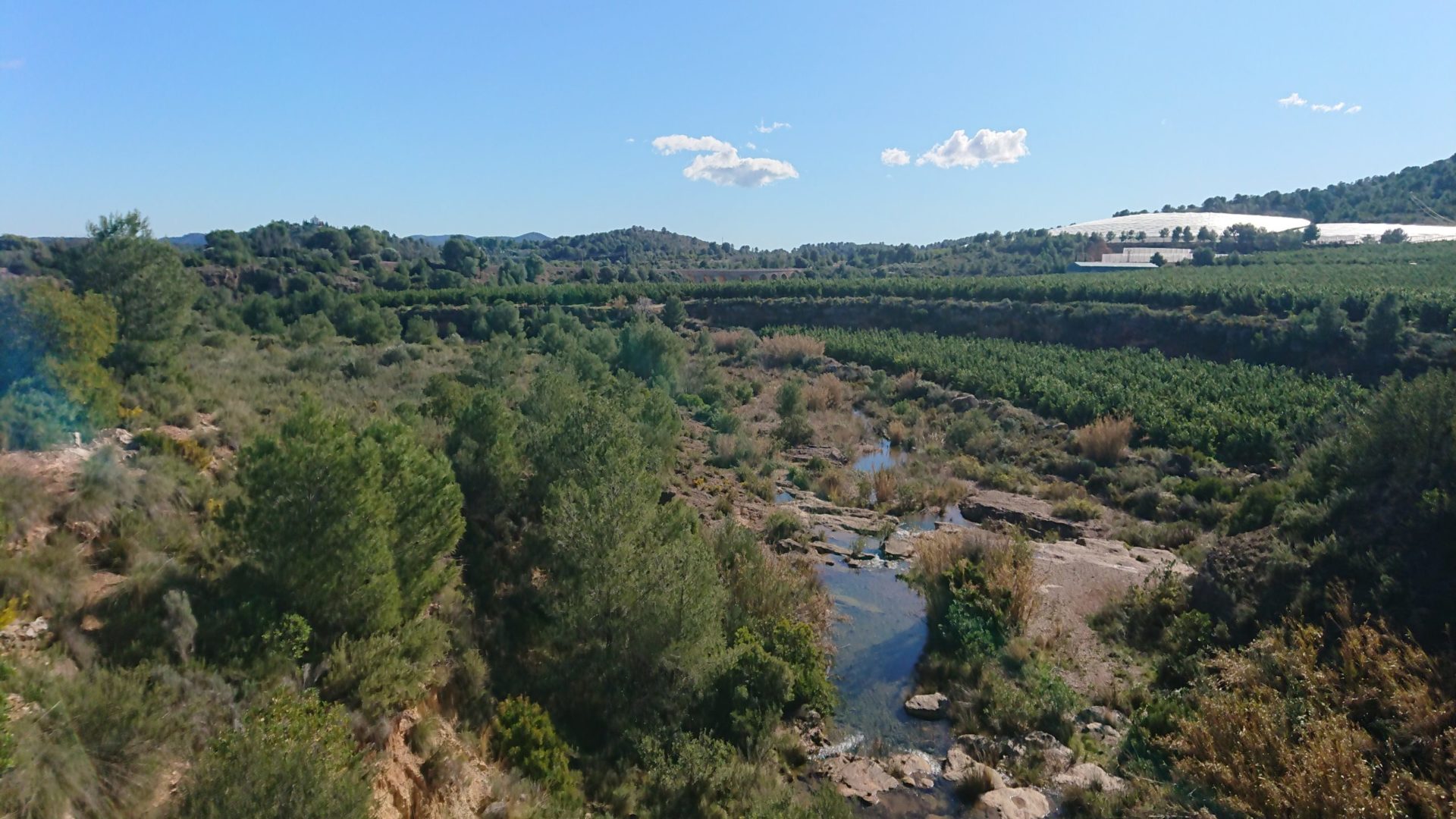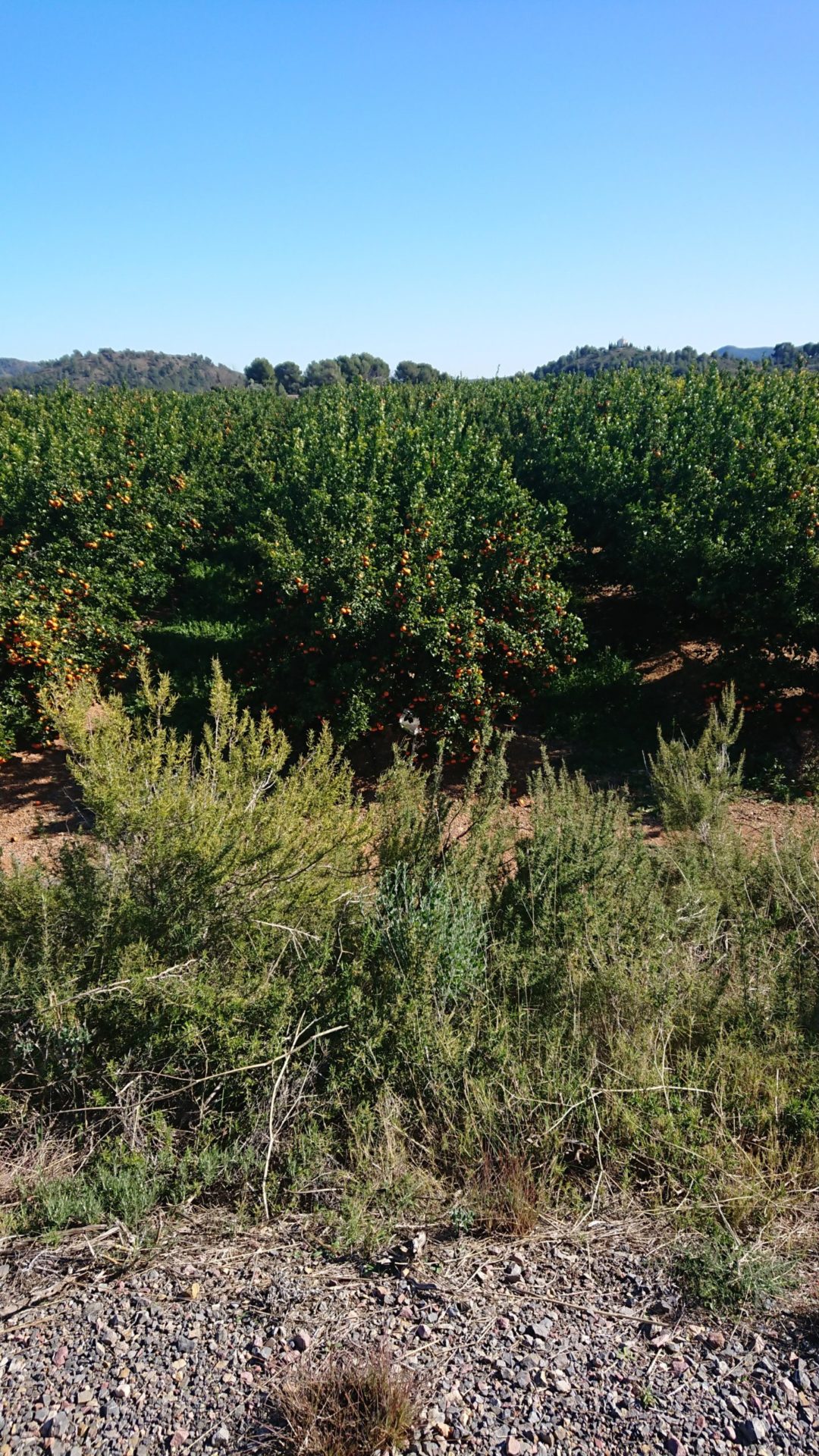 At this point I am actually striping off some layers for the first time in this trip :O Eventually the via verde runs out, which I almost completely wizzed by I was enjoying the riding sooo much. It then got a little less easy at points as I joined normal roads and their gradients. But the lovely weather and a tail wind made me push on. I was determined to get to Valencia!
I did end up riding through a ford, which helped solve some of the over heating side of things. And stopped for lunch when I could see the sea again, before turning south west to head into Valencia. (Really need to start going properly east soon!)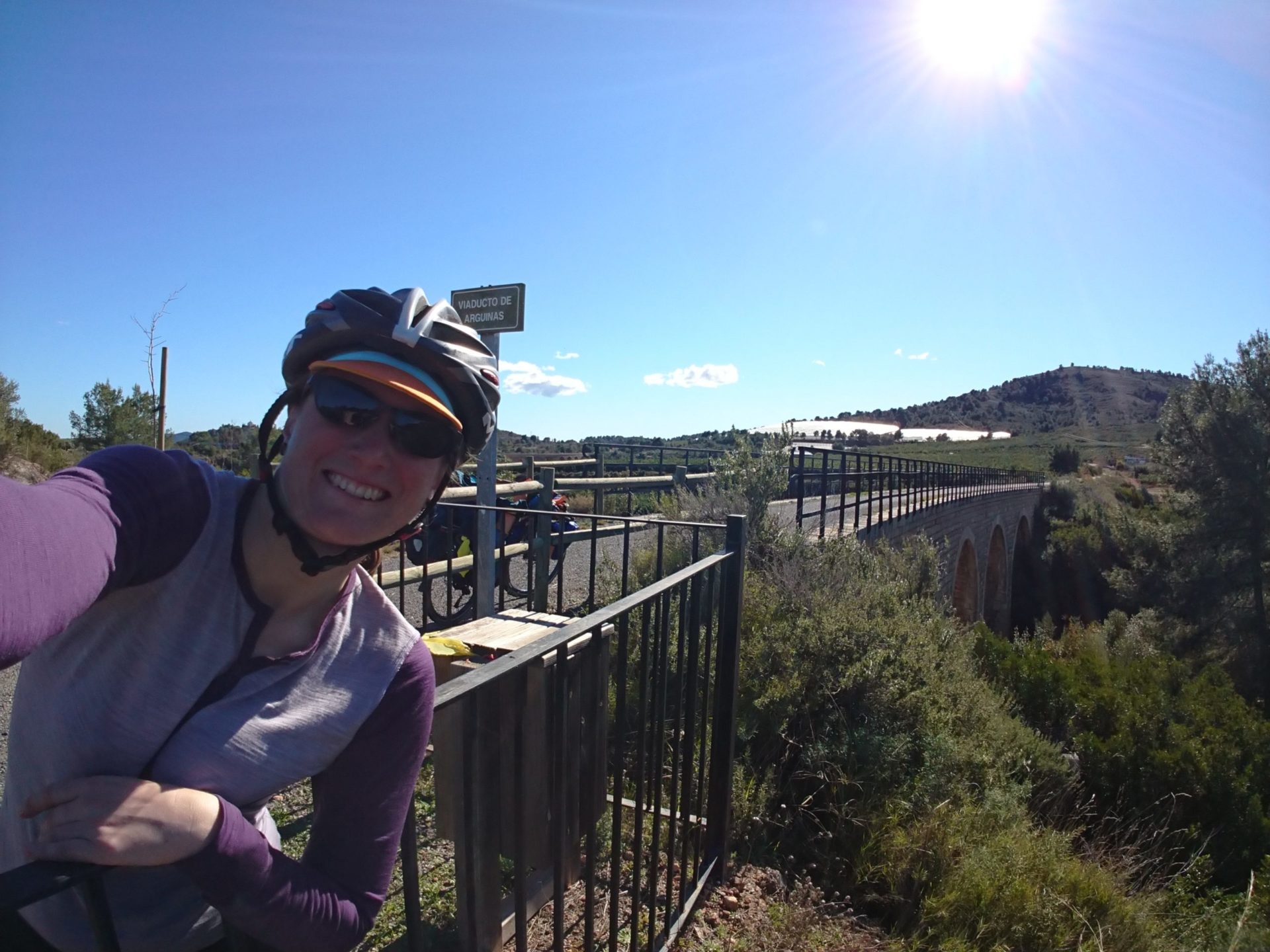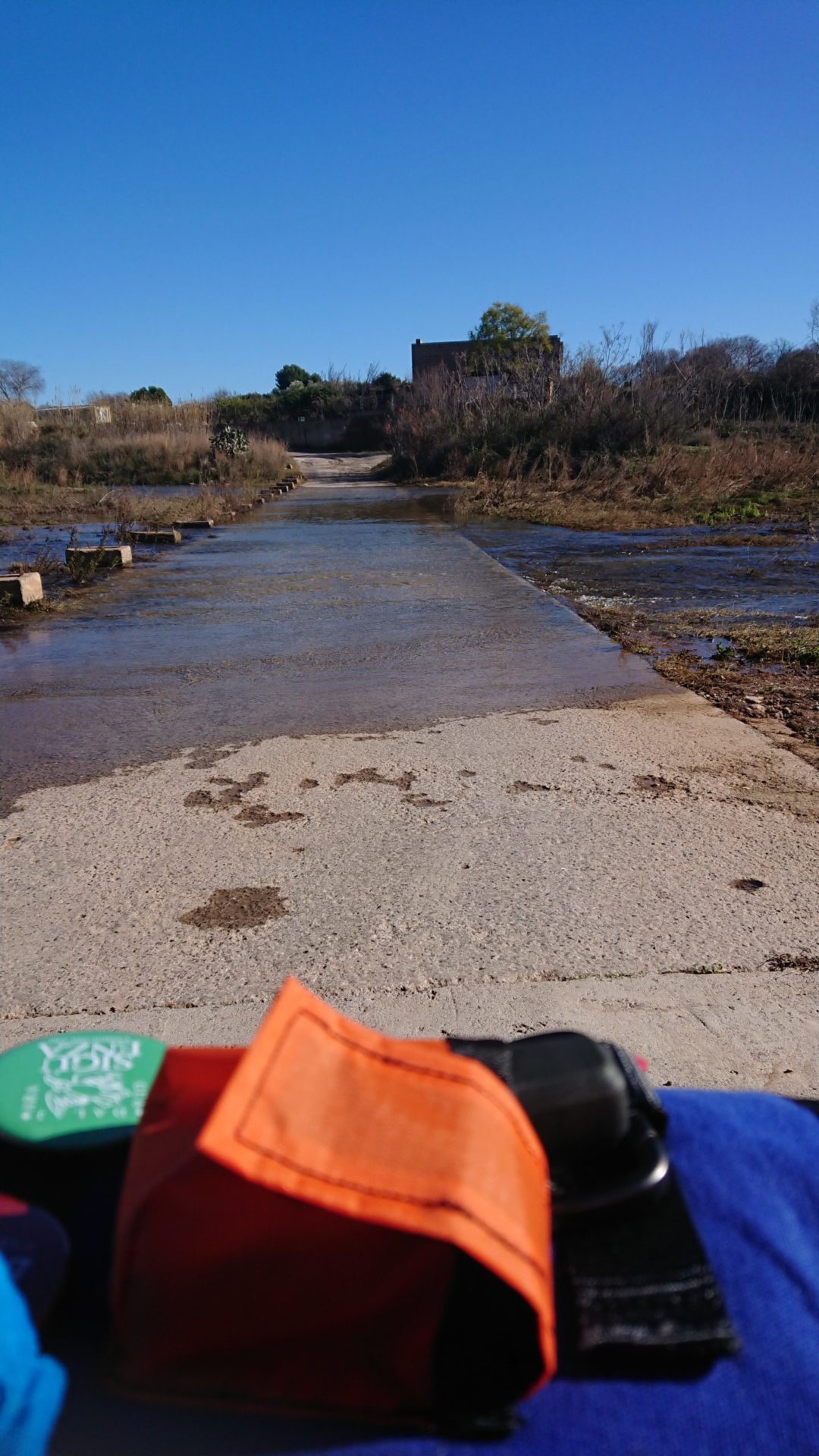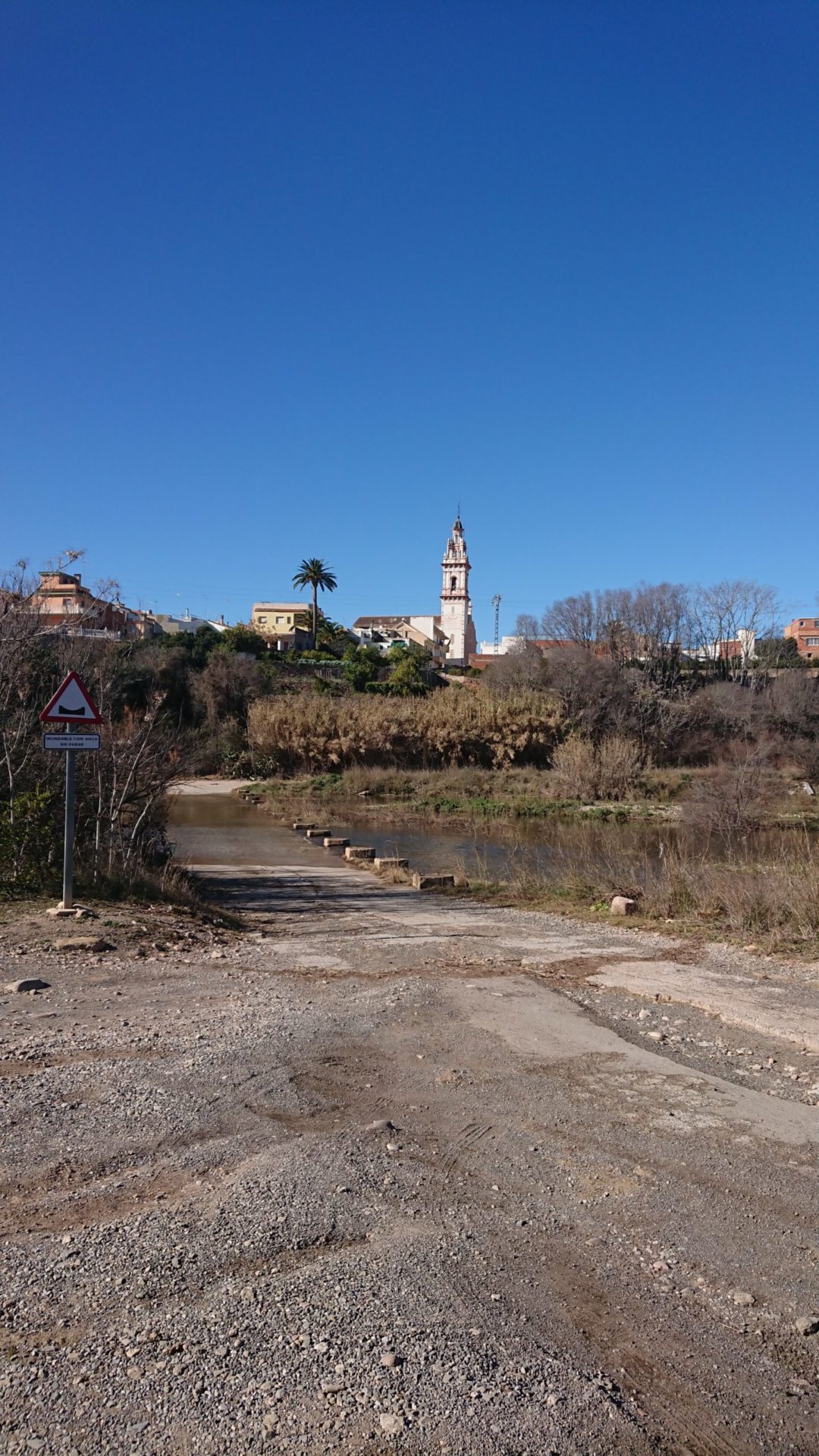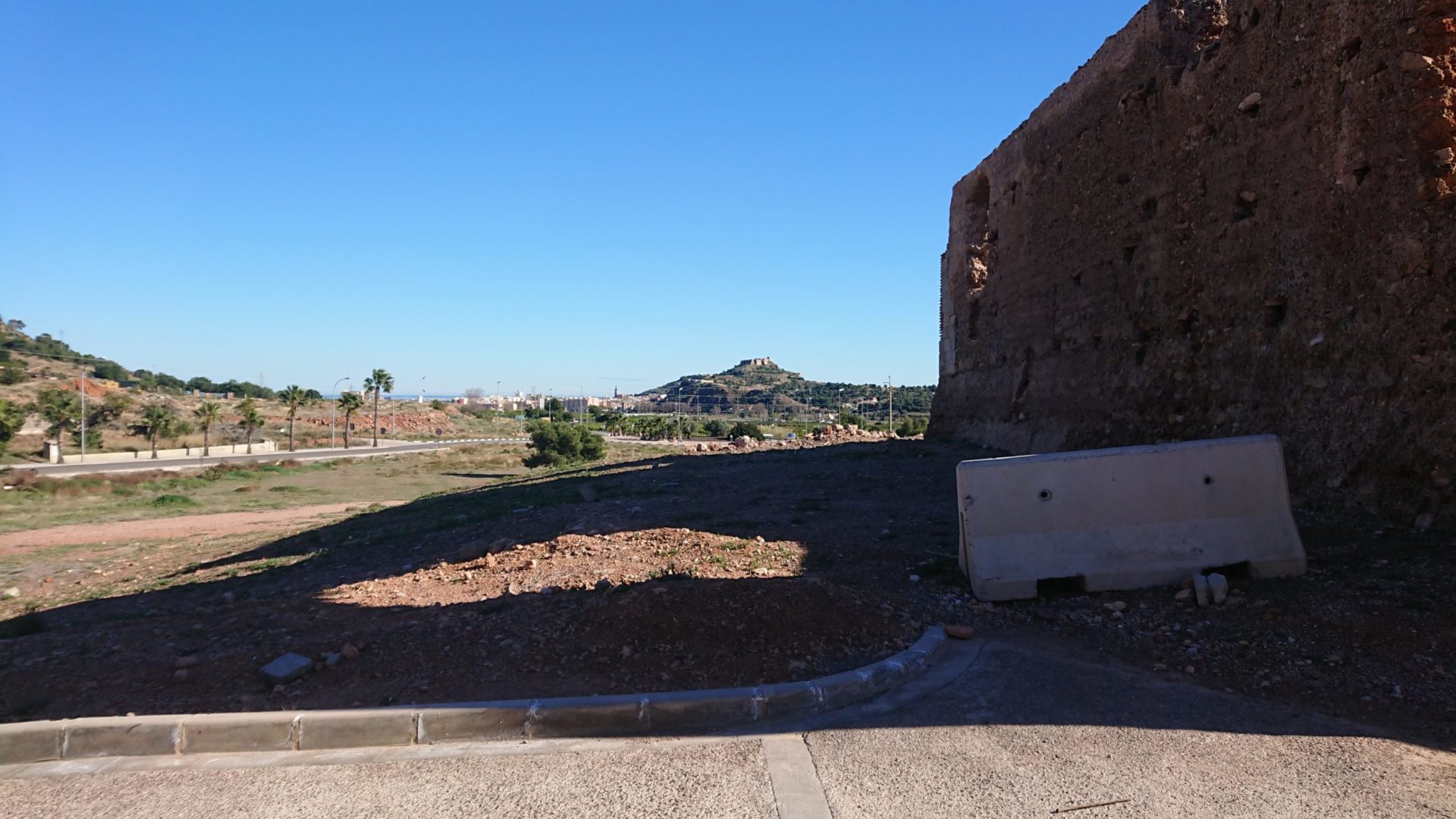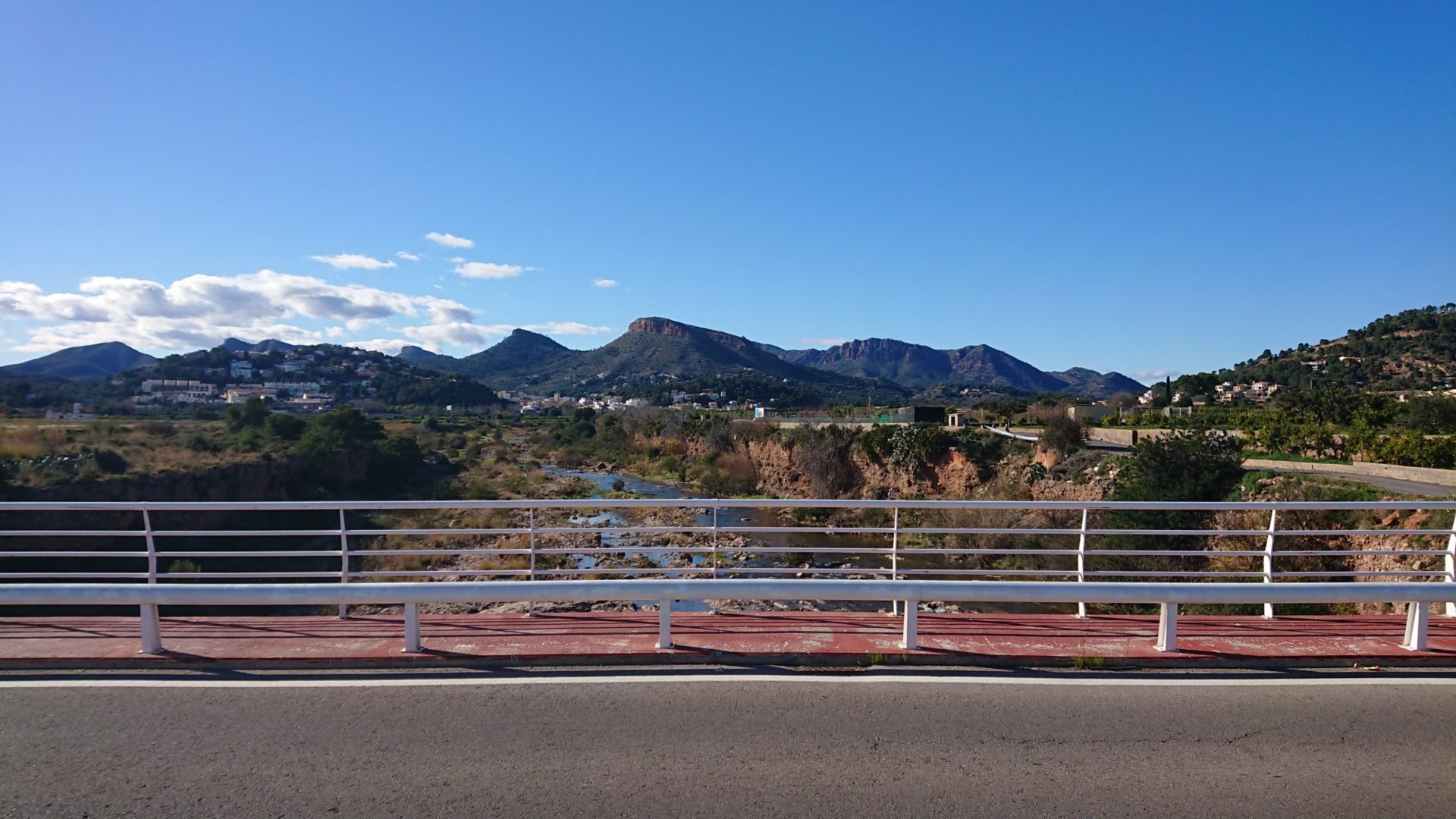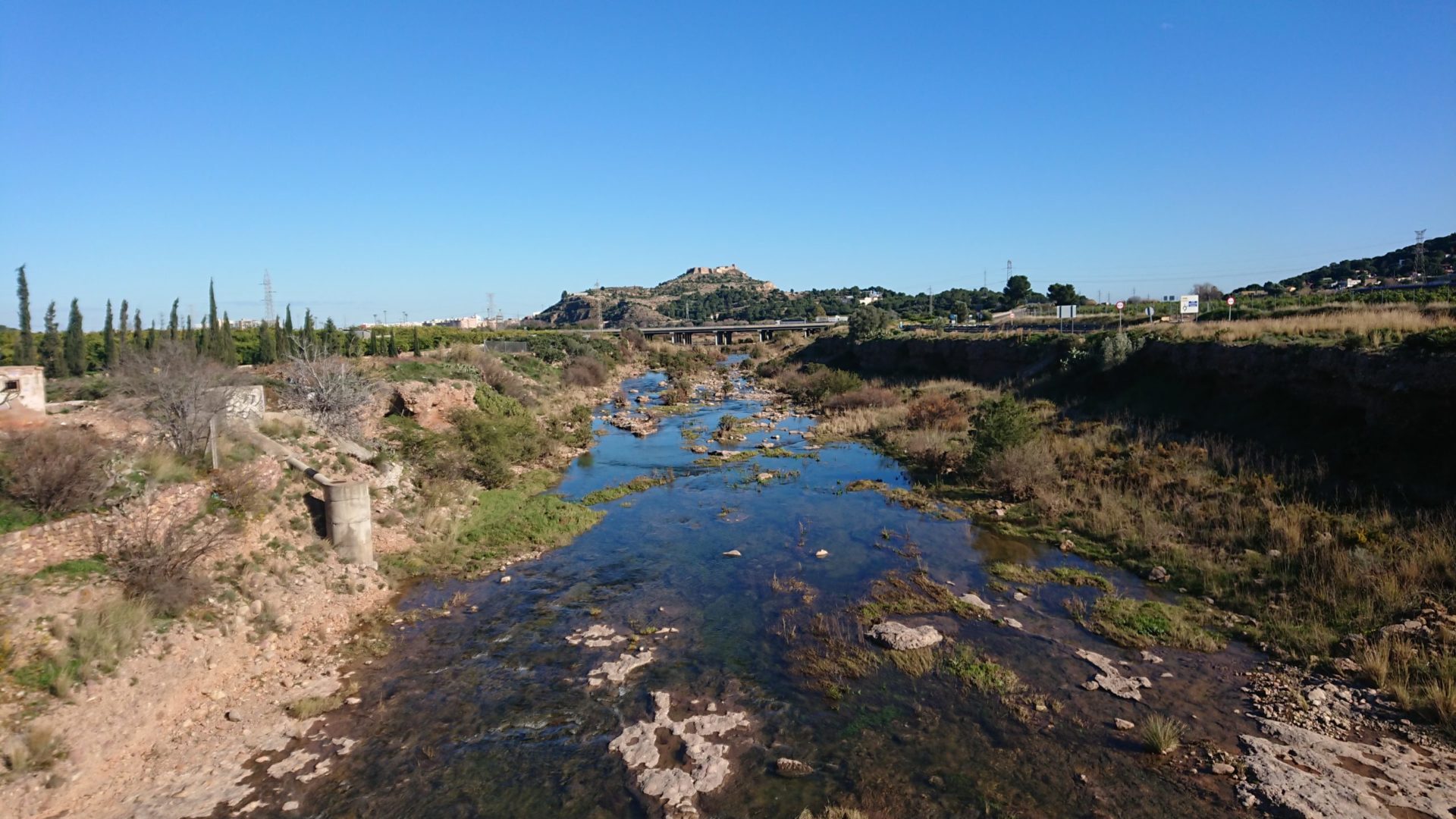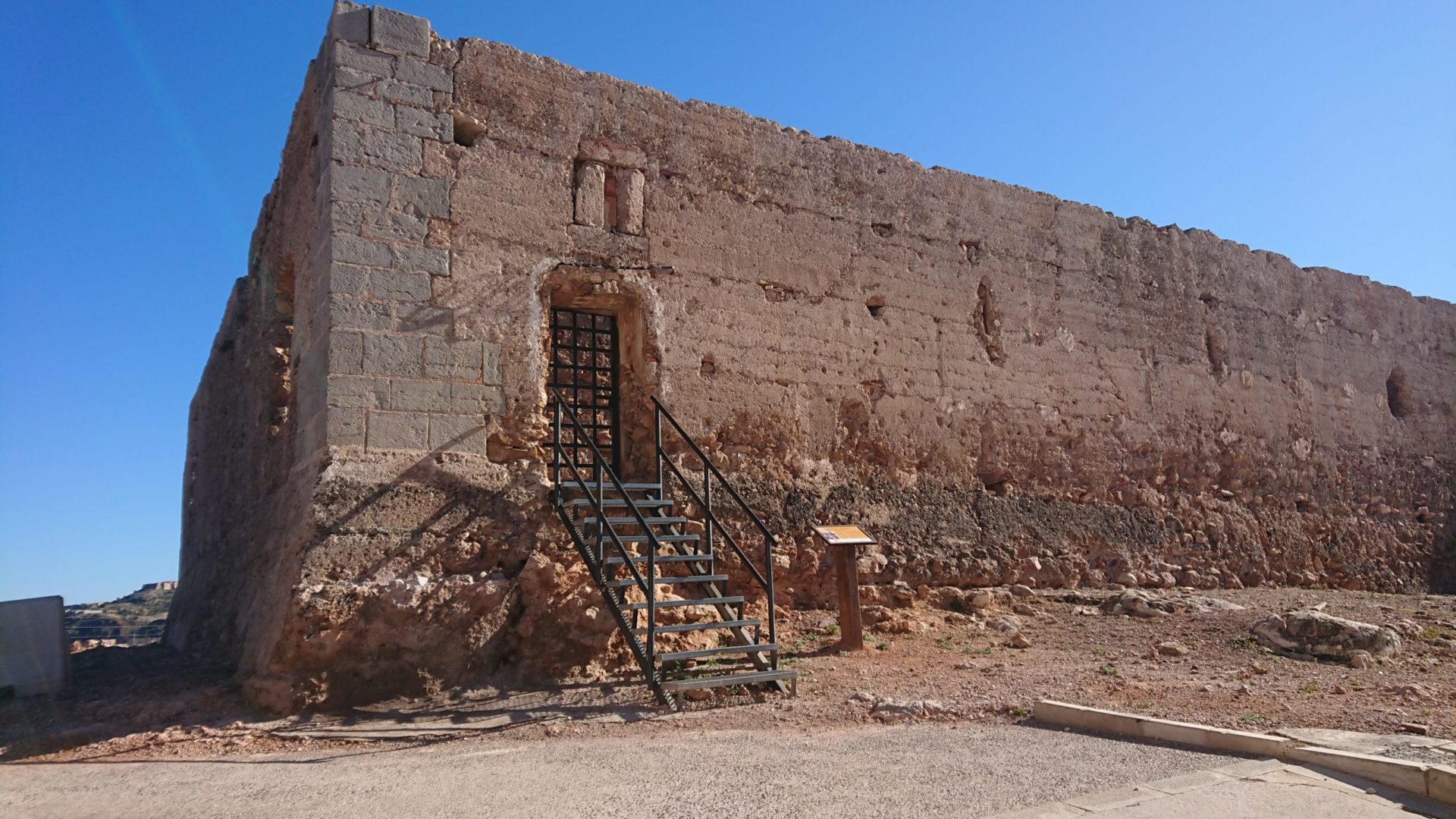 From the lunch spot it was a final push to Valencia, no more help from down hills or tail winds (wind was annoyingly from the side). But a nice straight via verde and easy to follow cycle lanes meant I made it into the city with out too much trouble!! 107km done today which makes it the longest day of the trip!!
I am staying two nights with a warmshowers host. She has been amazing, cooked dinner for me and introduced me to loads of people as well as her soon to be flat mate letting me steal her room for two nights. Sadly I am to old/tired to go out with them for drinks and to see the night life here. I think in general I am going to be to old for that…
But OMG I can't believe it — I have crossed Spain!! I have been aiming for Valencia for so long it kinda feels a bit weird to be here! I am just going to try and hold onto this feeling for as long as possible and not get to caught up yet in the planning for the next stage. Taking tomorrow to explore Valencia and then looking to start proper eastward travel!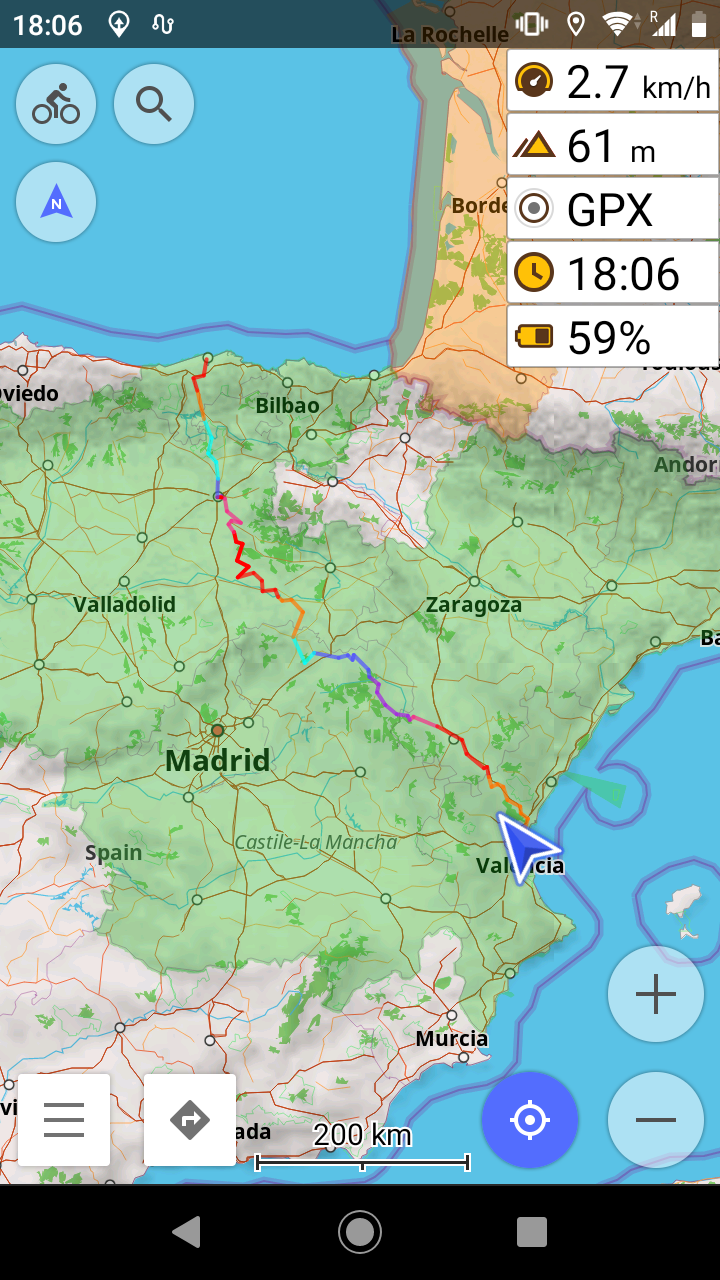 Saturday 01/02/2020 — Day 17
OK so how can it be February already!?! Slight panic at the thought of how far I have to go and the time is slipping away… but ignore that Istanbul is the current focus and this day is about Valencia.
Chilled start to the day, lay in and then local bakery for pointing surprise as I think of it. Go in to shop, point at what looks interesting hope I like it. Normally works out fine. Ended up with kinda fried pasties and lemony muffins. The aims of the day were:
Explore Valencia – see the old city and just absorb the feeling
Get the last stamp in my Camino Del Cid Passport (I think)
Unfurl my flag at a good location
Find fuel for my stove – hopefully not somewhere specialised
Try and find the Eurovelo 8 route… if it is actually sign posted yet
General food shop
Chill… (maybe… chill from bike anyway)
So on a recommendation I started my wondering visiting some of the gardens in the city. Again another beautiful sunny day and people here are telling me it is unusually hot for this time of year, I think it is to make up for the snow 😛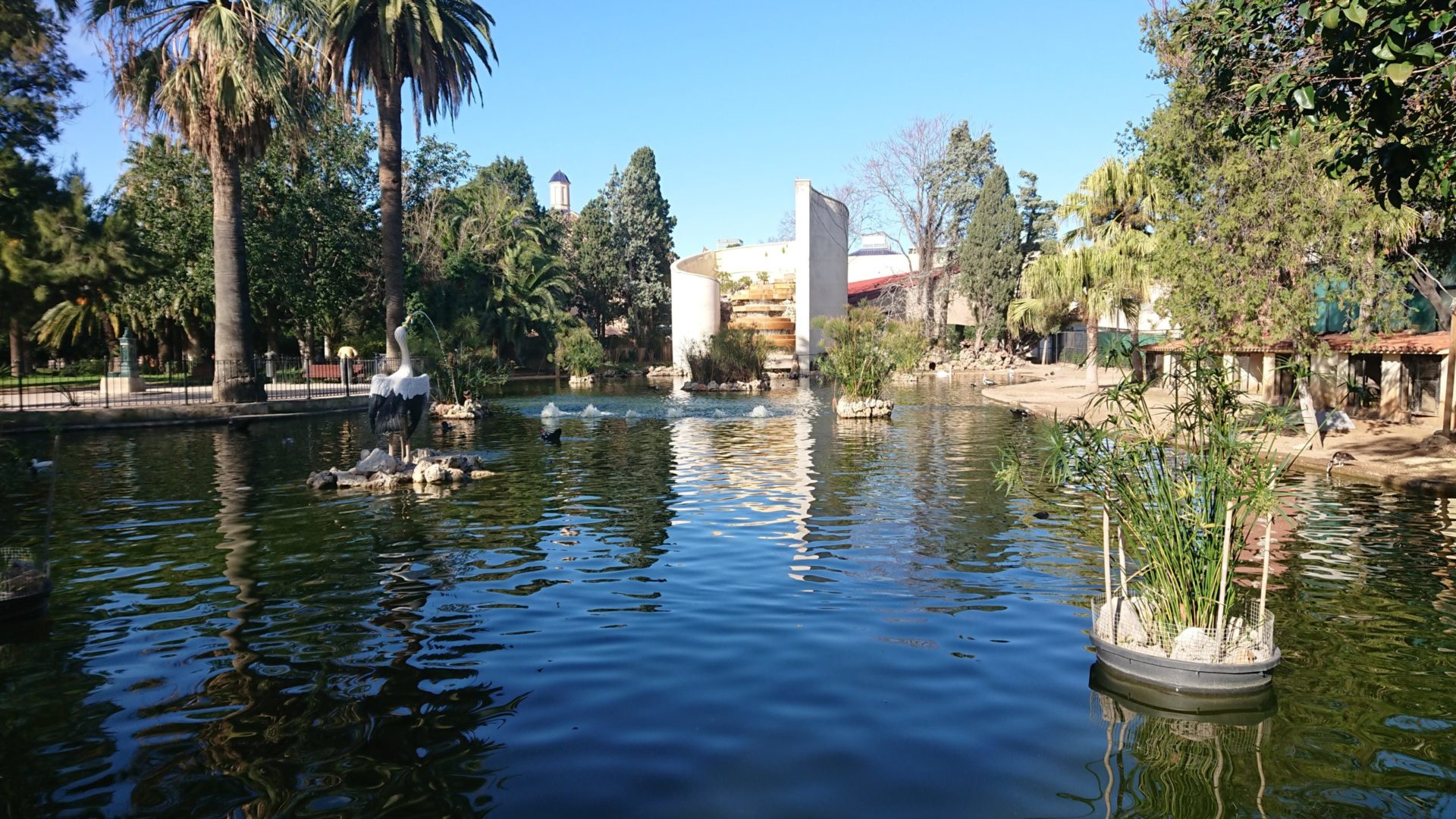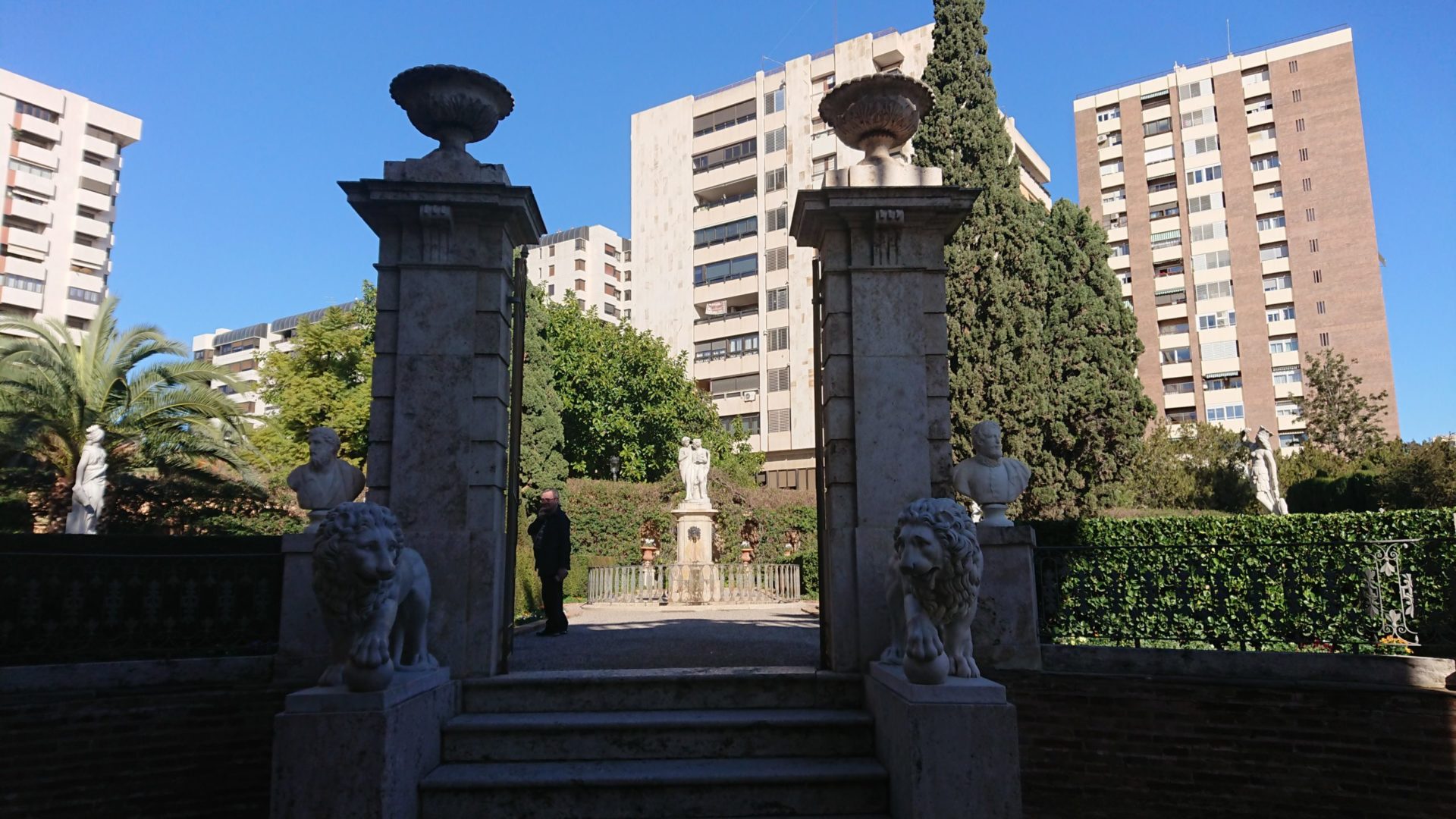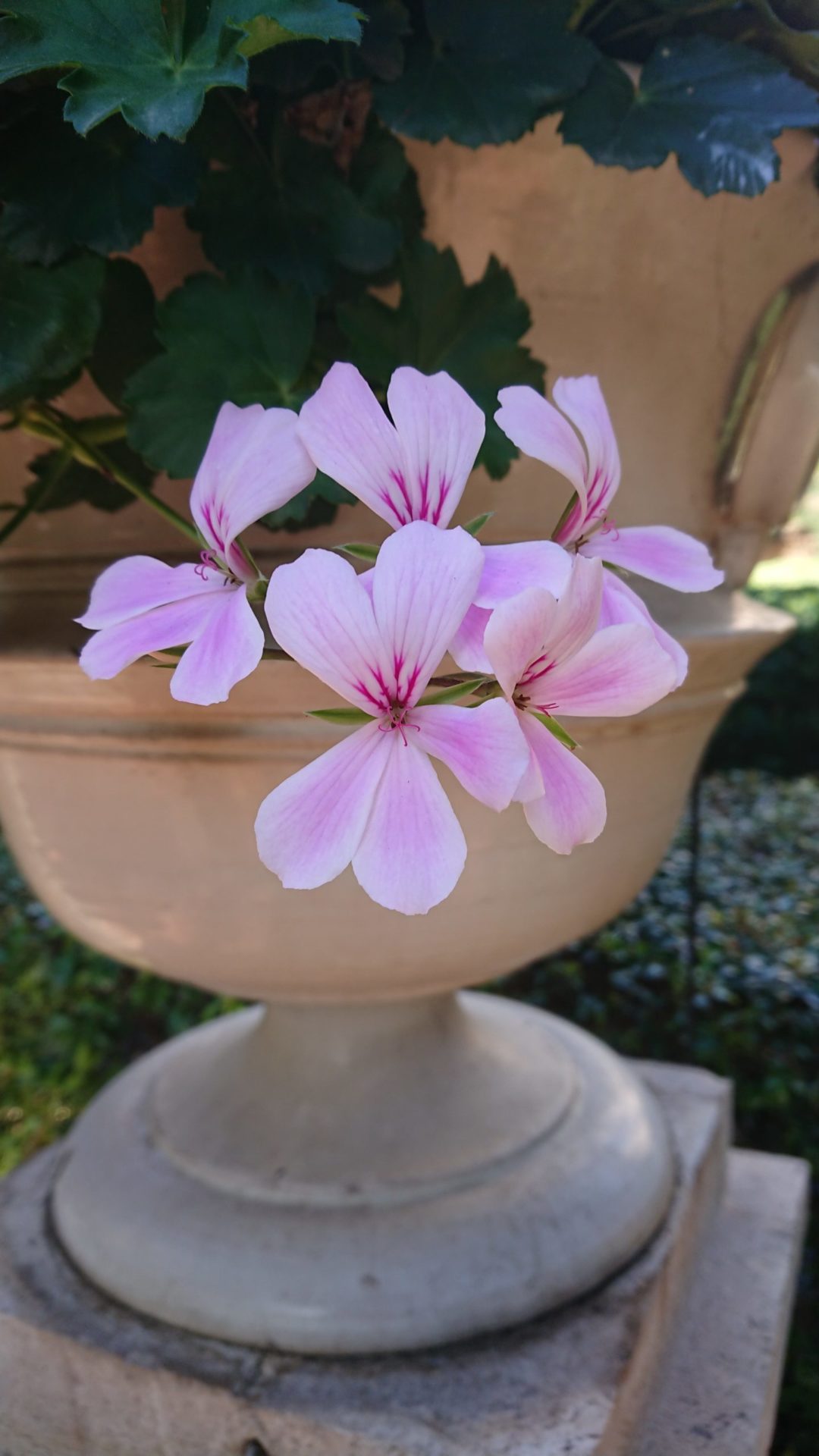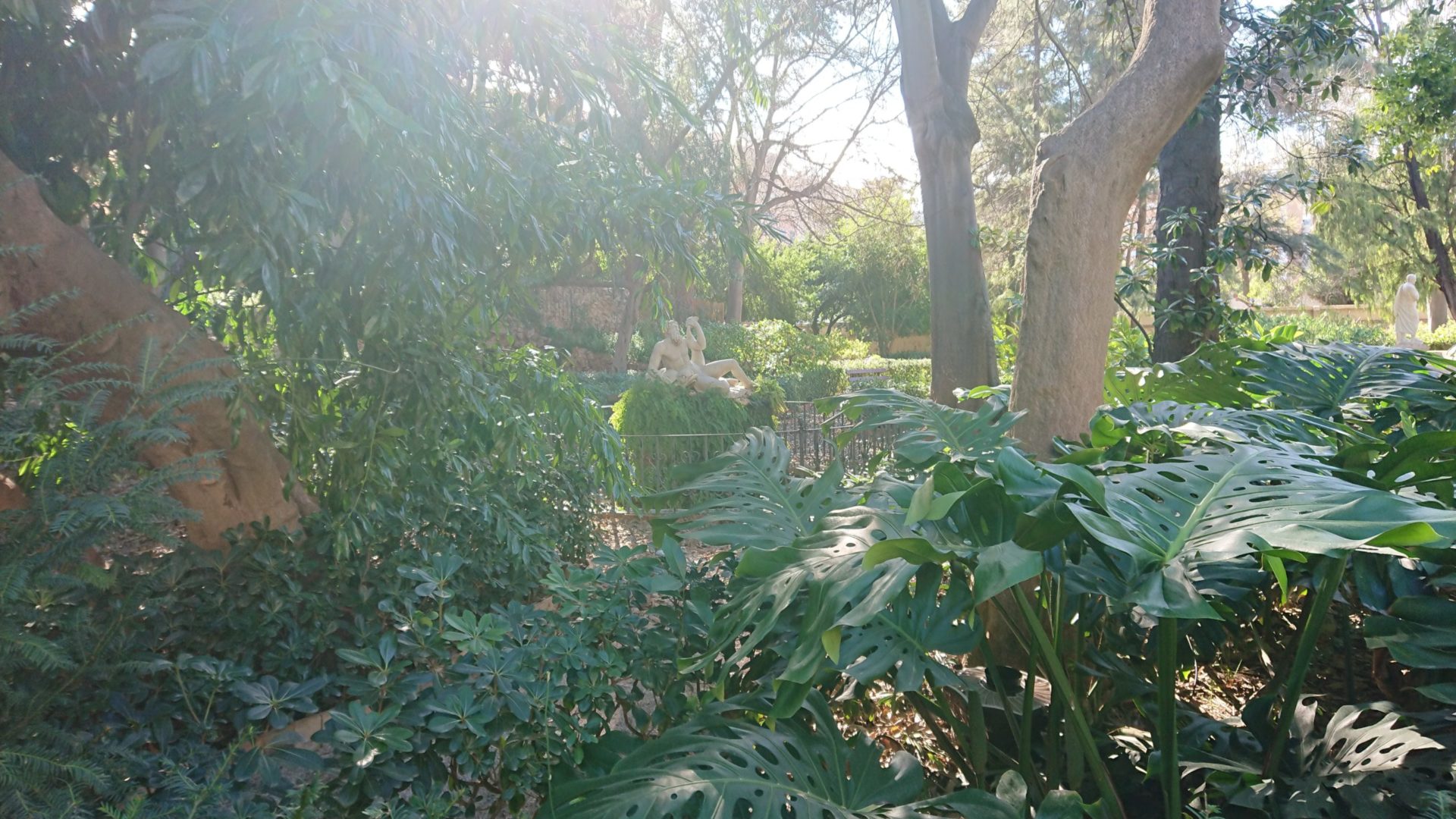 Right in the middle of Valencia is its most amazing park which is built/grown in the old river bed. They rerouted the river after it flooded the old city in the 1900s (?). Now this park has all these amazing bridges going through it and then close to the mouth the science museum and aquarium. It was so lovely to talk thought and have lunch in.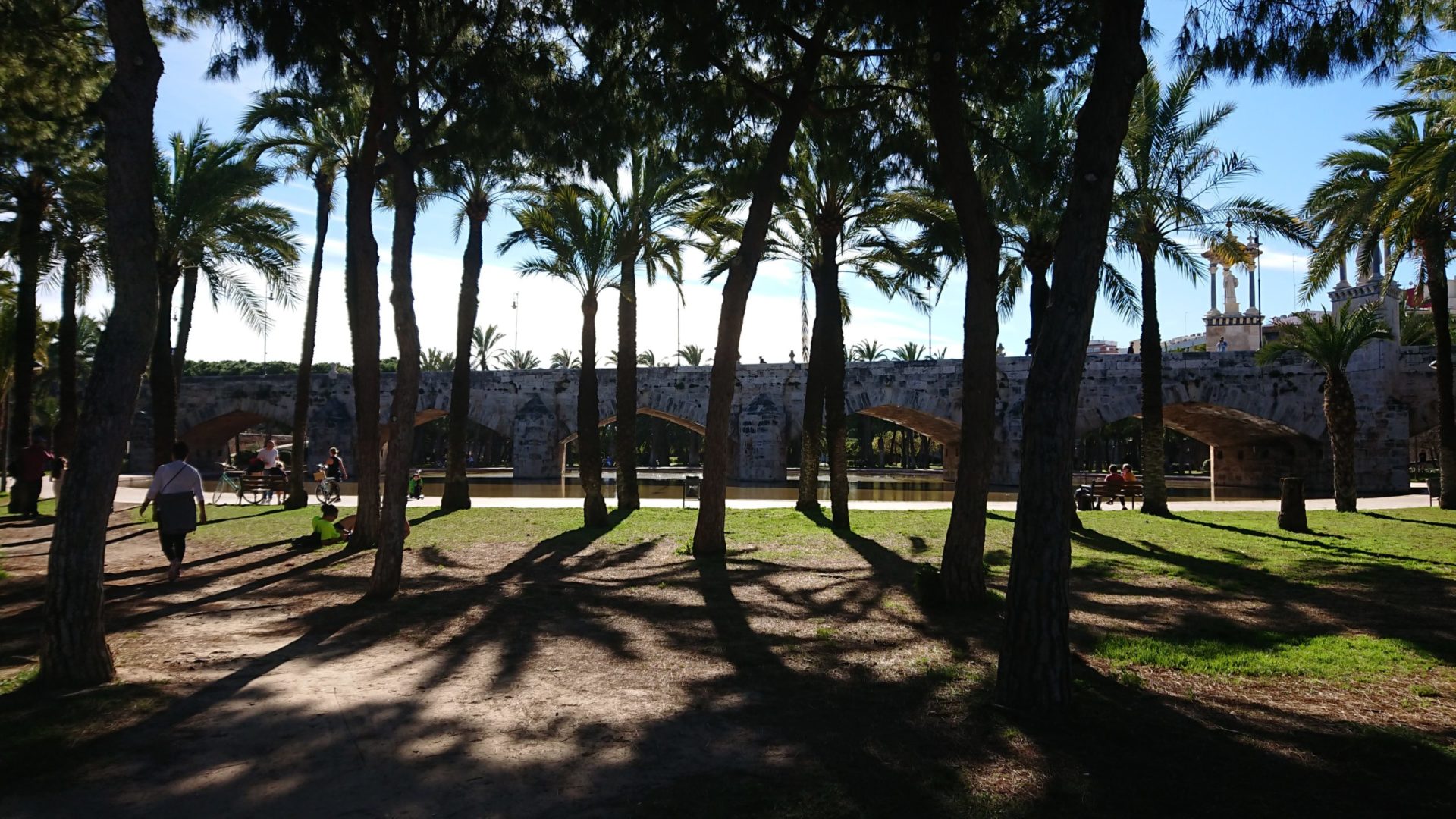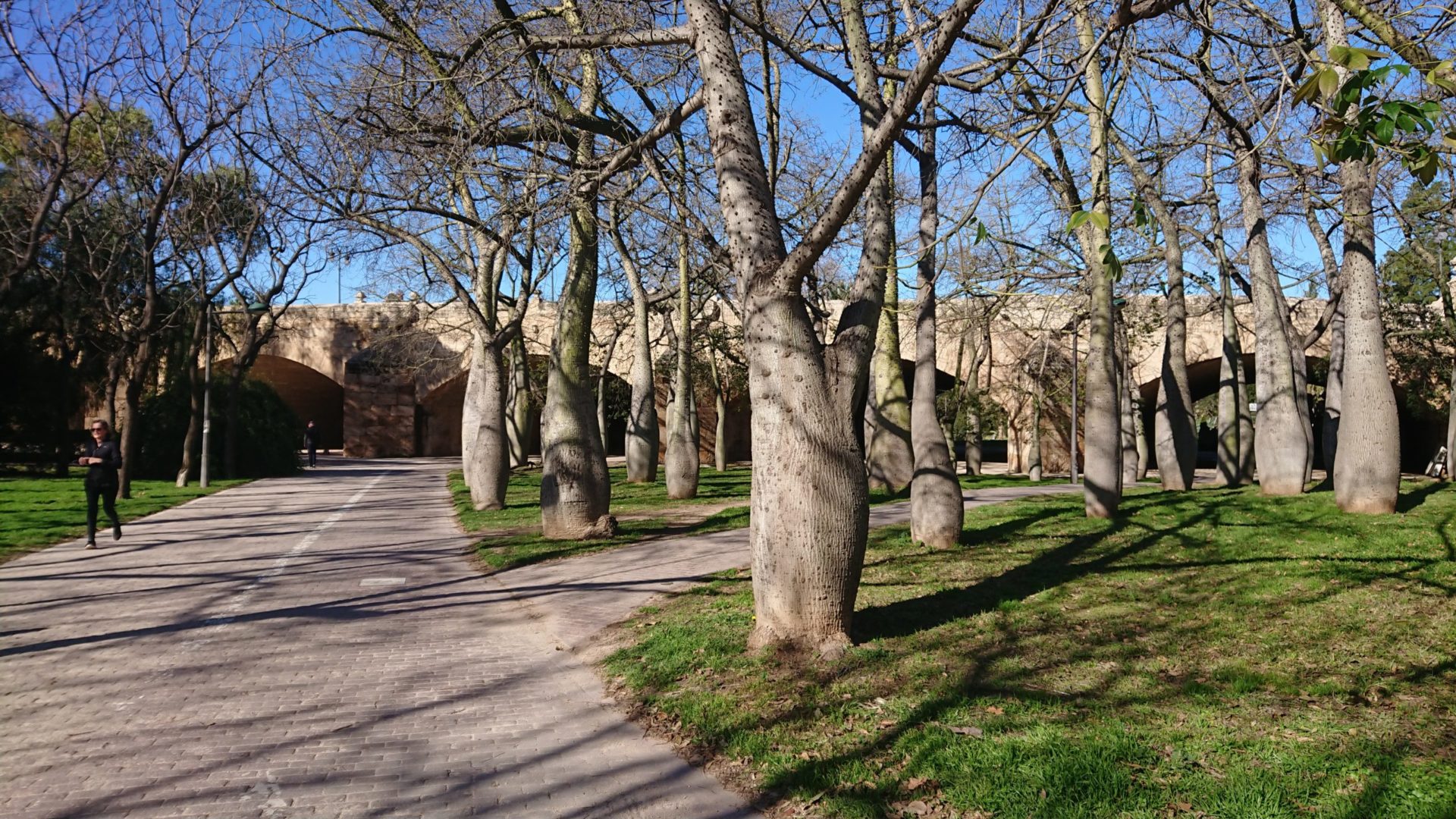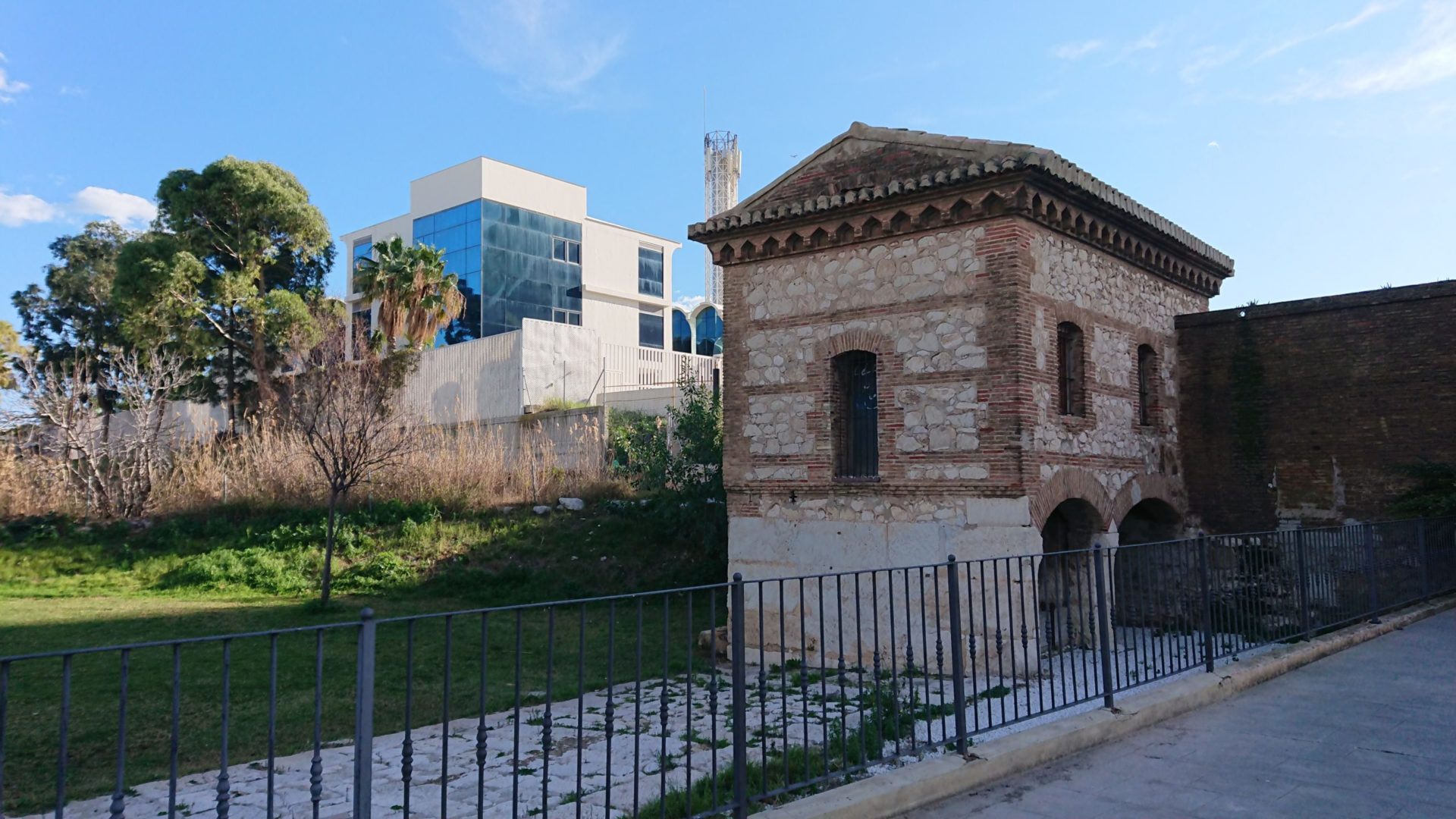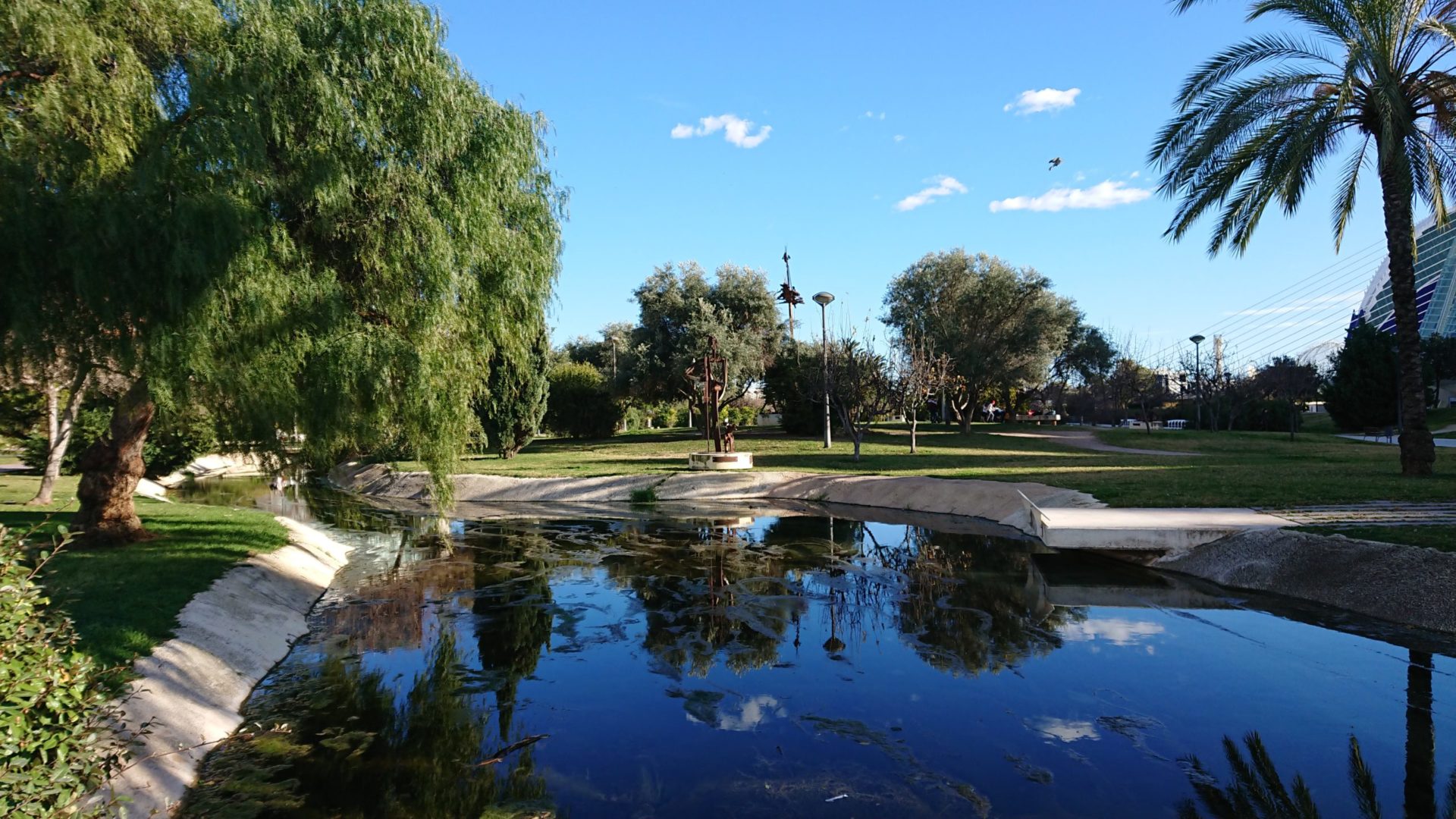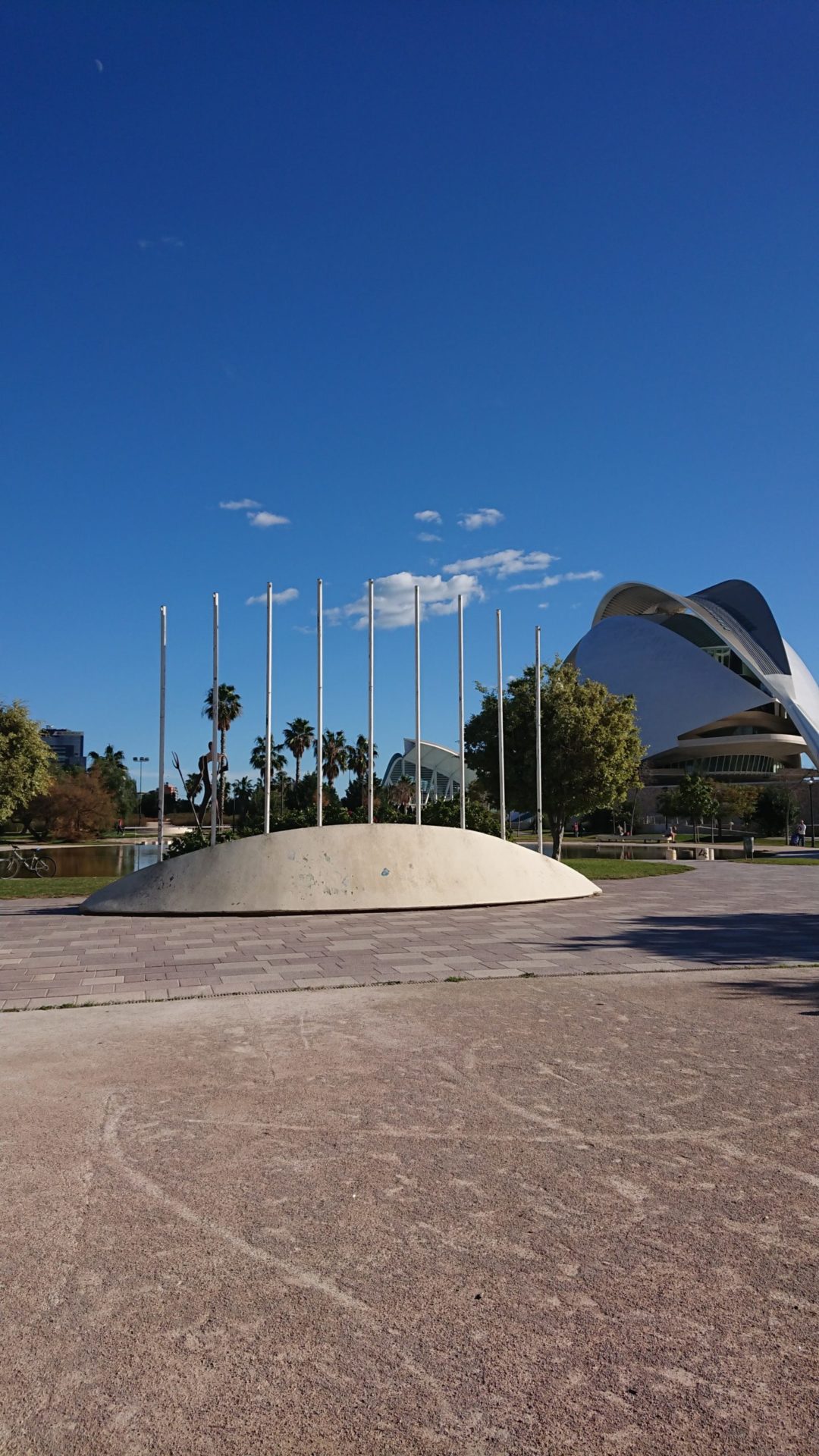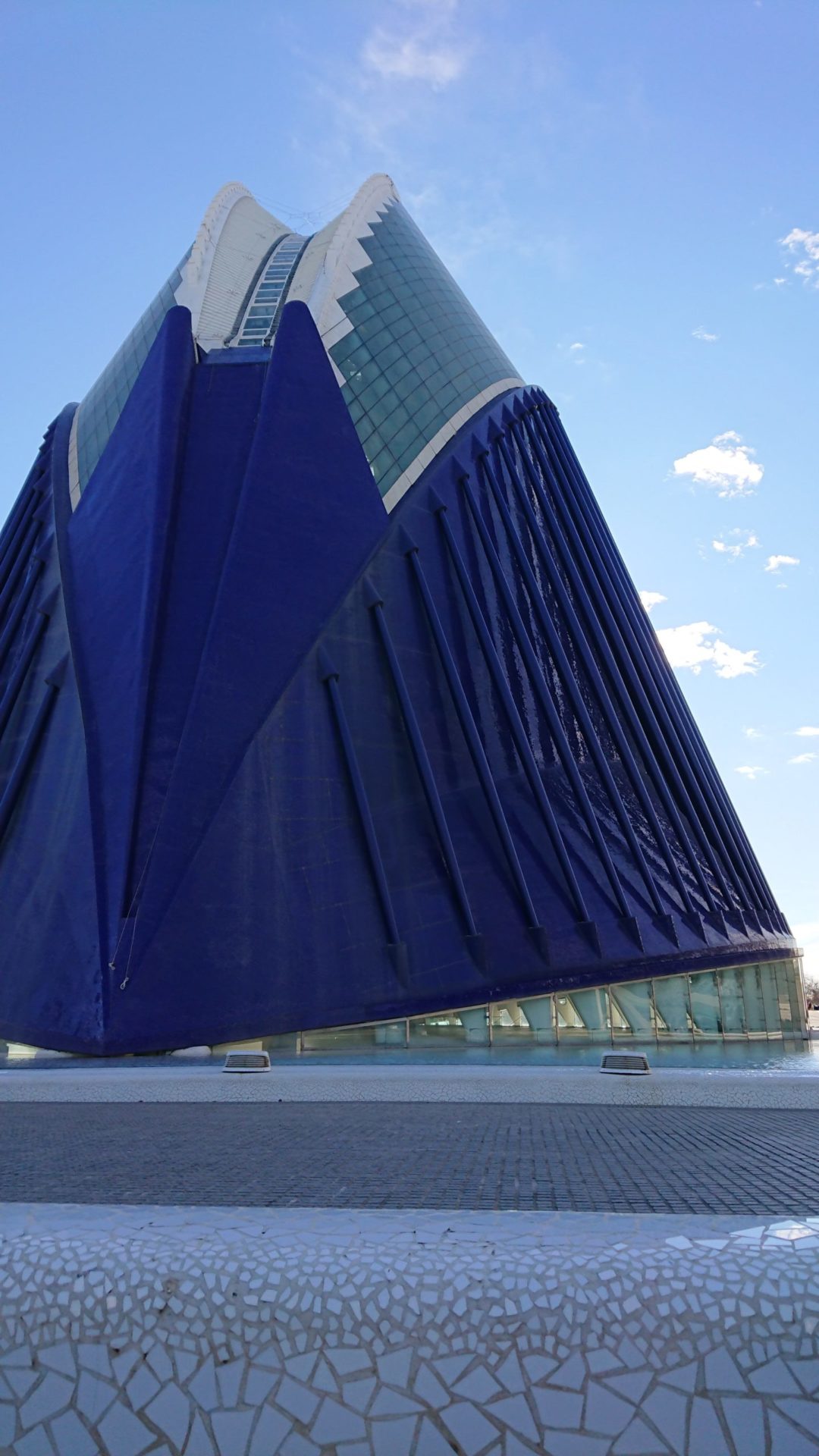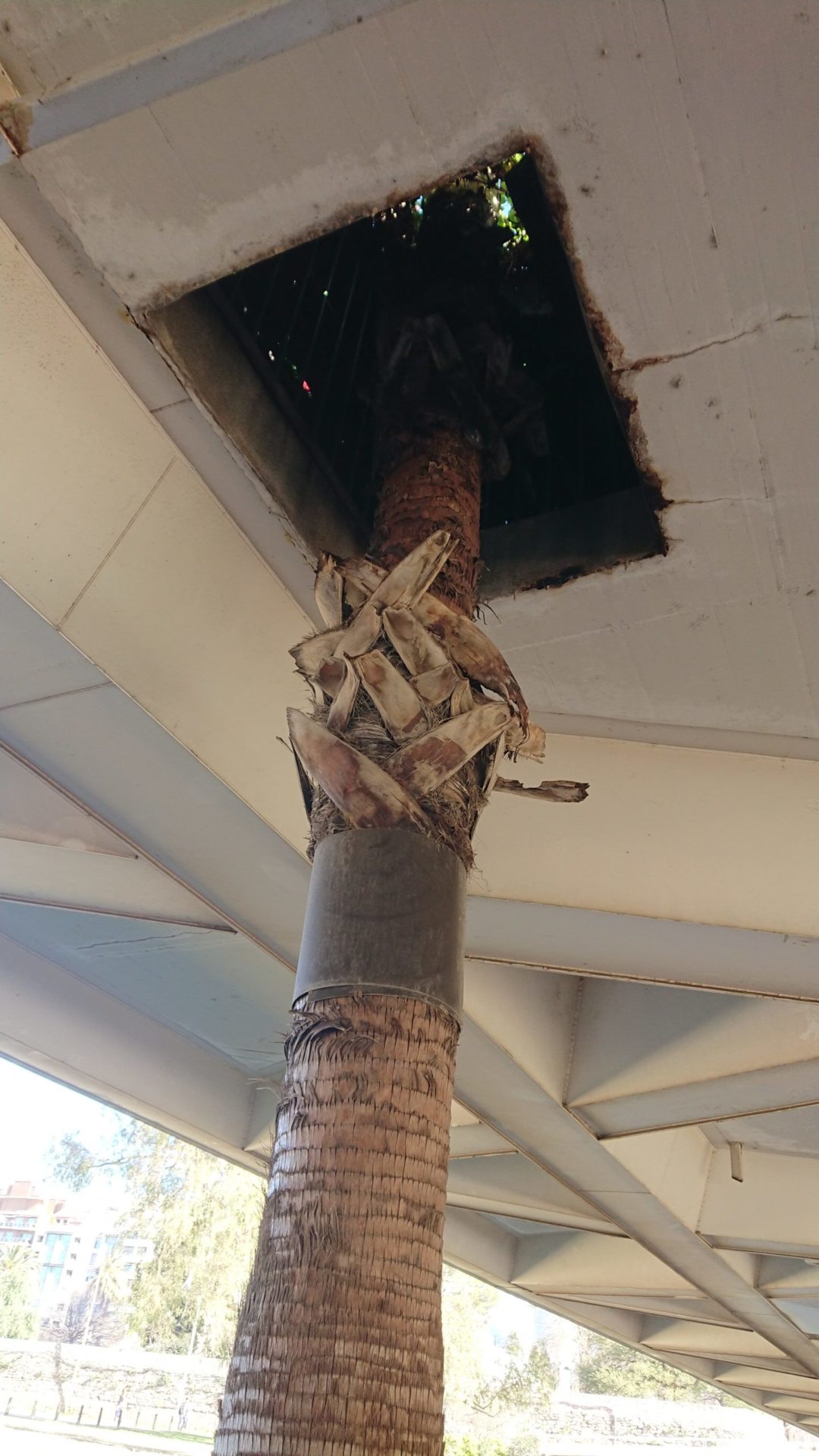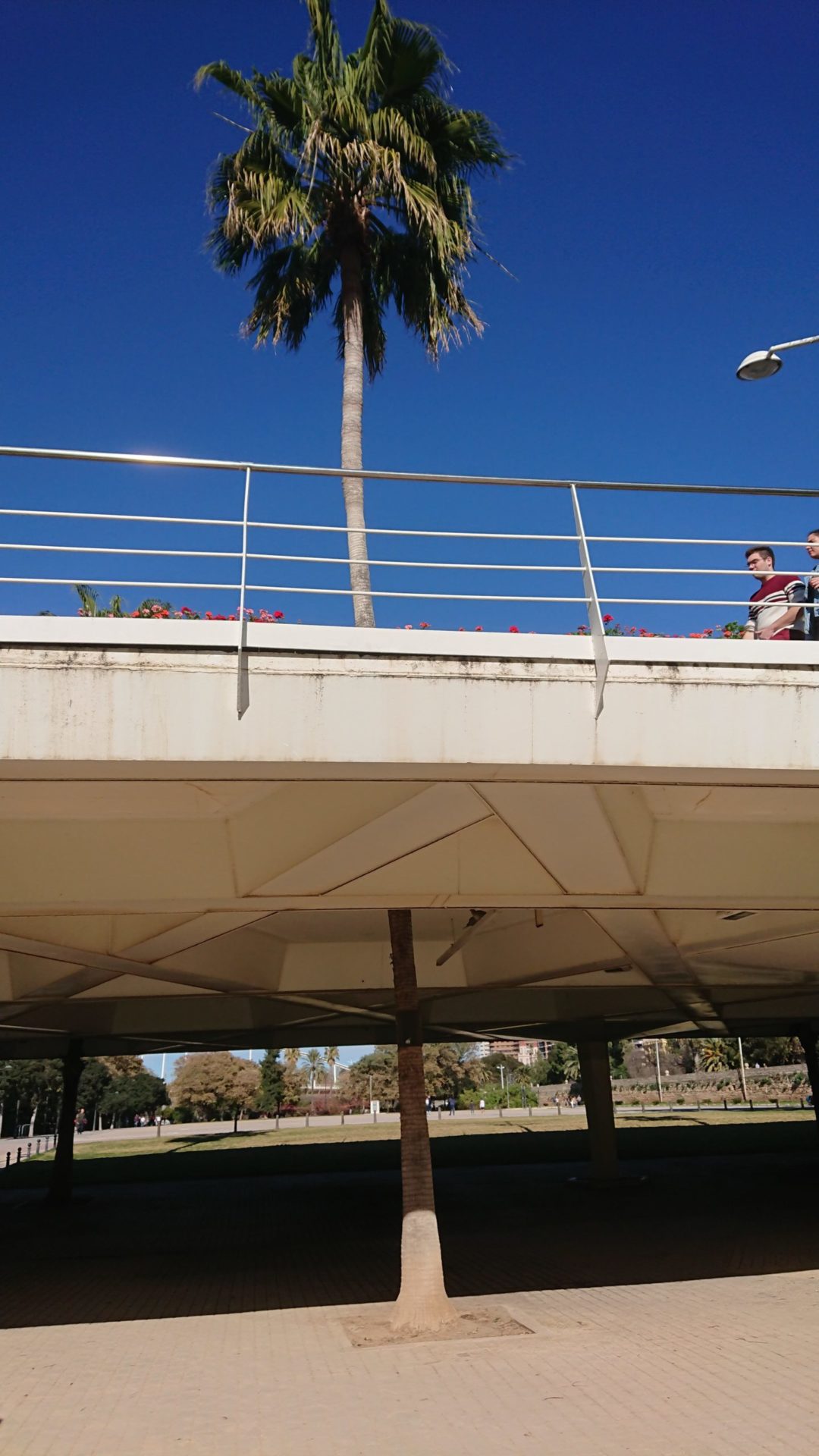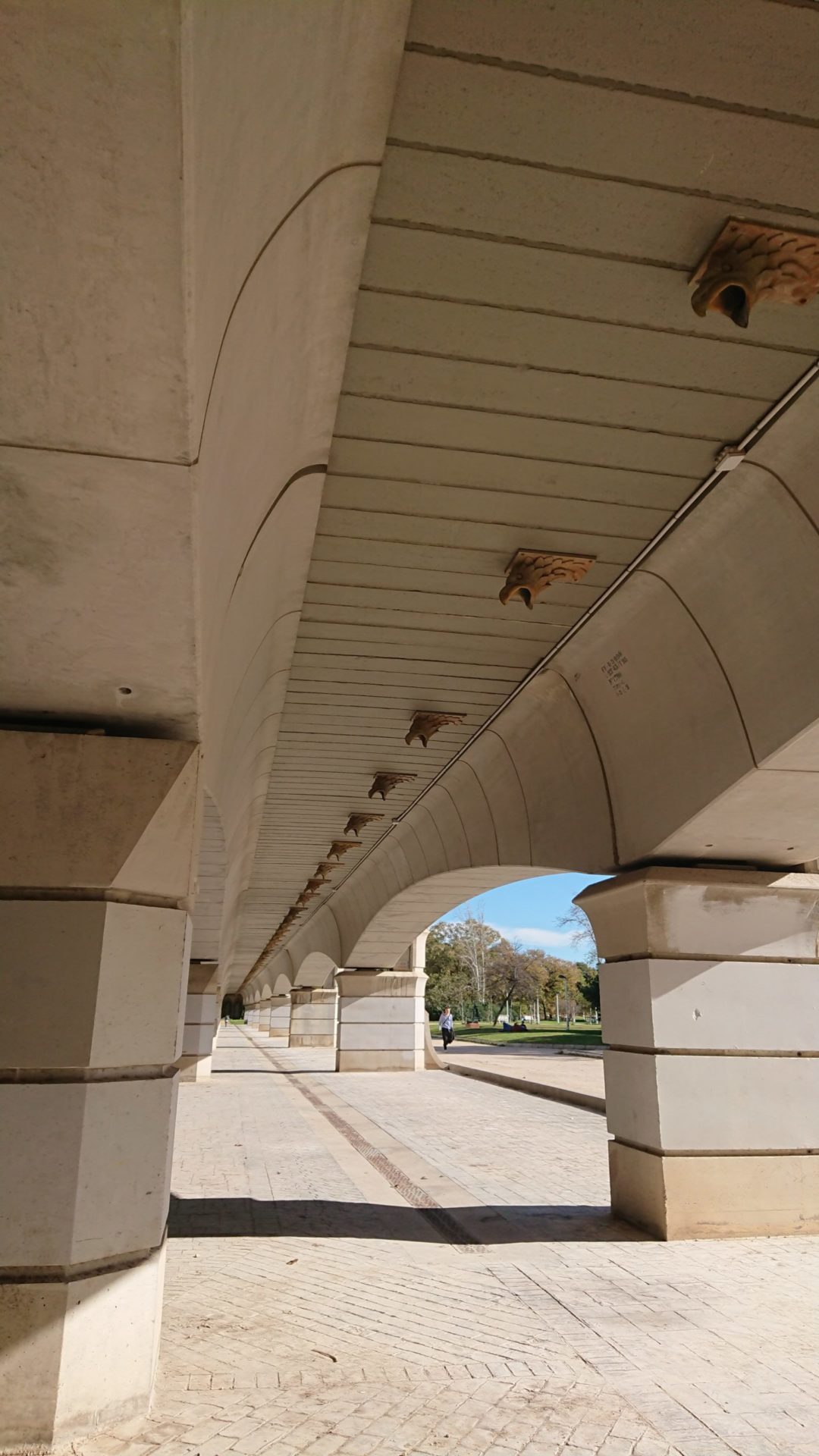 Walking through the old town I visited a tourist information place and they gave me my Camino del Cid stamp. They also told me were the El Cid statue was in the city so I popped there to get a photo and 'finish' my route (although I skipped a lot out towards the south side of Spain).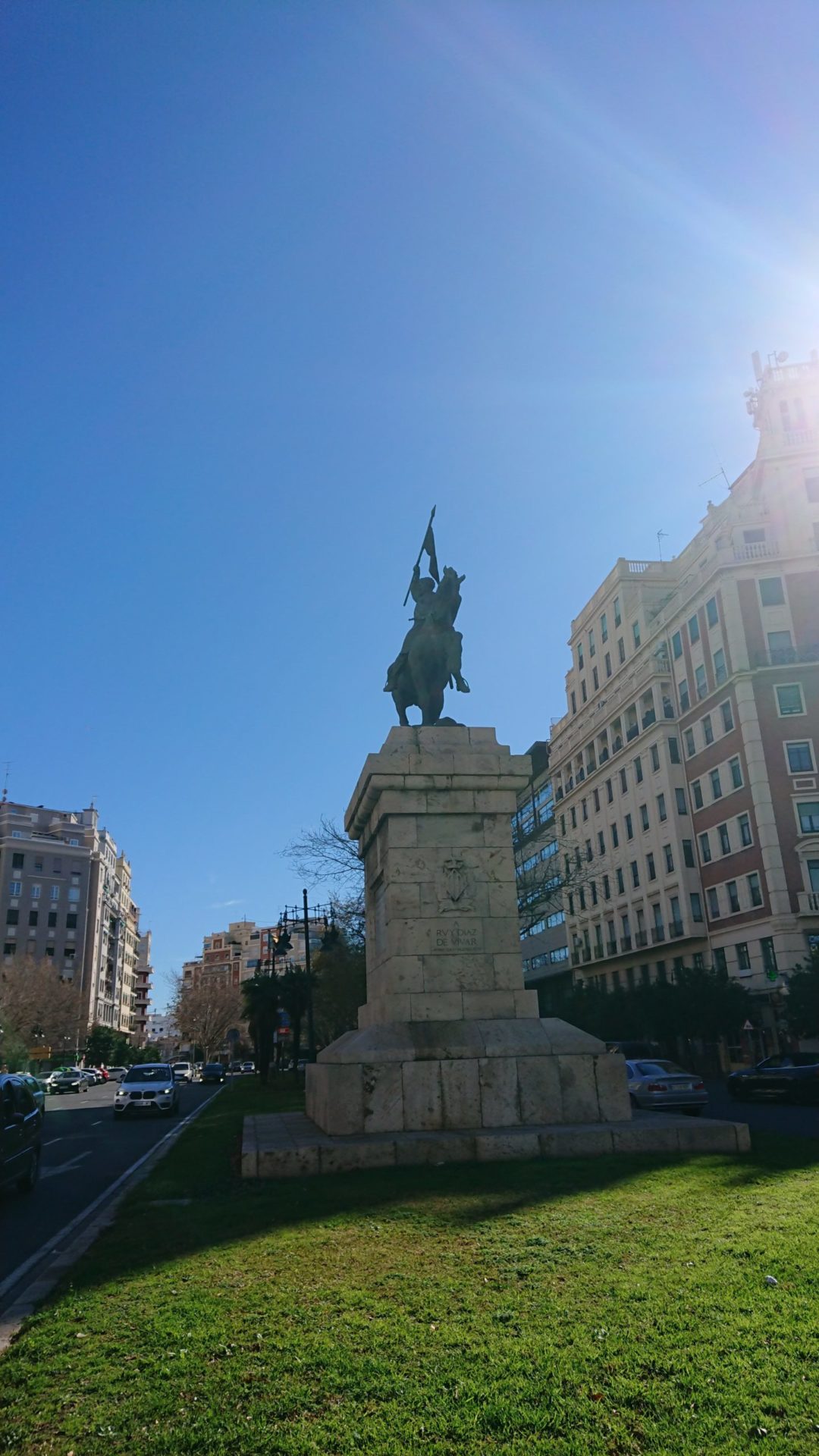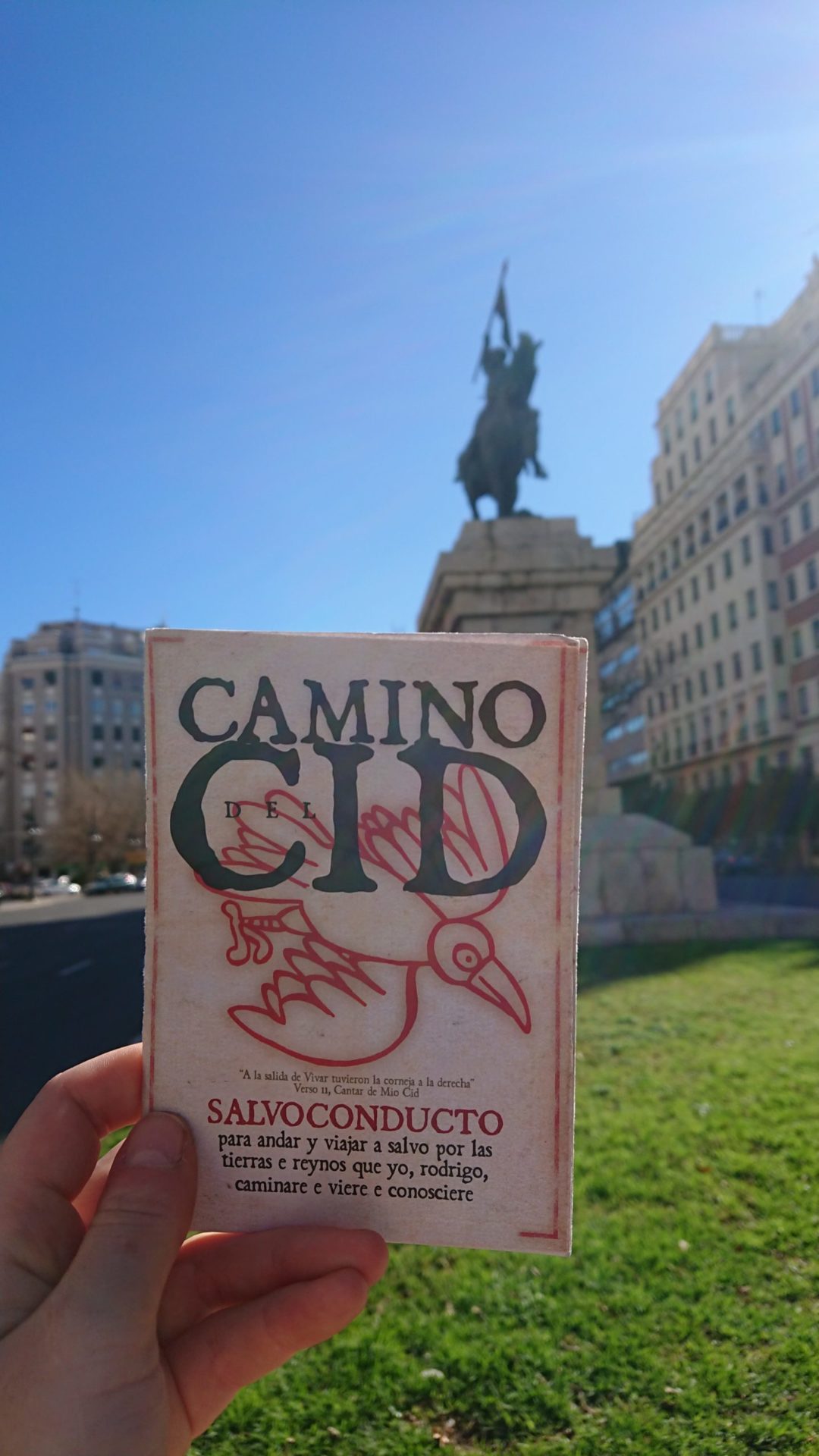 Generally wondering around town, I saw the cathedral, one of the big food markets and other bits of the city which were interesting.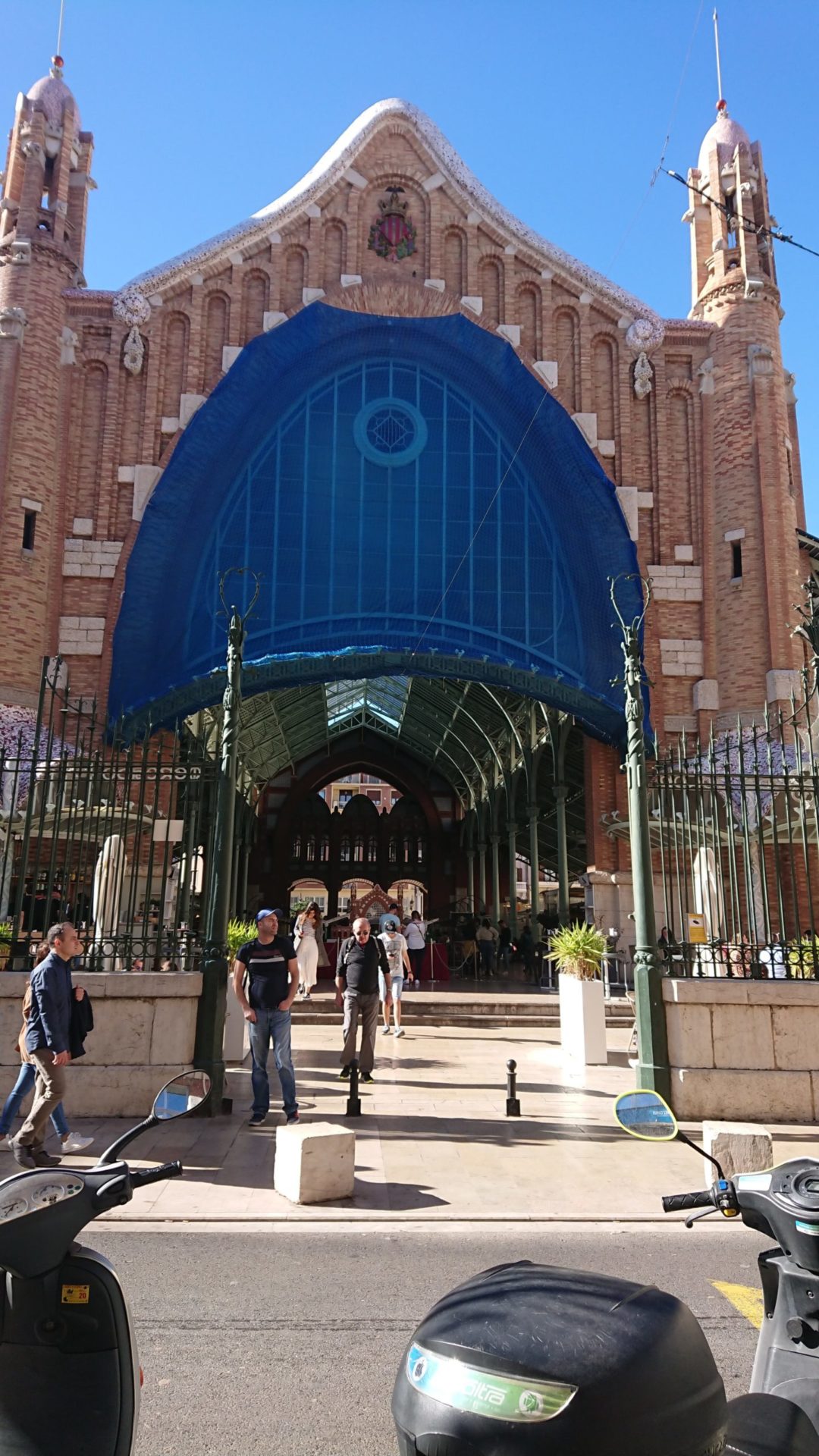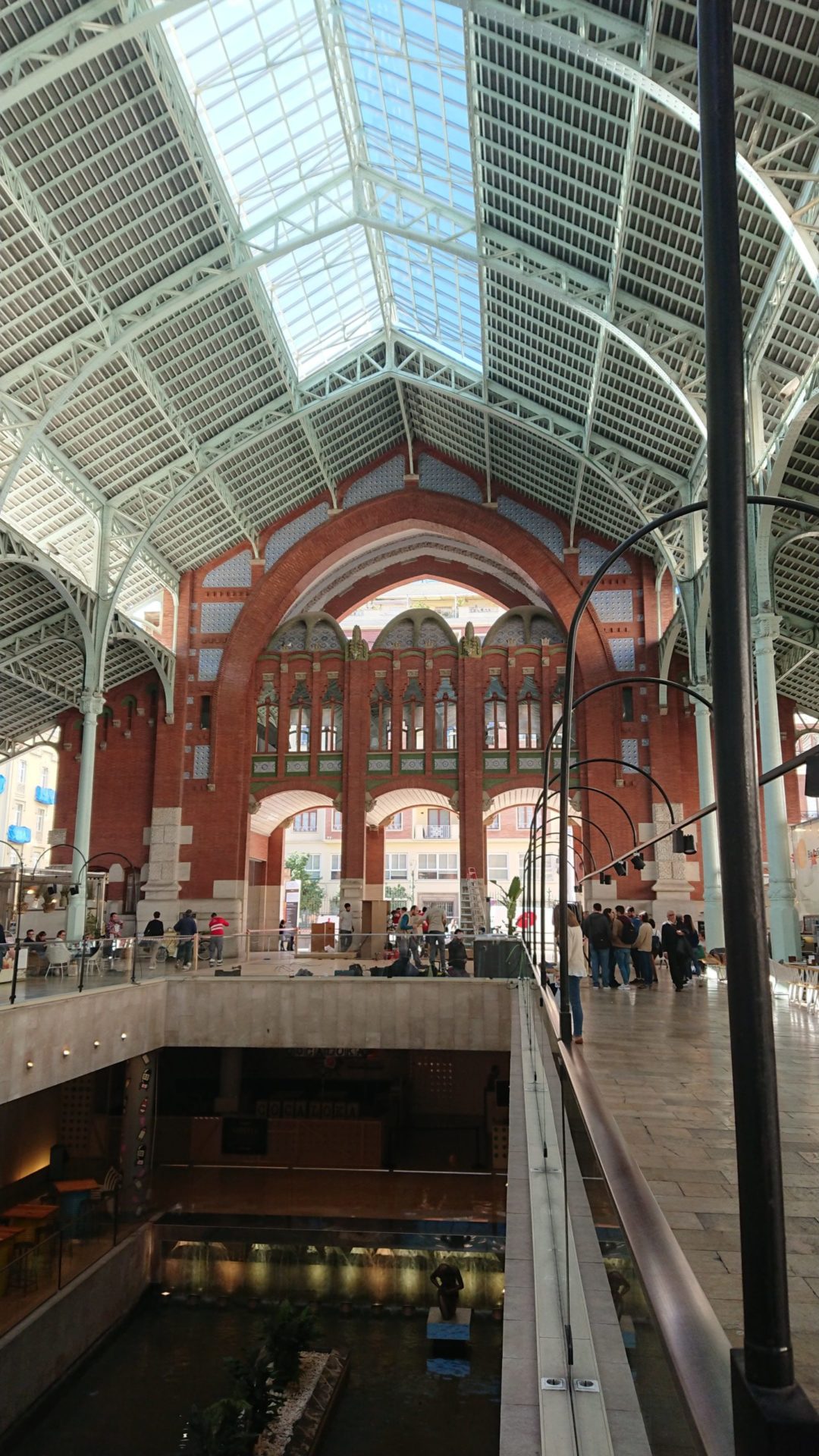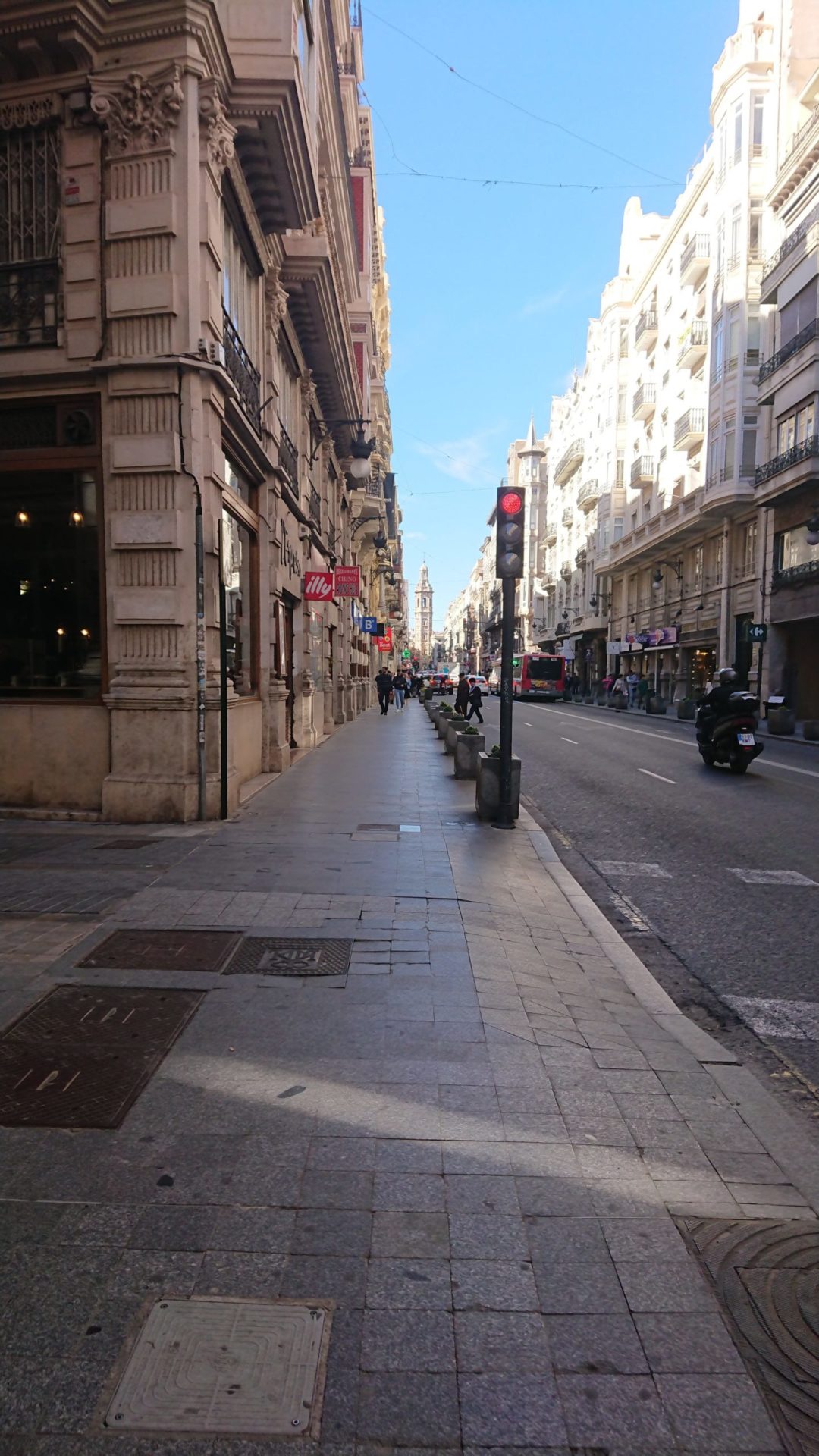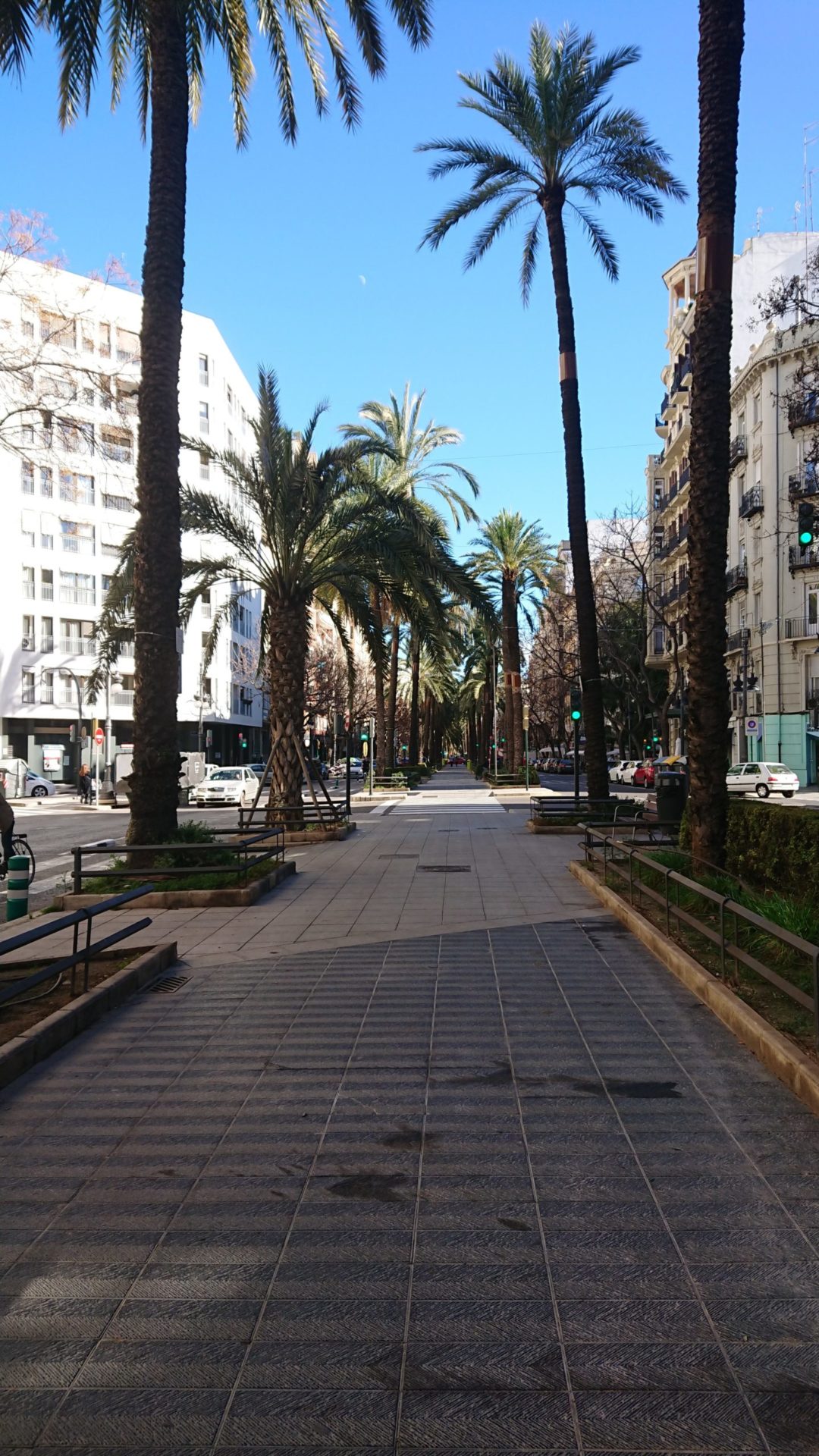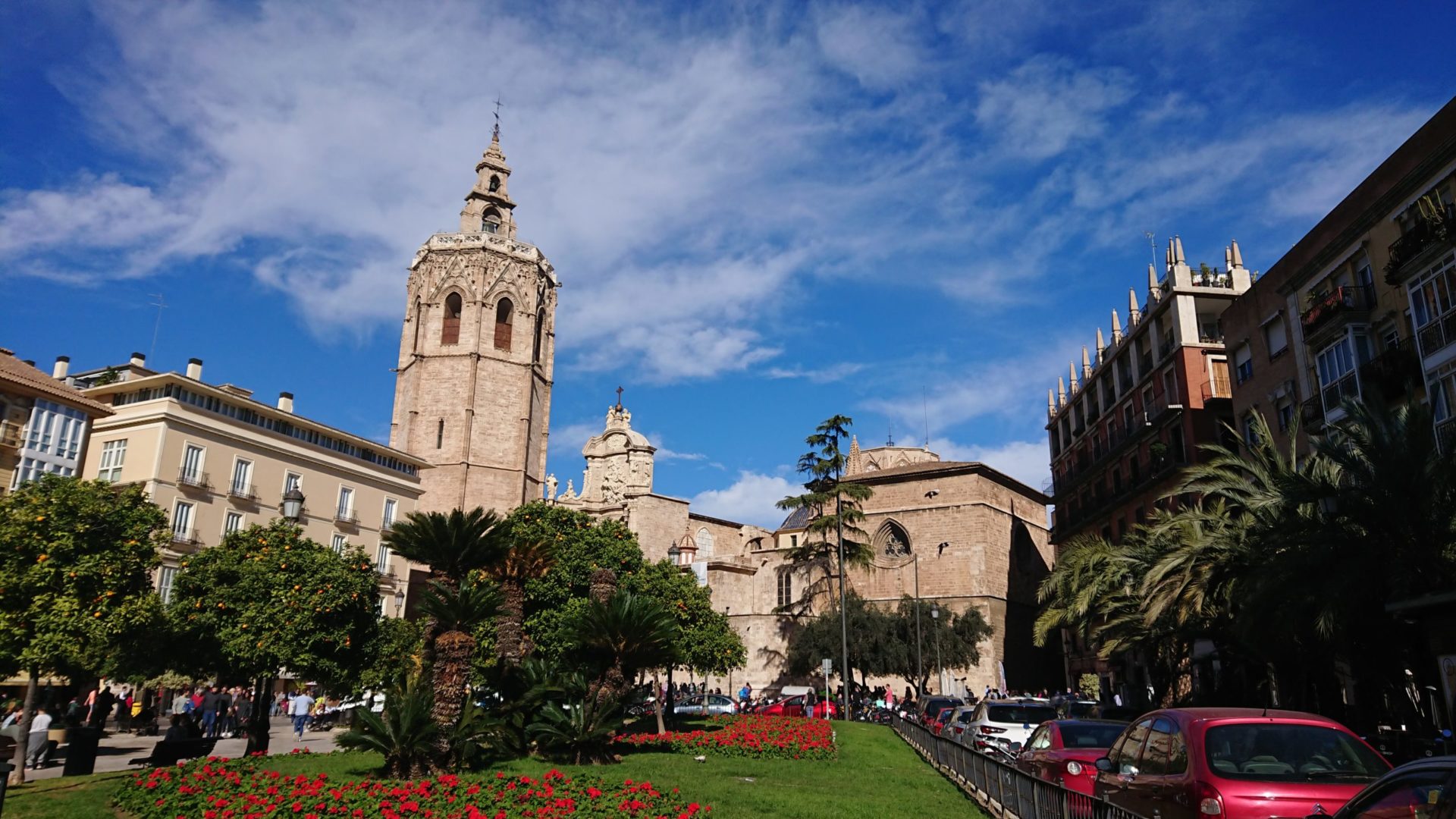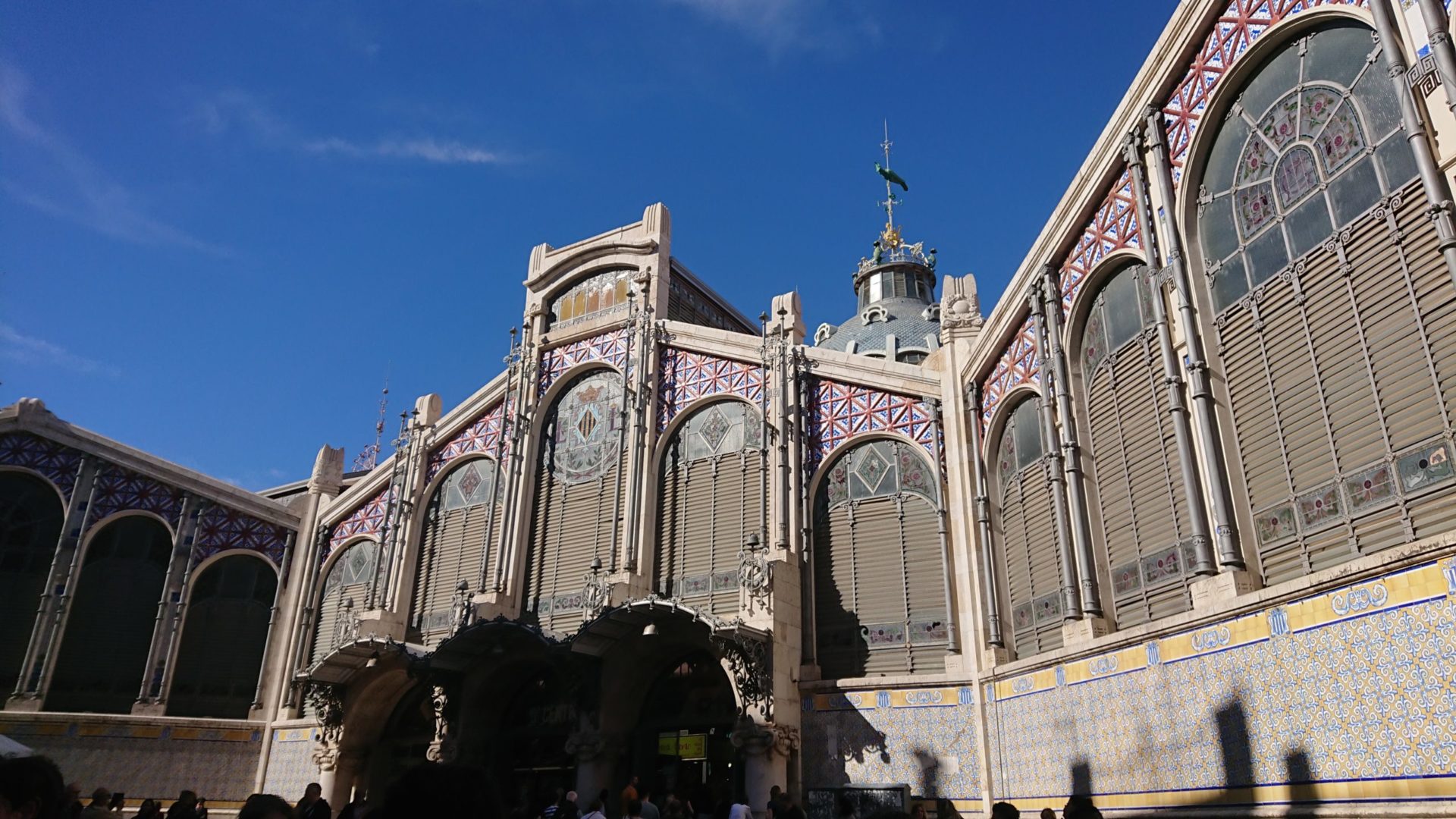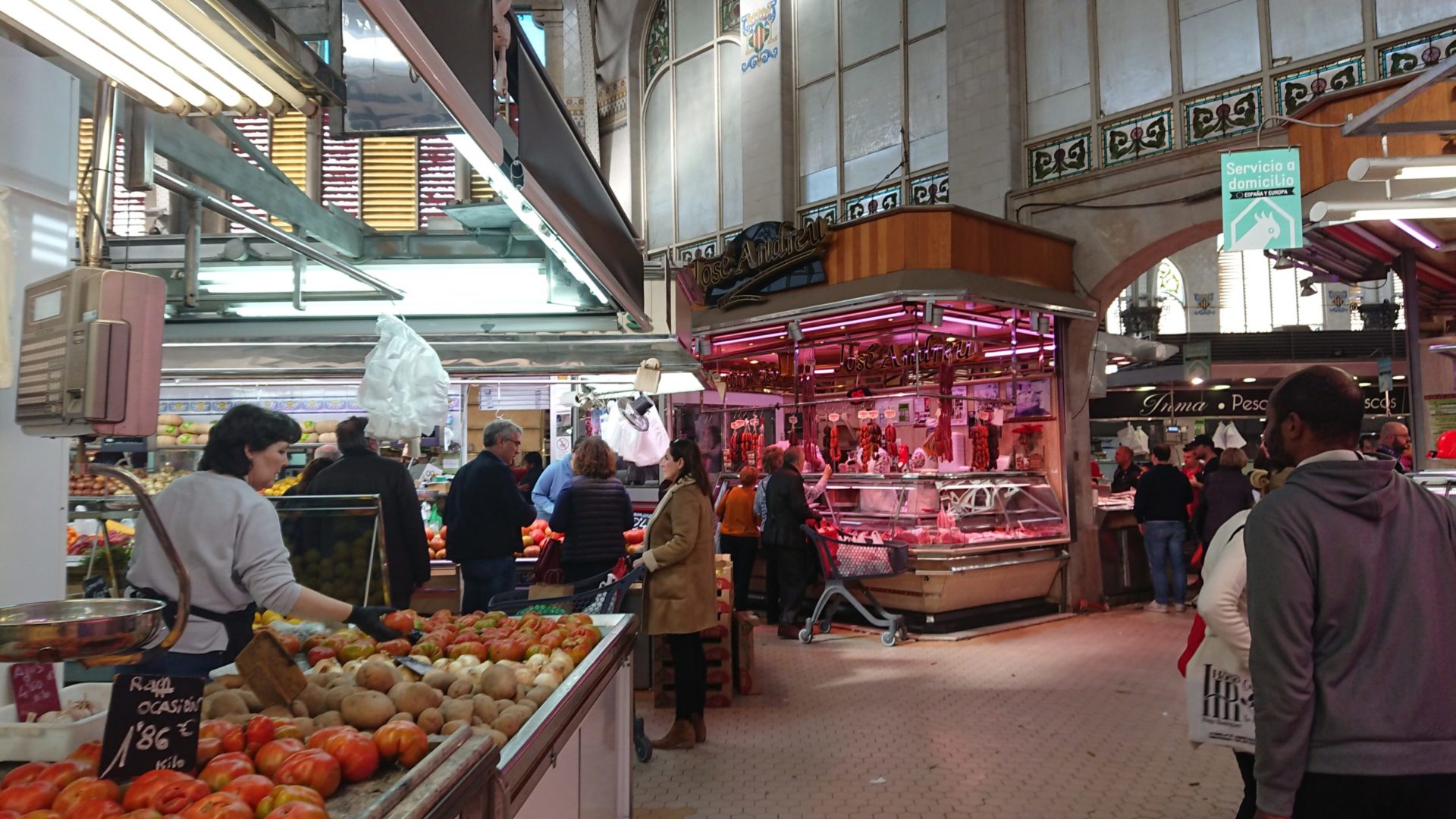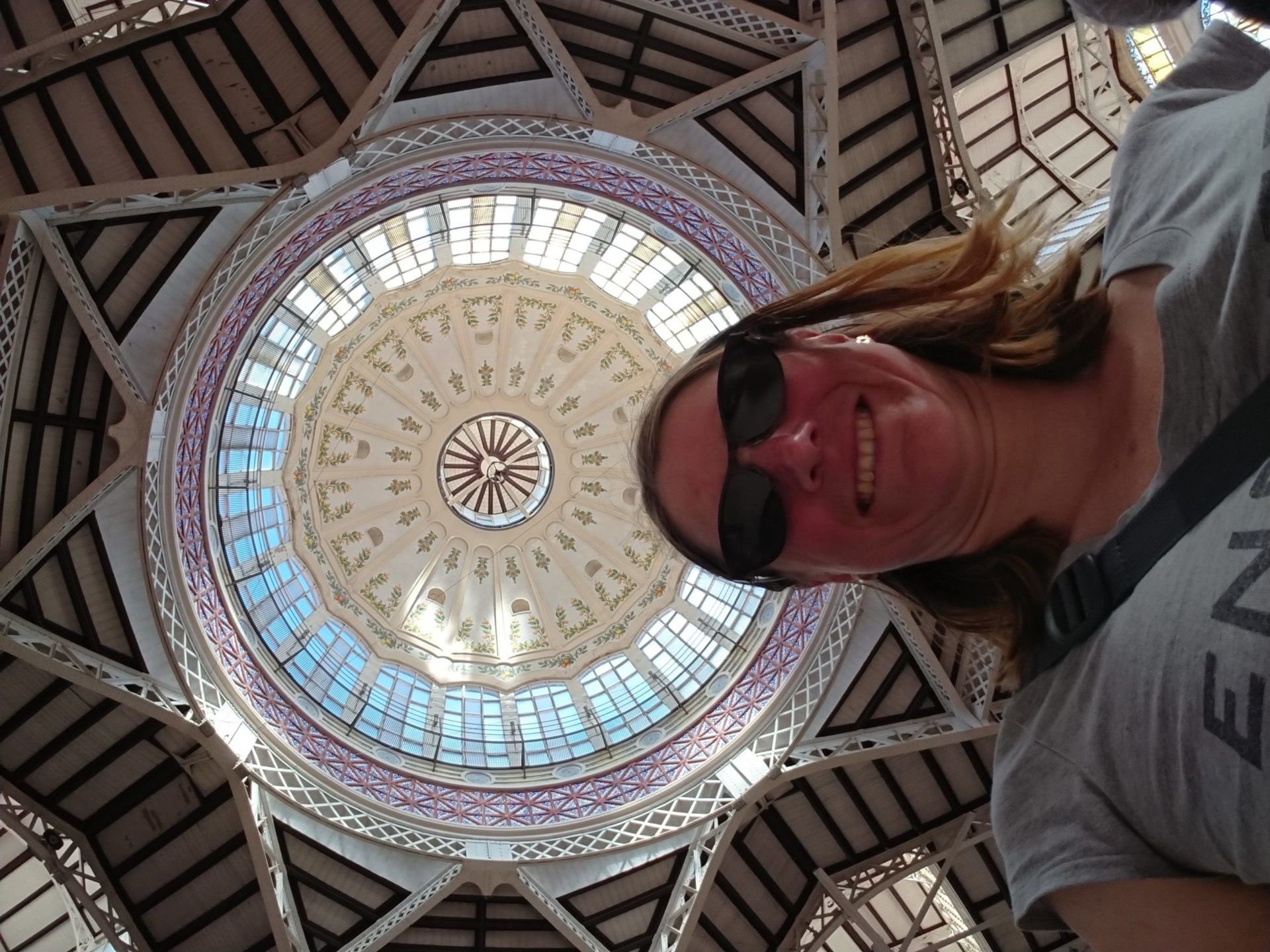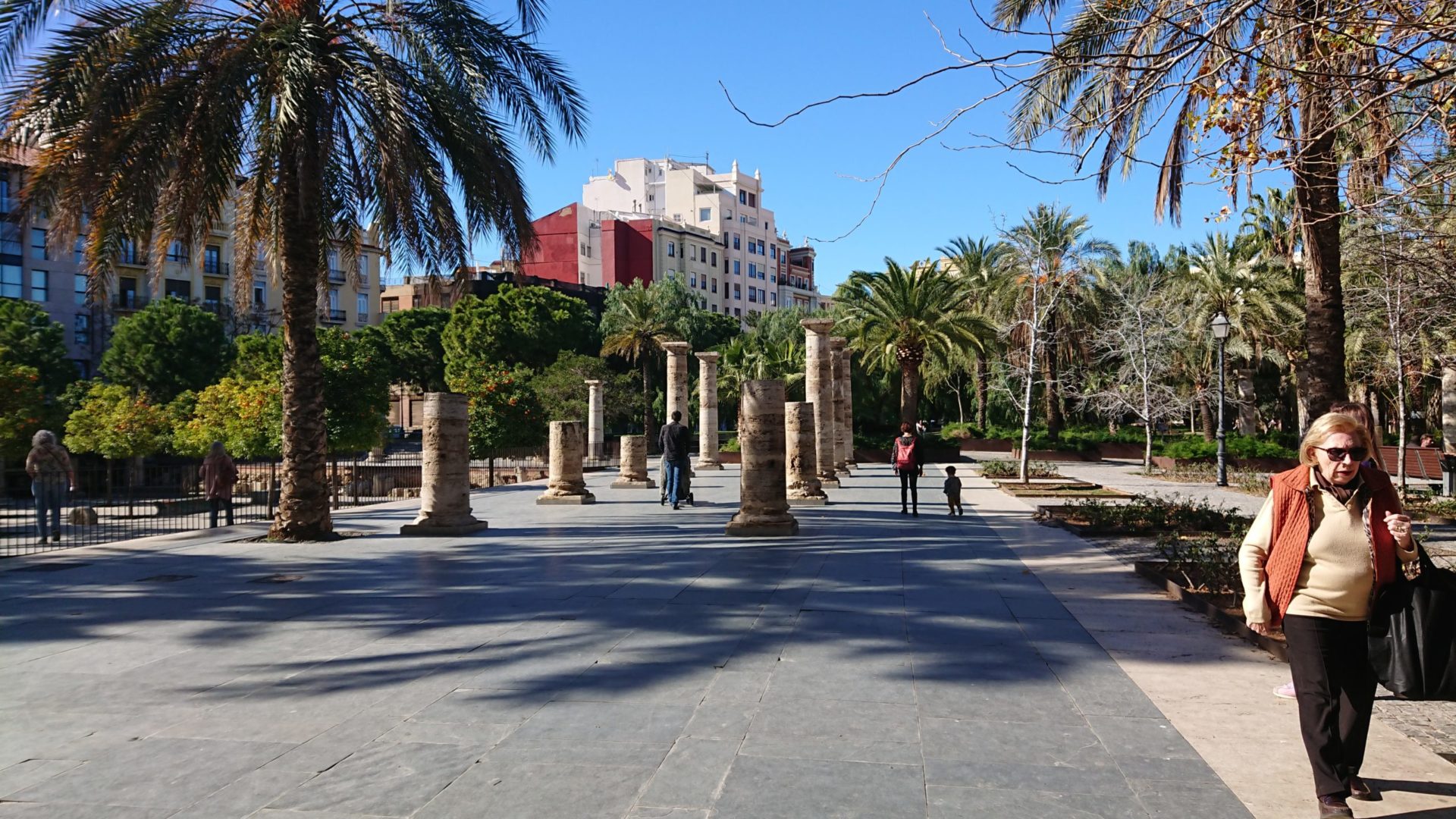 Eventually I reached the marina and saw some super yachts and broke out my M'ENFIN?! flag in front of the America Cup building. It was really cool. I paused here to rest my feet as they were getting very tired from walking me all over the place and treated myself to a glass of wine. Eventually I popped to see the actual beach and the Mediterranean up close. (Although I will be seeing plenty of it).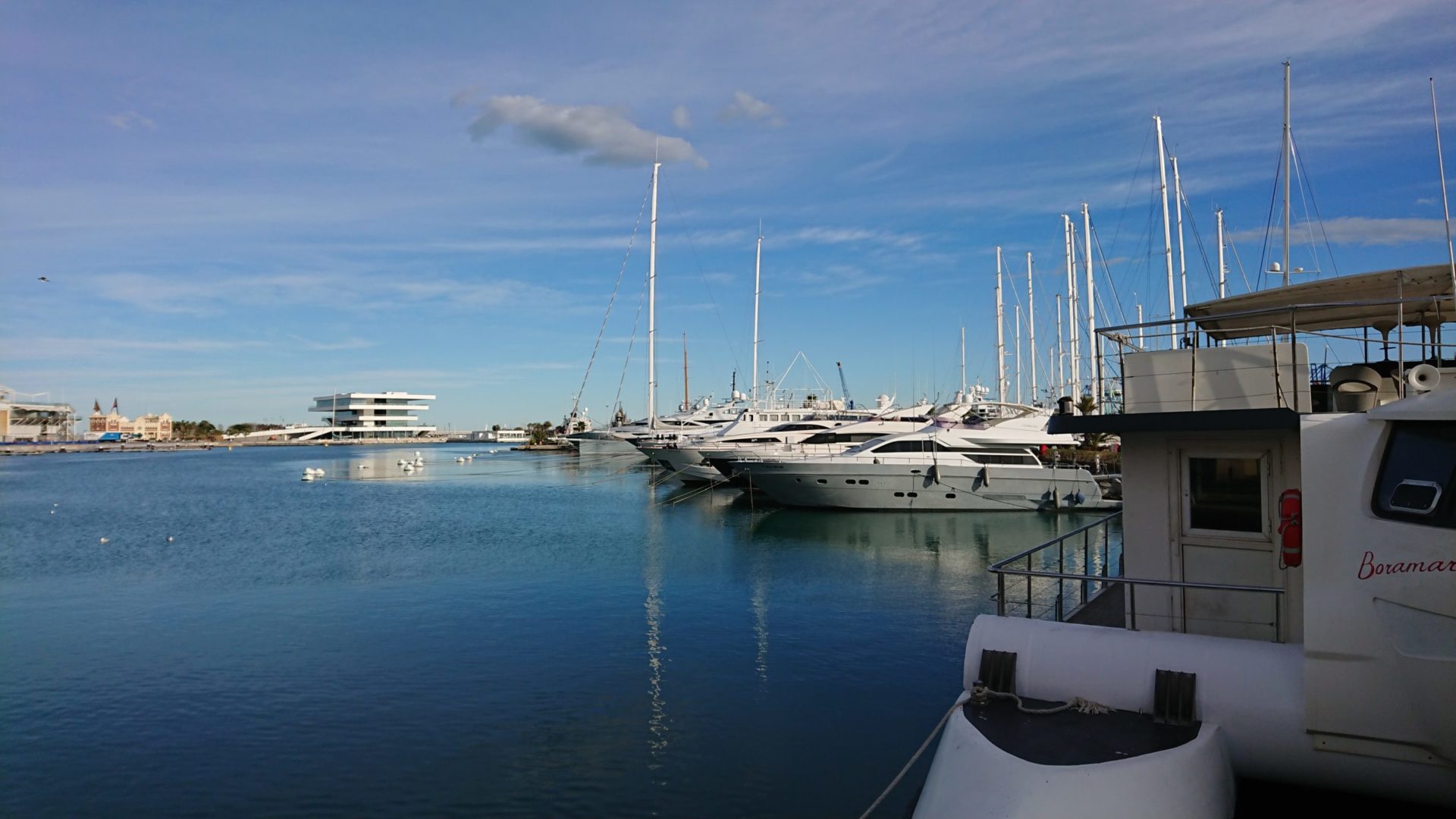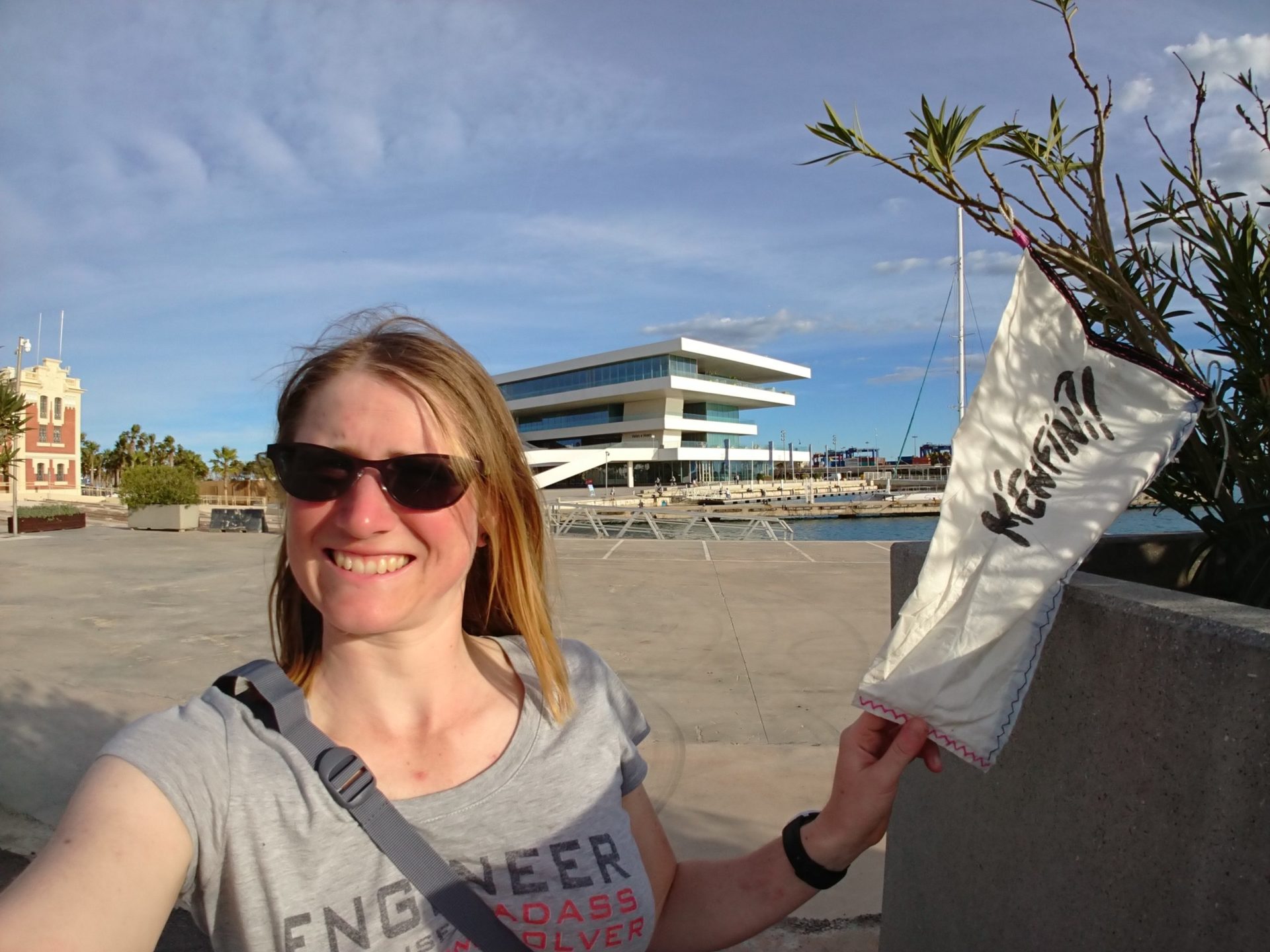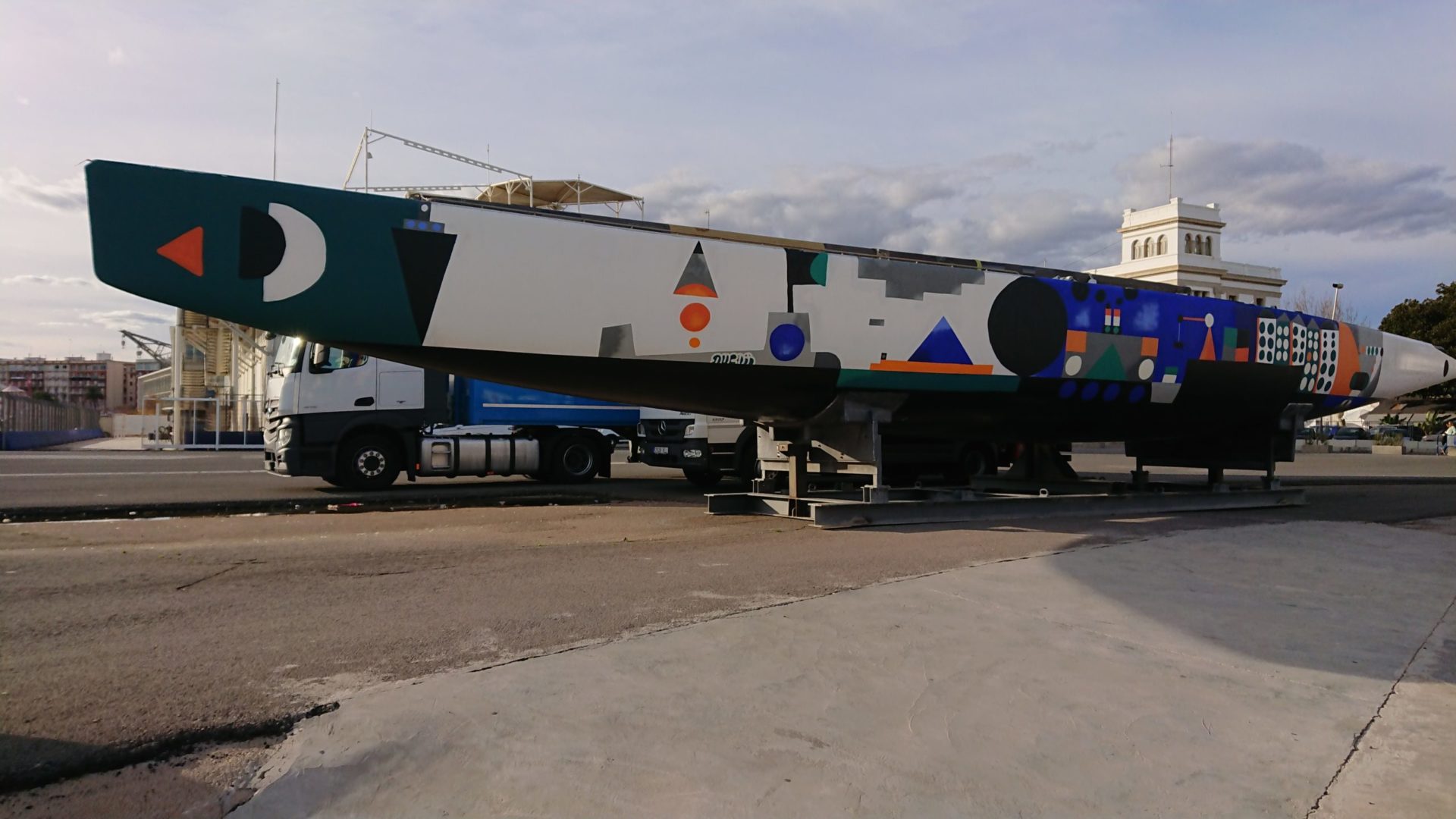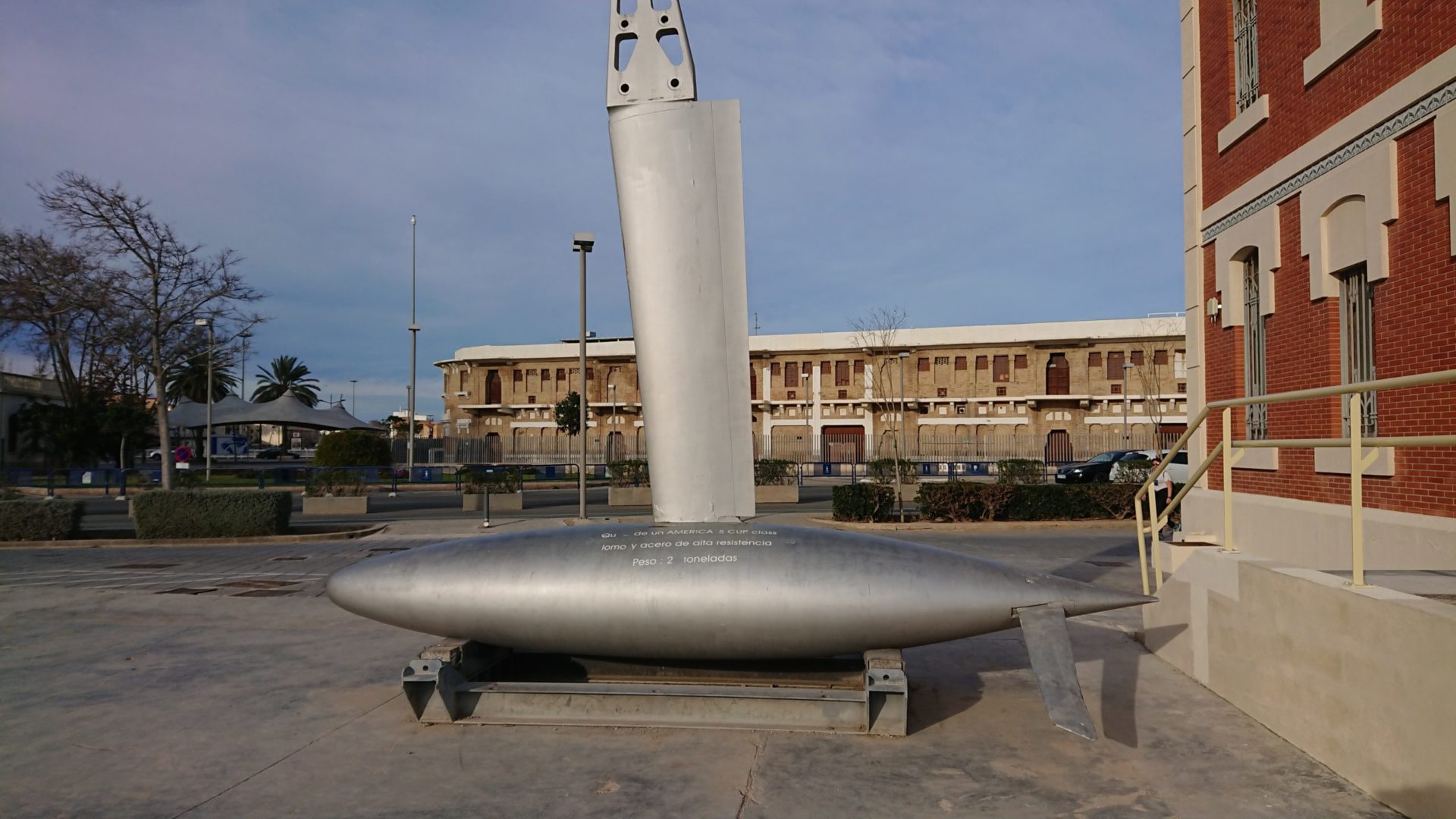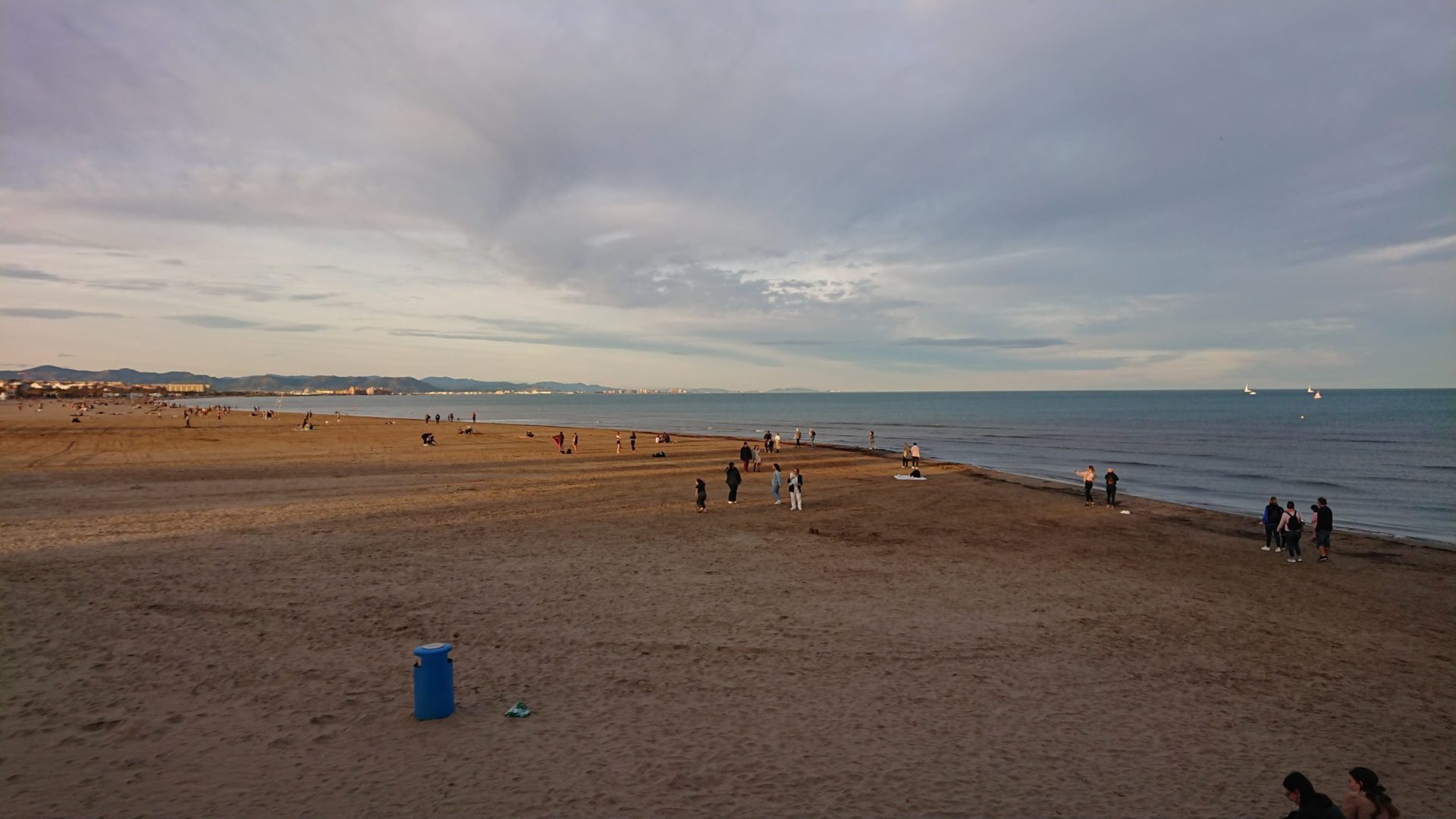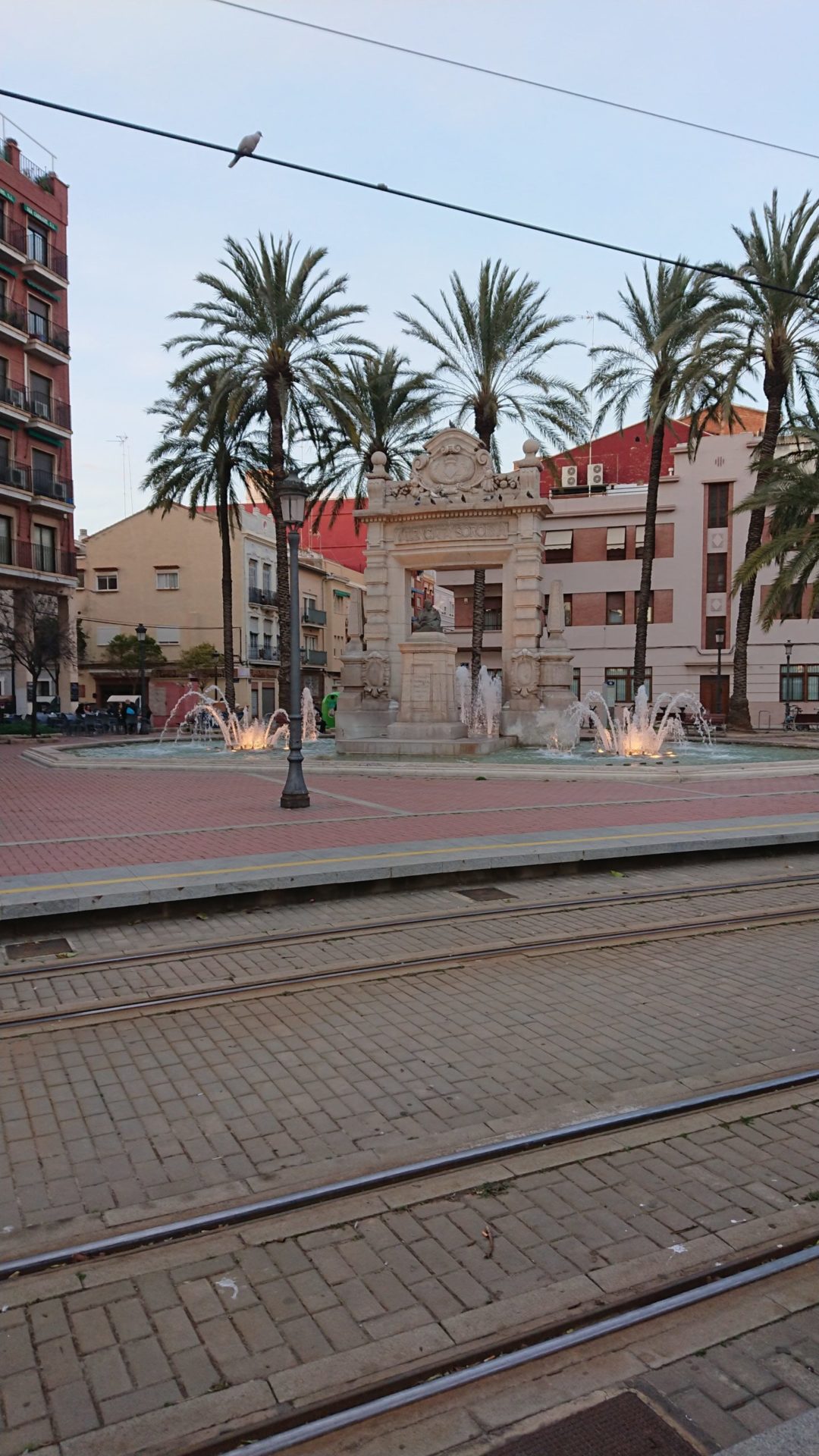 Headed back to the flat, getting supplies onthe way. Managed to find fuel as well 😀 so can do some more expansive cooking the next few days. Been writing up this blog and resting my feet. Warmshower host has been amazing and invited me out to a free concert, but I don't think my feet can take it.
So here ends another giant installment of the blog… with loads of photos because thats all you really want 😛
It has been nice to actually take the time to explore somewhere again. I feel sometimes that I miss a lot of stuff because I am cycling. Some times the question in my head is am I cycle touring or am I travelling on a bike? One the focus is on riding and enjoying that while the other is more about seeing the places. And although I do get to do both I can't stop half as much as I want sometimes or I would still be in the middle of Spain. There is also a concern about the bike, I can't just leave it comfortably with all the stuff on it while I go inside every church or castle I come across. I guess I am cycle touring and exploring when I can.
Next stop is Barcelona, following the fictional Eurovelo 8 route (it is just a concept for this bit of Spain) there are a lot more campsites available or at least shown on the map so I should be able to stay cheaply along the coast. Looking forward to the warm weather and seas. (although watch out for me complaining it is too hot). Now I need to work out where I am aiming for… and get some sleep!