Hola! I am slowly learning more Spanish, well I say learning… I am picking up the odd word here and there. Many to do with drink. It is helping a bit as I think others like the effort. As always I am amazingly grateful for everyone who can speak any English as a second language, they hands down beat me in any language.
Thank you everyone for your messages of support on the last post, it means the world and helps so much! I haven't really been able to respond to them all but I do read every one of them.
Right, on to what you want to hear, what have I been up to…
Saturday 18/01/20 — Day 3
Slower start this morning as Spanish people don't seem to get up and moving very rapidly (hoorah!). Especially at the weekend.
So this might be a little too much girlie information for some people, but I am using the blog as a document of things I am having to deal with… skip the next paragraph if you don't want to know…
So 'fun' thing happened — I managed some how to pull my coil out while I was sorting out my moon cup (best thing ever for adventuring!) Really wasn't expecting that as it wasn't due to be removed until 2022. Lucky it didn't hurt and nothing seemed amiss with me. A quick check in with Nurse Mum and decided to keep going. But not sure about being able to get a new one fitted until I get home now… not that it is that much of a problem right now!
Safe to read again… The first section of today's route involved climbing again. BUT I managed to cycle up all of it! I did put my saddle up a little higher to try and help my knees as a number of people had advised and it seemed to help a lot! The gradients might have been less as well, but I am counting it as a victory 🙂
It was a beautiful day of riding, weather wasn't the best. Drizzle working towards rain through the day but I dropped into a valley/canyon area which was made really atmospheric by the drizzle. It was also mostly down hill that made it easier.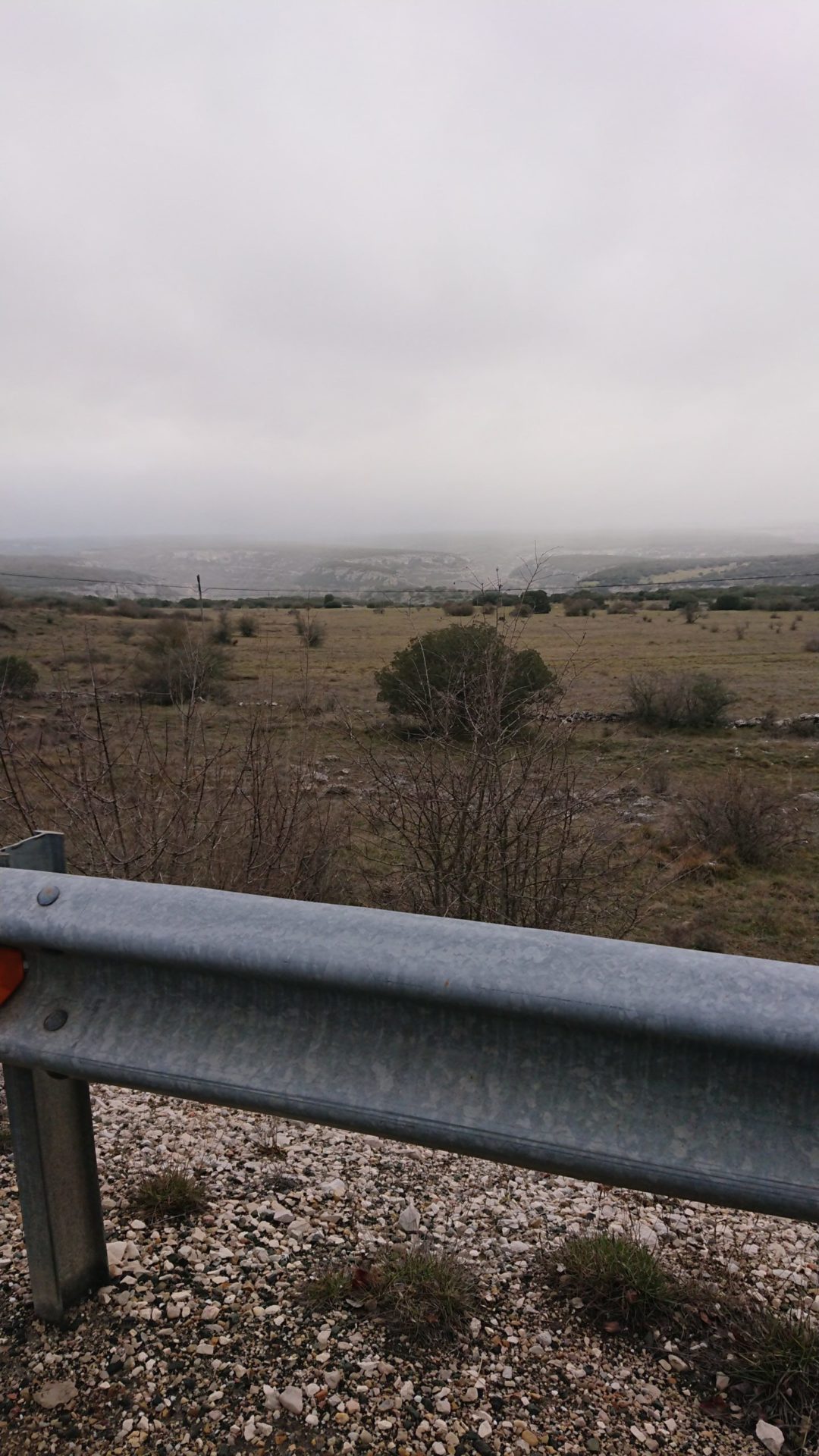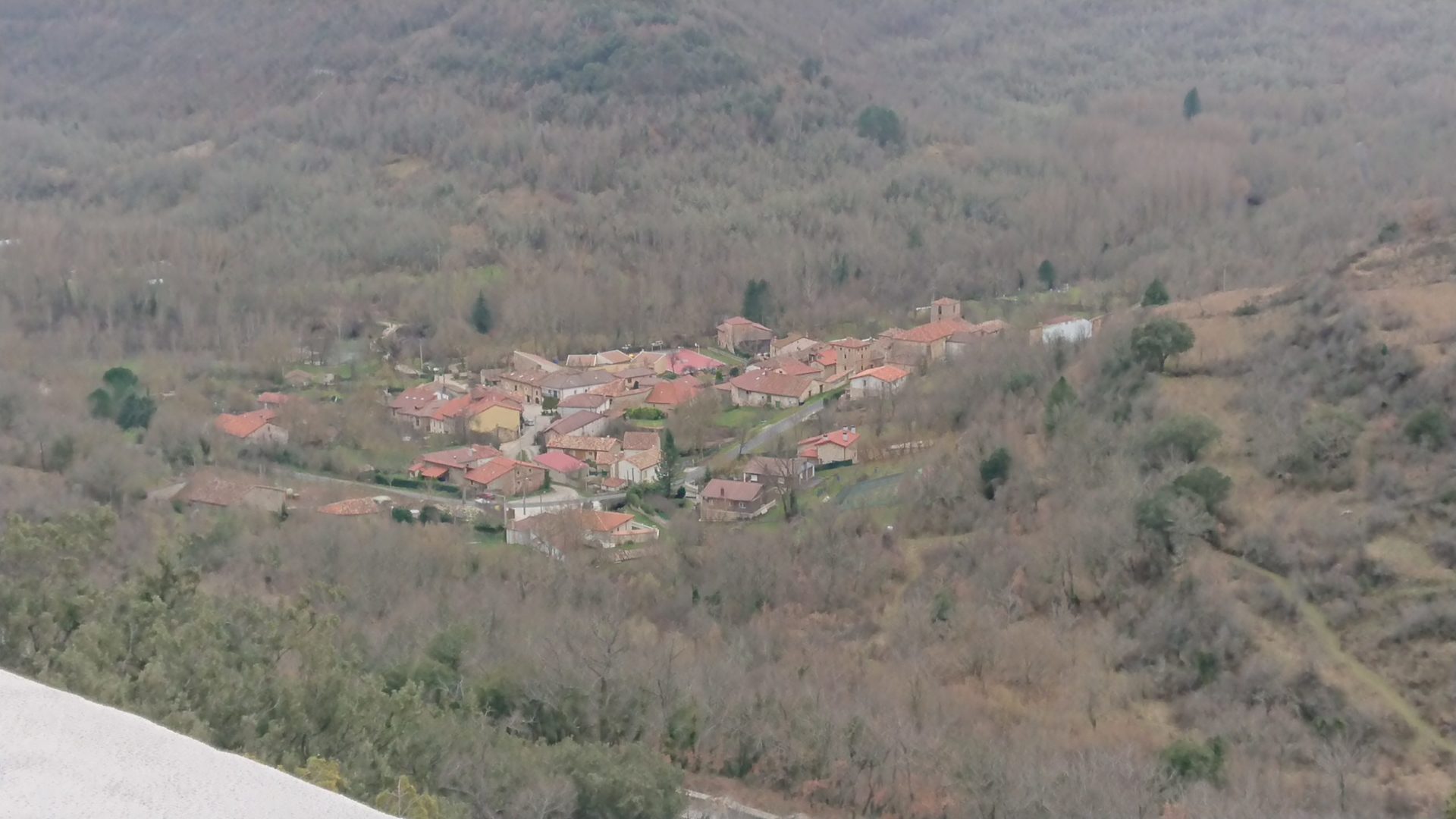 I remembered to eat at the right times and learnt how to ask for tea (Te Rojo/Negro) which makes my life so much better! The day was going well and despite the weather I was in good spirits. Maybe I can do this?! I spotted a few good places to stop but I felt it was a to early to stop… and I kinda wanted to stay in a hostel/hotel again, so I did a silly and kept going…
I had spotted two potential hostels/hotels/Casa Rurals that were a reasonable ride but not that far. So I was aiming for them but when I got there they were shut and no one seemed to be around!! I point to my non-existent Spanish so I couldn't really understand the website or ring to check. At that point panic kinda kicked in… so I kept riding… it was the only thing I could think to do, as it kept me warm and there were more places on the map…
Only they were shut too!! More panic at this point it was getting darker and I really did not want to camp as I was getting soaked and hadn't seen anywhere good for a while… so I kept riding… (you may be seeing a theme here, if in doubt, ride more…) then it started to sleet, and thunder and lightening… and now I am in a right tizz thinking I am just going to have to go all the way to Burgos to find anywhere but that was still 30+ km away and I wasn't supposed to be riding that far to protect me knees…
Eventually I saw a cafe/bar in a really small village and stopped there to ask where the nearest place I could stay was… and just couldn't calm down enough to ask but the people there were amazing! They took one look at me and went to find me clothes to change into. And as soon as we understood each other they said I could stay there… and they meant literally there! I slept on the bar floor. Suzanne, Allen (look two 'l' 🙂 ) and Ben were so friendly and I got chatting to them about it my adventure and their lives. Suzanne really enjoyed practising her English and I enjoyed actually chatting to someone. Slept safe and warm on the floor and I am soooo grateful to them all for helping me out.
Sunday 19/01/20 — Day 4
So lessons from yesterday — need to stop sooner, need to be braver with the wild camping, and need to relax a little bit more.
I had a slow morning chatting with Allen sorting out stuff and waiting for a response from warmshowers people to see if someone could host me. Sadly I did not get any but had some backup plans and more options in the city.
When I did get on the road it was thankfully with a tail wind and wow what a tail wind! Once I got off the mud dirt track that filled my mud guards with mud and caked everything else, I barely had to pedal and I was hitting high speeds! The few checks I did I saw at least 30kmph! So I managed to make it to Burgos in no time, although it was a much shorter ride compared to the day before.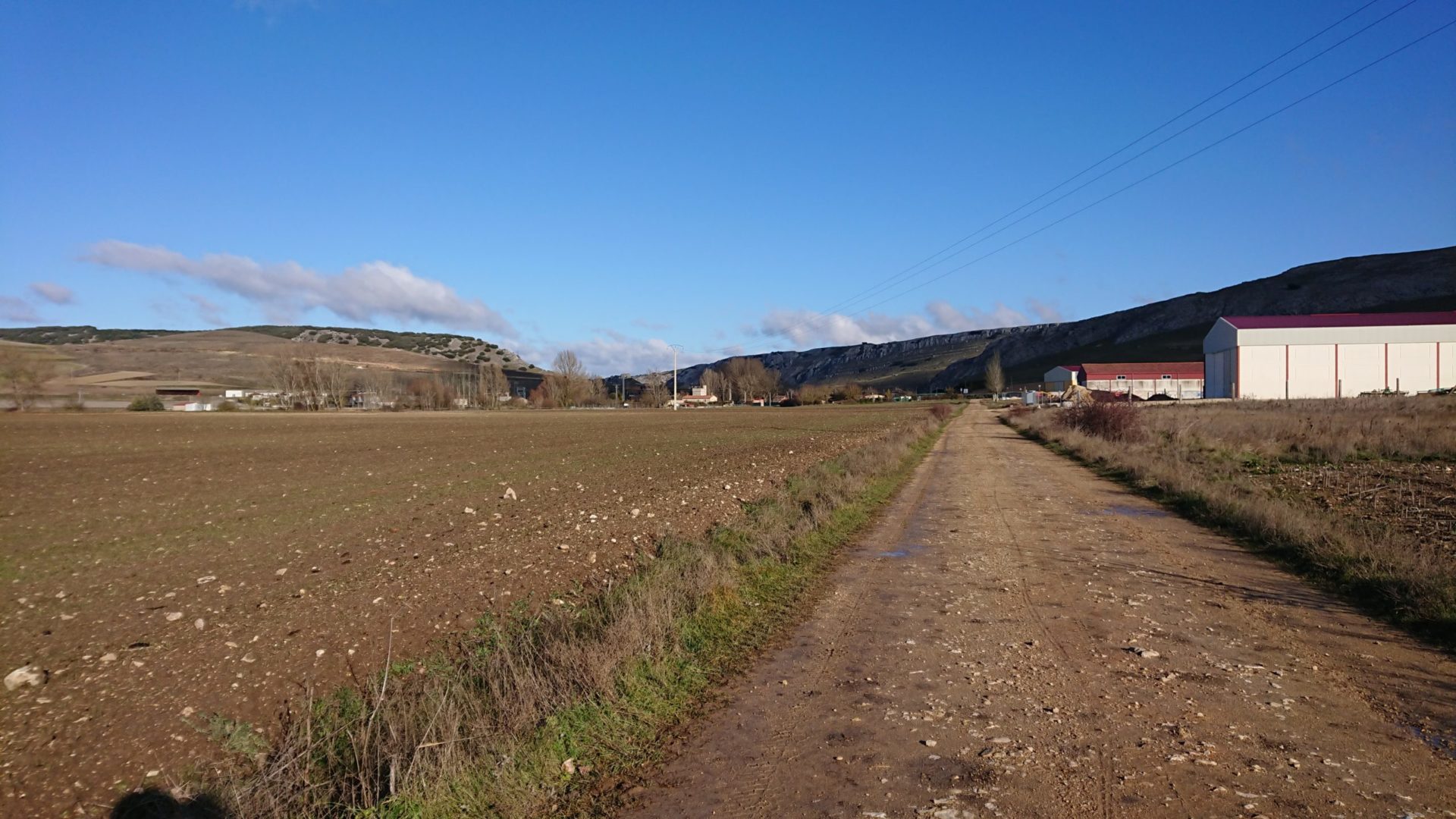 Things got a little bit more interesting in Burgos where I had to turn across the wind at some points. Once I got blown to the other side of the road! Thankfully no other cars were coming! Another I was approaching a roundabout and I just had to stop as I was nearly knocked off. I had to time my restart carefully so there was no gust and no cars in case I got it wrong!!
Once I got into town and still had no positive responses from warmshower hosts I popped into the tourist information to get the scoop on places to stay and sign up for Camino del Cid. This is not a traditional Camino (pilgrim trail) but does follow the activities of a medieval knight/mercenary (I haven't read all the history/story yet). But it does have a "passport" that I can get stamped and allows me to stay in the albergue (pilgrim hostel) for 6 Euro. I also met many people doing the well known Camino del Santiago route, all on foot, but it was cool to see them all.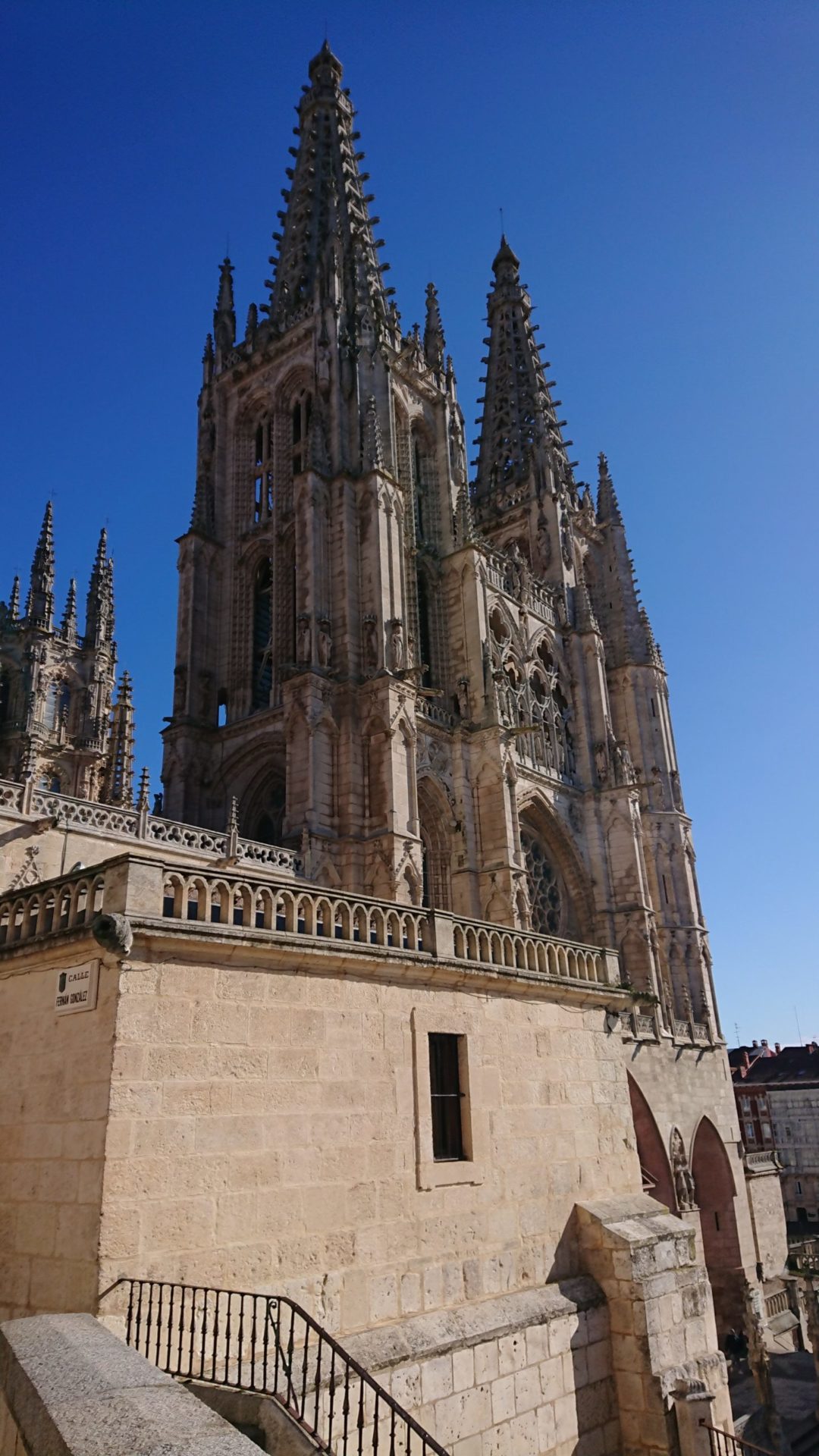 I spent some time in the albergue looking at the next stage of the route and planning what I would do, particularly the weather, distance, and accommodation options. Unfortunately you can only stay in the albergue for one night and they move you on early in the morning (8am) so as I wanted to spend two days here in Burgos I needed to work out where to stay the second night. The del Cid route that I will be following from here goes through the back country of Spain, so I will need to mostly camp or wild camp as there isn't much choice! Plus it is the off-season, so the smaller places might not even be open… so I hatched a plan. Burgos has a camp site, so decided that I will spend the night of the 20th there. With the cold snap that is going on at the moment and the ridiculously windy weather it will be cold even in the city, and I can see how I cope in the tent/sleeping bag. If things get really bad then I can probably retreat into the toilets or laundry room to get warm. This will help with the nerves for the next bit… hopefully!
I met up with a warmshowers host, Jesus, for coffee and advice. Unfortunately he has family visiting so I can't stay in his apartment, though it was really nice to chat to him about Spanish culture and what I should expect. He helped me with meal times and told me about the menu of the day which will be a cheap way to get lots of warm food. He gave me loads of suggestions for places to visit in Burgos and finally took me to a lovely restaurant and had a drink, before heading off home back to his family… I have been invited to go and meet them all tomorrow for dinner!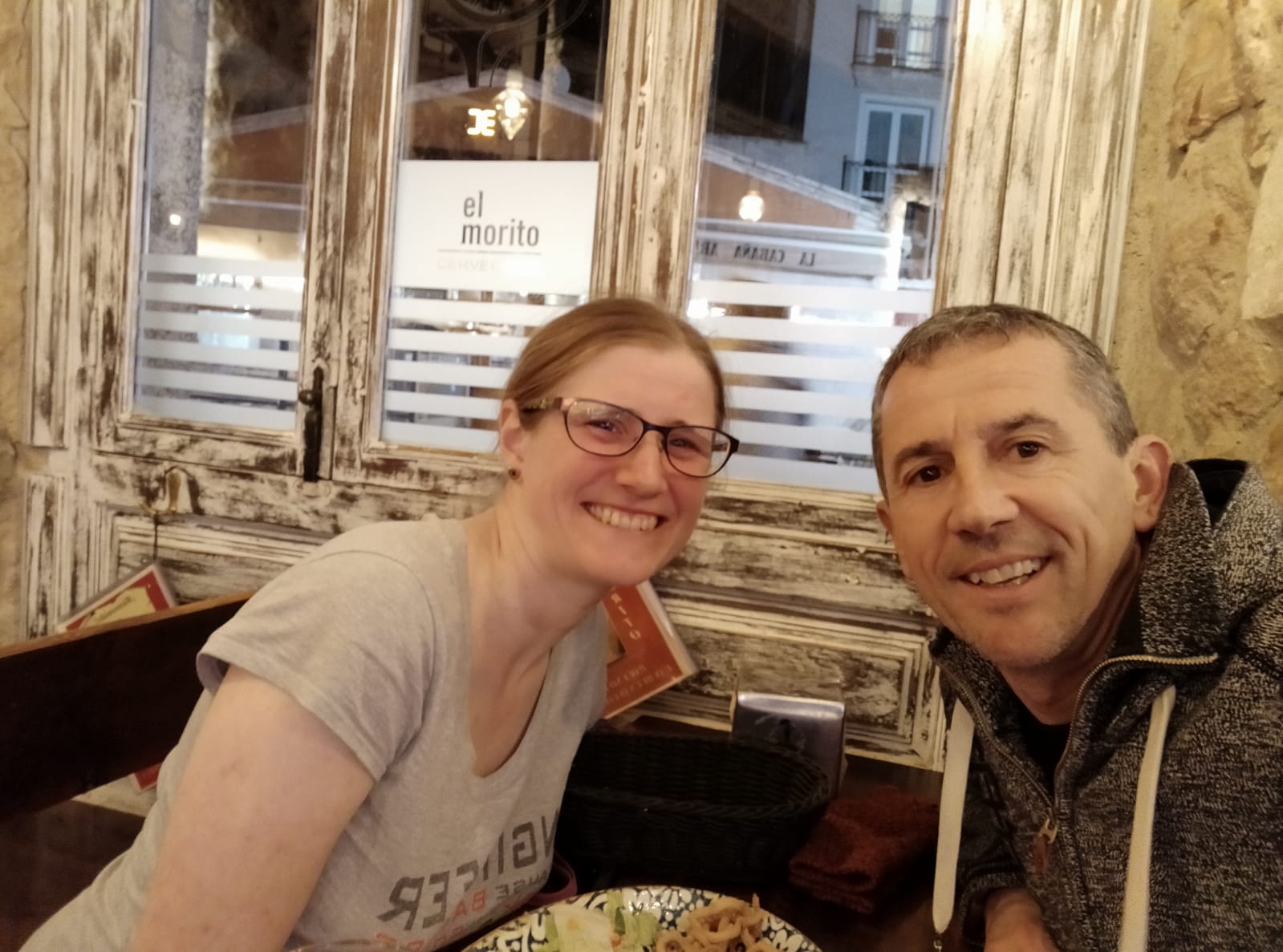 I settled down in the albergue for the night. It is very much a hostel with open bunk areas and not a lot of privacy, but it was warm and comfortable. Sleep was a little disturbed because of this, but I am adding it to the experiences.
Monday 20/01/20 — Day 5
Ughhhhh I knew I had to be up early but still, someone's alarm was set for 5.30am. But then I have no idea how far they have to go today. I got up a little later when sleep/snoozing wasn't possible any more, and got all my stuff packed up and cycled to the camp site which was only ~5km away. It was down a lovely cycle path but there have been so many trees blown over during the night all over the path I kept having to go round them. Food for thought on the wild camping front… (although I am told the winds are dying down today).
I set up camp in the morning which feels a little back to front, but is nice to have time. Made myself some warm breakfast and cleaned the bike… there was so much mud in the rear mudguard I had to chisel it out!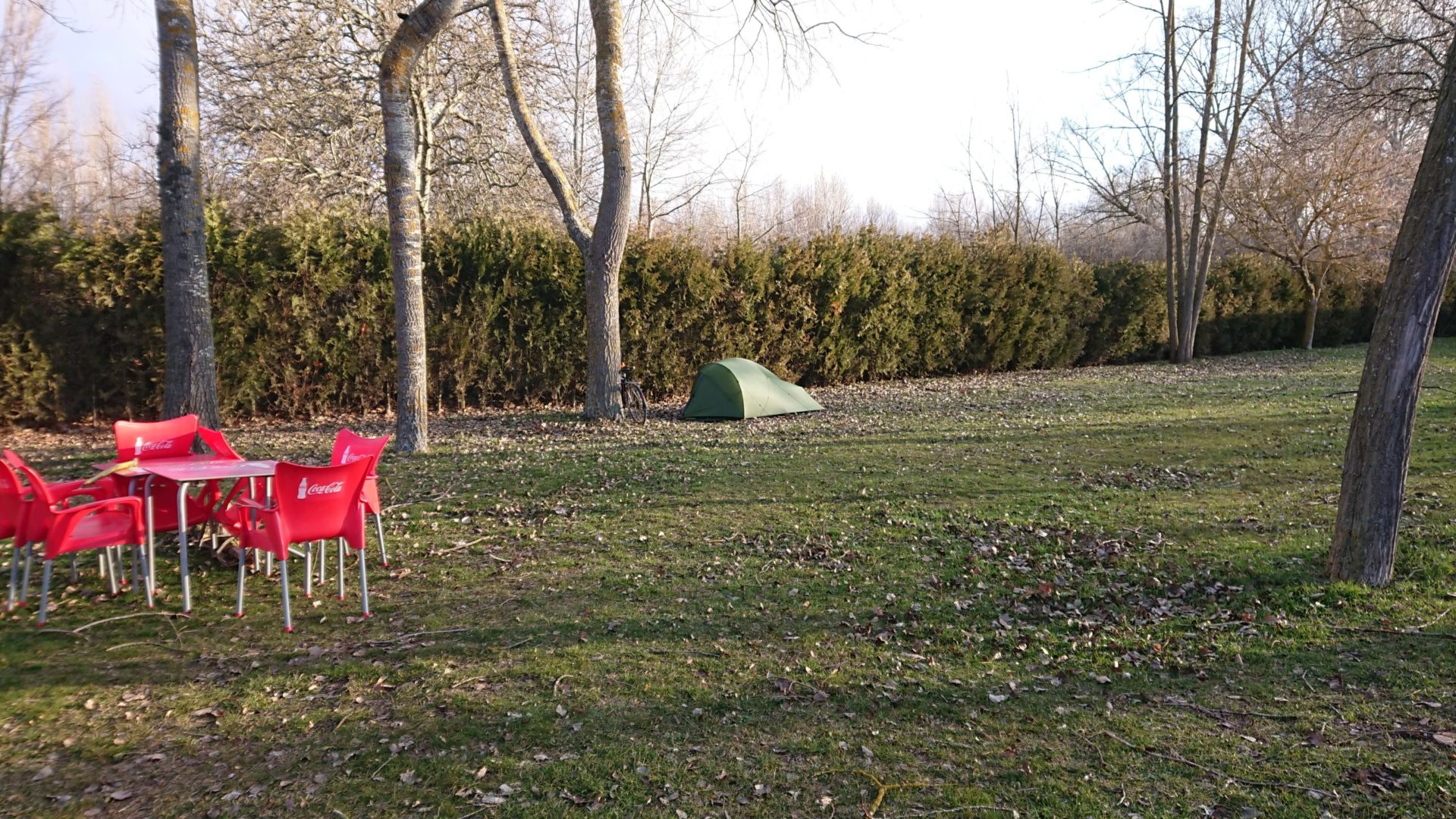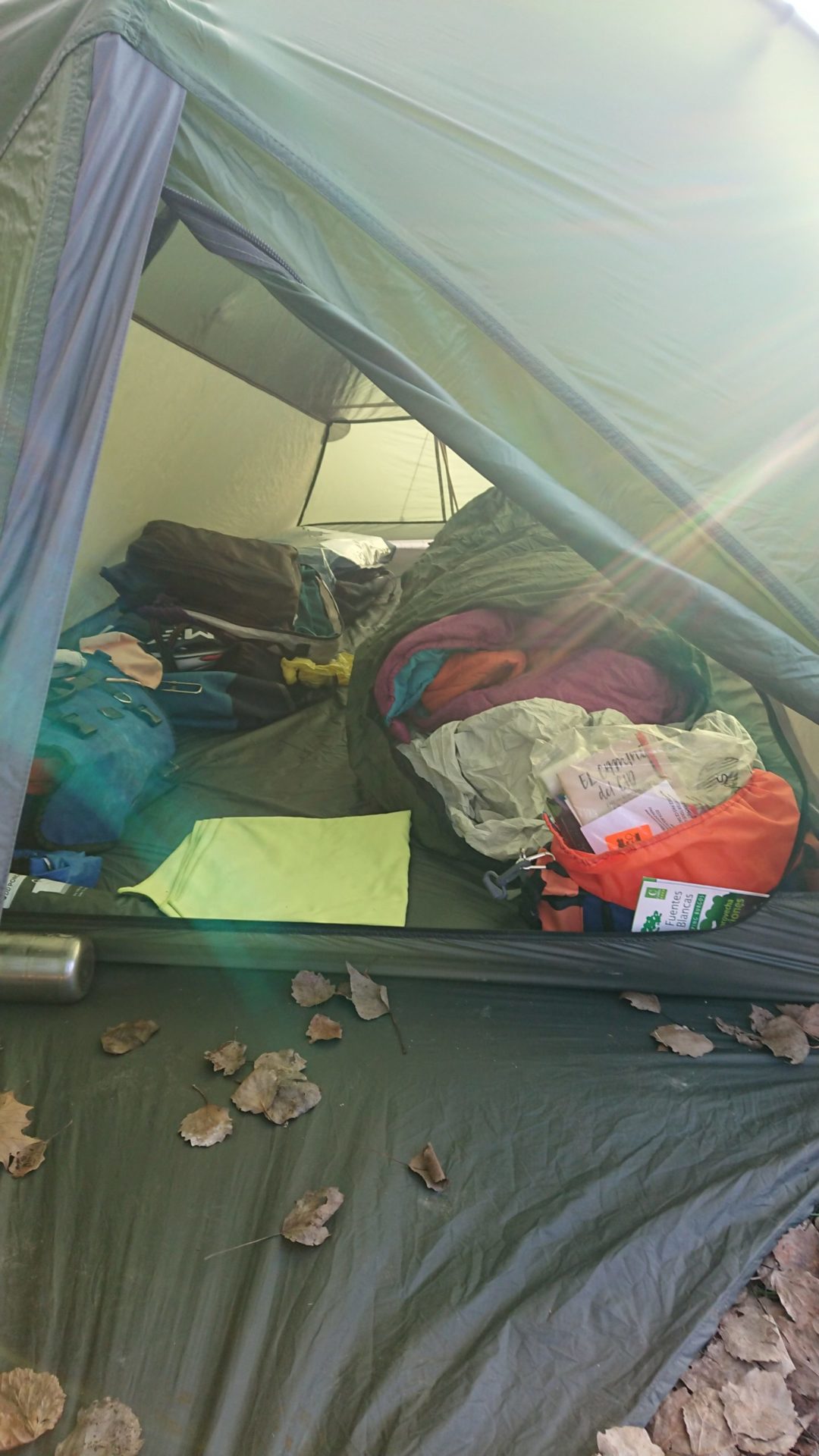 I have prepared all the sleeping system layers – liner inside sleeping bag and bivvy bag over everything to hopefully stay warm in my little tent. So fingers crossed for the experiment. I was chilly cooking breakfast and when not really moving around, but it is not too bad with the sun shining and a wind proof layer on. But I am worried, a nagging worry, about what I would do if it was wet and cold and no form of other shelter was available… but this is what I have to work with so I'd better get used to it!
I am now in town, in one of the cafe/bars suggested, writing this up before I start to explore. There is also a Decathlon store here so I want to look for some more overshoes as my feet are still cold, some long thin warm socks for riding and weirdly a pair of adventure sandals so I have something else to wear (annoyingly these were out of stock in the UK before I left).
So here are all the photos! I visited the cathedral the outside of the castle and generally cycle around. The cathedral is amazing and well worth visiting.
That evening Jesus invited me round for dinner with his family which was so wonderful of him. His family was so inviting and I loved sharing the evening with them.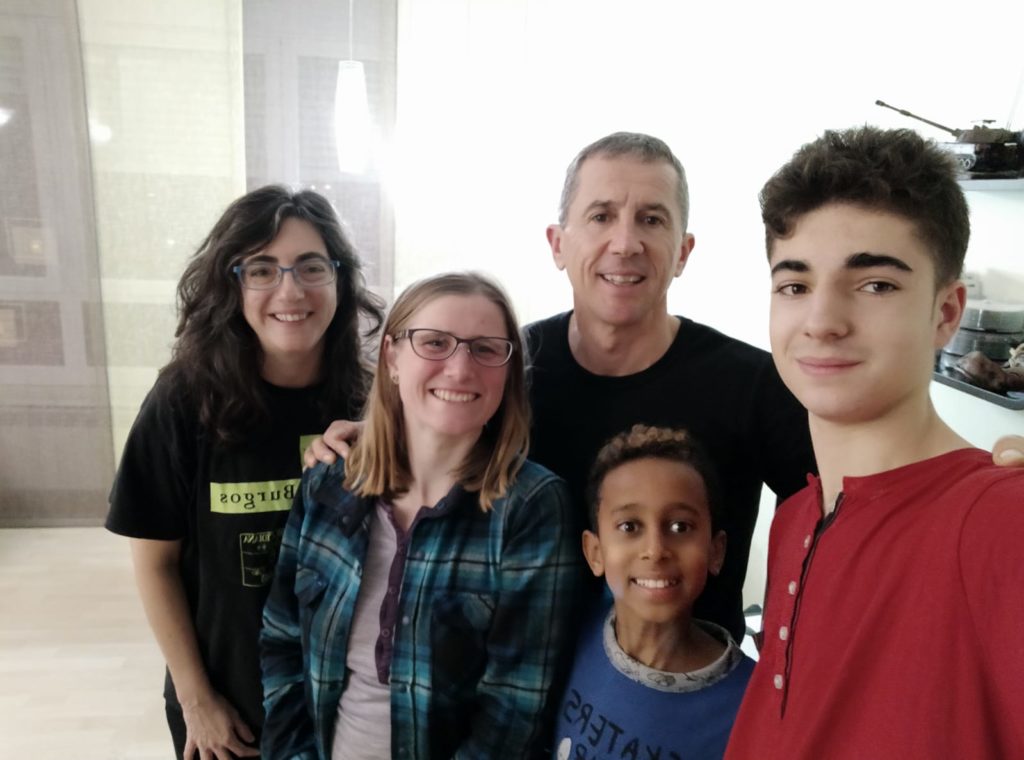 But anyway, if you have made it this far, I have a question for you guys! I have a choice… I had planned to go to Madrid to visit but it is 169+km detour that I am now not so sure about sure given the weather. So what do you think, should I go to Madrid or not? I have about 5-6 cycling days before I reach the 'turning' in the planned route. I can always easily come back to Madrid and I would really like to get to the warmer coast. Let me know your thoughts in the comments below… 🙂
PS – now tucked up in tent but wifi not cooperating… going to post this now so you can read but pictures etc will have to wait. now all added 😁